Ghana ask for World Cup prize money early as government 'flies $3 million in cash to Brazil' to pay angry players
Ghana midfielder Christian Atsu dismissed fears the team would refuse to play its final group game in Brasilia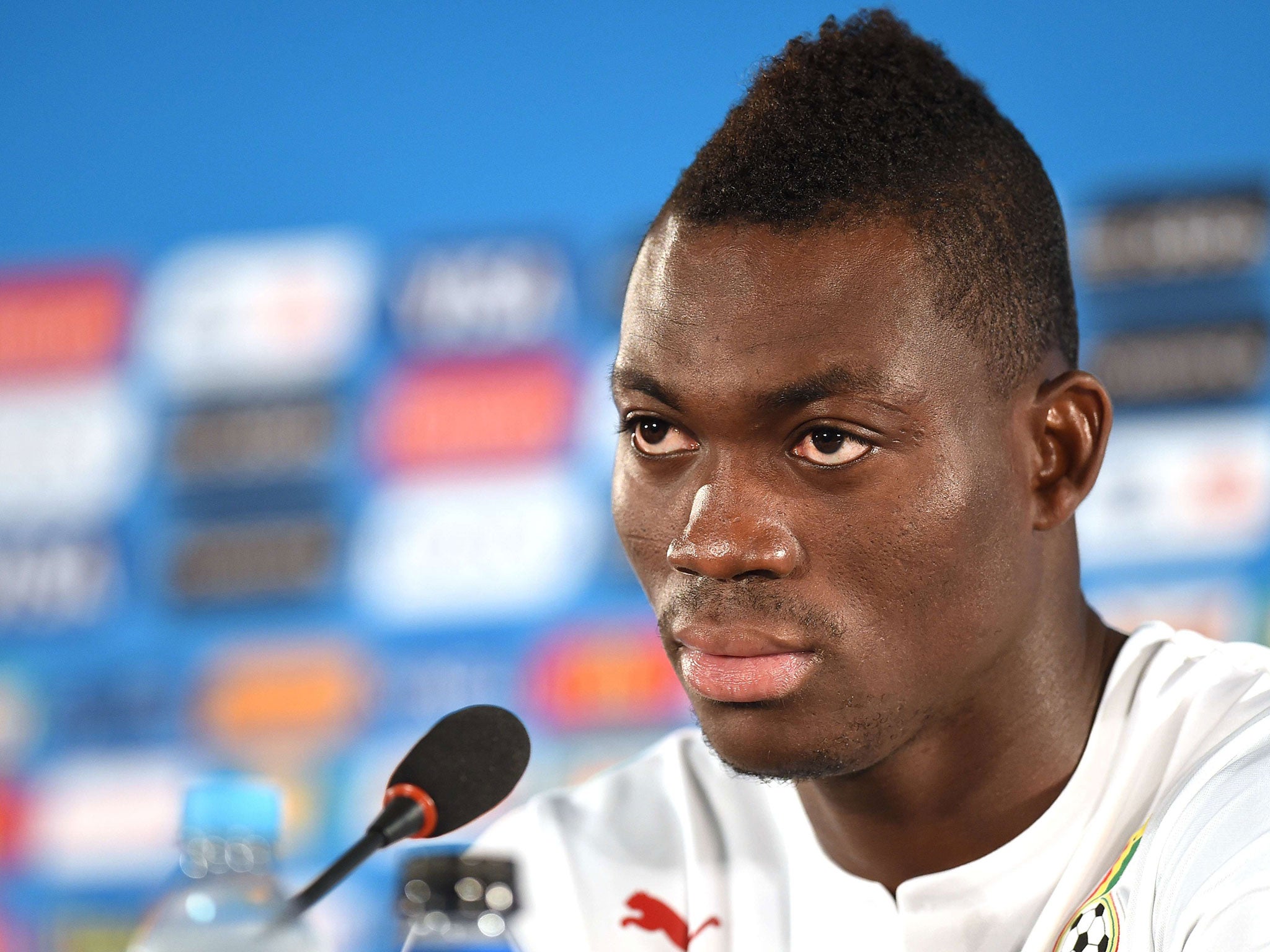 The cash-strapped Ghanaian football association has requested an advance on the $8 million prize money it is guaranteed from the World Cup to pay outstanding debts to players, amid conflicting reports that $3 million in cash would be flown into Brazil from the West African nation to pay disgruntled footballers.
Ghana's players have now promised they will not boycott their crucial World Cup group game against Portugal today despite a deepening and extraordinary row over appearance money.
Fifa said yesterday that the country's request for an advance on the monies was "under evaluation".
Reports of the request for funds from Fifa appeared to directly contradict claims that Ghana's government has sent more than $3m (£1.8m) in cash by plane to Brazil to pay the appearance fees owed to the national team.
Joseph Yamin, the Ghanaian deputy sports minister, had told Ghanaian radio station Citi FM the players "insisted" on cash payments. "The government had to mobilise the money and a chartered flight to Brazil," he told the broadcaster.
Germany 2 Ghana 2 player ratings
Show all 22
World Cup prize money — which ranges in Brazil from $8 million for being knocked out in the group stage to $35 million for winning the title — is normally paid after the tournament.
The Ghana Football Association insisted that the problem had been resolved after intervention by Ghanaian President John Dramani Mahama, who had spoken to players and guaranteed they would get their money by Wednesday afternoon, the GFA said.
The row is likely to overshadow preparations for Ghana's crucial World Cup game against Portugal. The team need to beat Ronaldo's Portugal to have any chance of progressing, and the outcome is still dependent on other group results.
After initial threats of a boycott, Ghana midfielder Christian Atsu dismissed fears the team would refuse to play its final group game in Brasilia.
"We are not going to say we are not going to play because of the money," Atsu said. "We love our nation and we are going to play for our nation."
Ghana coach Kwesi Appiah said he had been having "sleepless nights" over the issue which came to a head Tuesday when the players and team management had a meeting instead of conducting a training session.
President Mahama "personally spoke to the players" to assure them they would receive the money, the Ghana Football Association said in a statement. Ghana's players trained as scheduled Wednesday in Brasilia.
The management and the government are trying to sort it out and everything will be sorted out in two or three hours' time," Appiah said. "They should have received it before the start of the competition but it's being solved now and we are really focused on the game now."
Players were going to receive the money in cash because "the practice in Ghana has always been paying the money in cash," Appiah said.
Asked what the players will do with the appearance fees — reportedly between $75,000 and $100,000 each — if they received them in cash, midfielder Atsu said: "I think we will keep it in our bags and we'll just lock them. And we will transfer the money to our accounts."
Coach Appiah wouldn't give an exact figure for the appearance fees owed to the players, saying: "I would be a bad person ... the players would kill me if I said."
Brazilian officials said bringing in $3 million in cash and not declaring it to authorities would be illegal and the entire amount could be confiscated. Individuals cannot bring in more than $4,500 each without having it subject to taxes, said Brazil's Federal Police, who enforce custom and immigration laws.
Additional reporting by AP.
Join our commenting forum
Join thought-provoking conversations, follow other Independent readers and see their replies