World Cup 2014 countdown: Rivaldo play-acting for Brazil in 2002
Counting down the 100 greatest moments in the history of the World Cup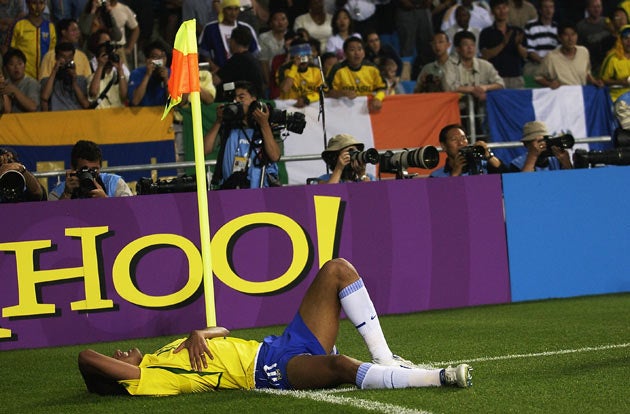 The World Cup in Brazil is coming into view and everyone is hoping this summer's carnival can take its place among some of the great tournaments of the past.
That won't be easy though, as this series will testify. In the run-up to the tournament, we're counting down the 100 greatest World Cup moments.
Check out our latest instalment below, and for any you missed, see the gallery at the end of the article.
Rivaldo play-acting for Brazil in 2002
Simultaneously one of the funniest and most despicable World Cup moments.
During Brazil's group match with Turkey in 2002, the Samba Boys were awarded a corner. With Rivaldo demanding the ball, Hakan Unsal petulantly kicked it towards him, hitting the Brazilian on the leg.
Rivaldo saw his opportunity.
He collapsed to the ground, holding his face as though he had been snipered by a masked gunman. What made it worse was the referee fell for it, sending off Unsal for his apparent misdemeanour. Rivaldo was later fined by Fifa.
The 100 greatest World Cup moments (part 1 of 2)
Show all 50
Join our commenting forum
Join thought-provoking conversations, follow other Independent readers and see their replies