World Cup 2014: England will never prosper while the Premier League is dominated by foreigners, warns Germany coach Joachim Low
Low said Germany's success was due to the young players developed at home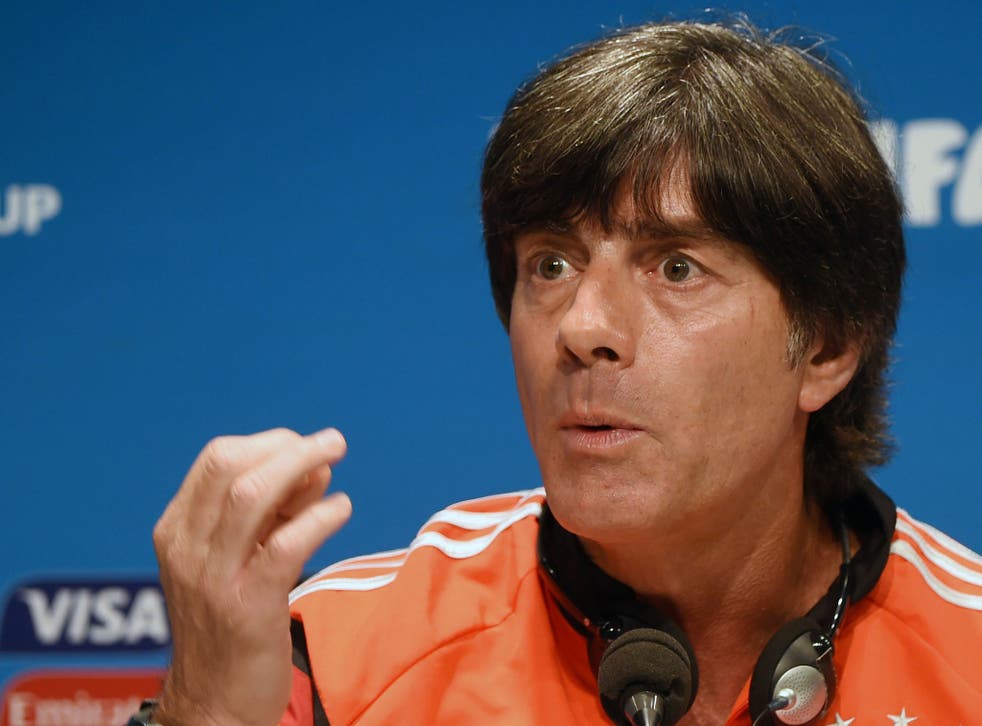 Joachim Löw, the Germany manager, said tonight that the England team would continue to struggle for as long as it failed to promote young English players to play in the Premier League.
Ahead of his team's quarter-final against France on Friday, Löw espoused unprompted on the level of young English players in the Premier League, citing it as a problem for Roy Hodgson. Asked about the strong numbers of German players in the Bundesliga, Löw said that he also benefited from his players playing abroad.
He said: "I believe we have a good blend. These players have a lot of experience in tough competitions. I'm not unhappy if players are abroad. We can benefit from Sami Khedira, Mesut Özil having different influences and cultures and coaches. They benefit personally as well and it helps players to mature.
"If other countries like England have a problem, their league has a disadvantage because of a higher percentage of foreigners so it becomes difficult for the national coach to get things moving. We have changed over recent years with lots of young German players in German clubs, given an advantage over foreigners and we're benefiting from that. In England there are many foreigners and perhaps that is not always beneficial."
In pictures: World Cup 2014: Players whose stock has soared

Show all 5
Oliver Bierhoff, Germany's team director, announced that the Germany players had not even travelled their suitcases ahead of the game against France – symbolic, he said, of their confidence that they will reach a record fourth consecutive semi-finals.
The former Germany striker, a key part of the national team set-up, said that he and Löw had decided the players should not pack up their bags at their base in Bahia, in the north-east of the country ahead of Friday's game at the Maracana in Rio. "We are travelling without suitcases," he said. "When players have already packed their bags, it means that in their heads there is a lot of anxiety."
Earlier in the week, the German camp had been struggling with an outbreak of flu. In an interview with the Germany radio station ARD, Löw had said that seven of his players had throat complaints, although he did not specify which members of his squad.
At his press conference today he said that the players had recovered. "One third of our team were complaining about sore throats. We were contaminated and have problems and need to see how that develops. Mats Hummels had a fever but from [Wednesday] all players are able to train. They're still slightly suffering but no feeling of exhaustion. Hopefully they stay stable and there is no worsening.
"Bastian Schweinsteiger and Khedira recovered well. They had a break so are in excellent condition. Both are in good shape and able to play. Hummels can play. He was able to train with the team and he told me he no longer feels tired and could be perfectly fit."
Löw also praised his goalkeeper Manuel Neuer for his "sweeper-keeper" performance against Algeria in the previous round. "Manuel is a great technical player. He has the same skills as the others. He could play in midfield."
The Bayern Munich and Germany midfielder Toni Kroos, who has been linked with a move to Real Madrid, said that no decision had been made on his future. He added he would wait until after the World Cup to decide where he will play next season.
Germany have not last to France in a major tournament since 1958, and the victories over them in the World Cup finals of 1982 and 1986 were high on the agenda when France coach Didier Deschamps spoke ahead of the game. "There is no pressure," he said. "I have nothing to tell the players. They are thrilled they are playing in a quarter-final of a World Cup, that's all. History is what it has always been. We will try to make our own history."
The two teams last met in February last year when Germany won 2-1 at the Stade de France. Deschamps acknowledged their qualities: "You cannot say they have major weaknesses – since the beginning of the World Cup they have changed people around in different positions but they haven't changed their style of play."
Register for free to continue reading
Registration is a free and easy way to support our truly independent journalism
By registering, you will also enjoy limited access to Premium articles, exclusive newsletters, commenting, and virtual events with our leading journalists
Already have an account? sign in
Register for free to continue reading
Registration is a free and easy way to support our truly independent journalism
By registering, you will also enjoy limited access to Premium articles, exclusive newsletters, commenting, and virtual events with our leading journalists
Already have an account? sign in
Join our new commenting forum
Join thought-provoking conversations, follow other Independent readers and see their replies