World Cup 2014: Enter Sepp Blatter and his Fifa army to enjoy the perks of office
Andrew Jennings, the reporter who first exposed the corruption at the heart of football, holds his nose as the game's tainted administrators roll into town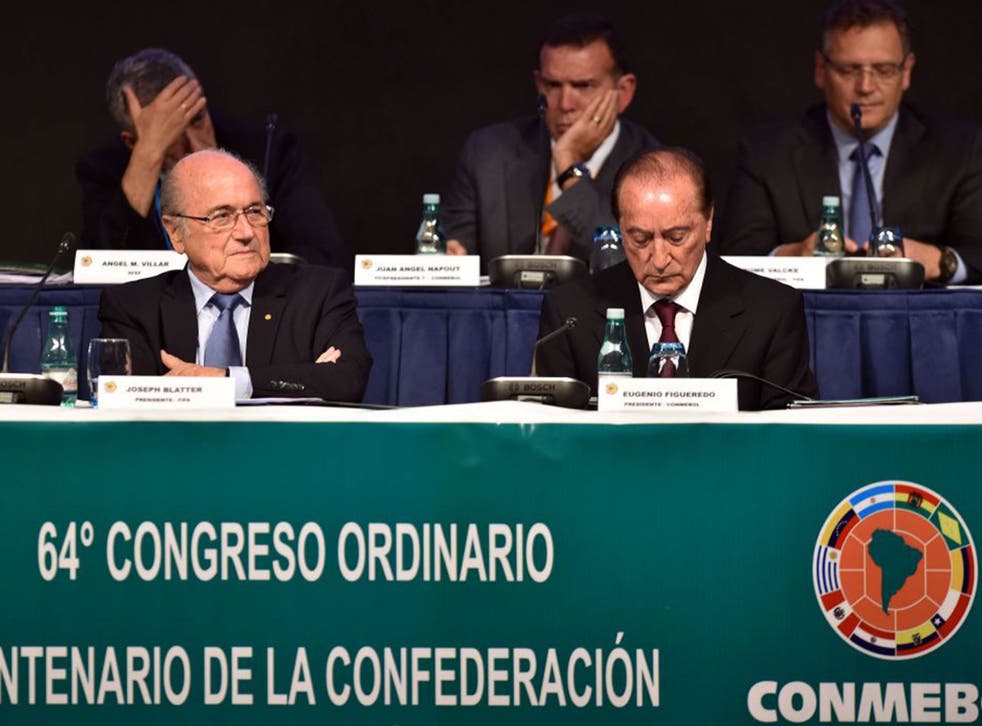 This is a wonderful day! Sepp Blatter, the Fifa president, has been planning every glorious detail for years. Brazilians will line the streets of Sao Paulo to applaud the delegates from the 209 national associations as they arrive to stage their congress before the football begins on Thursday.
Waiting for them inside the Transamerica Expo Centre will be the agenda booklet in which Mr Blatter writes: "You will be invited to take further important decisions in Brazil, in particular regarding the conclusion of the reform process."
He adds that Fifa has "completed this chapter of reforms and raised our governance to the high standards we have set for ourselves".
Delegates picking up their hefty per diems can exchange fond memories with old friends of last year's congress and lobsterfest in Mauritius in May where they cheered Mr Blatter's claim that his corruption-soaked organisation "is now setting the highest standards for governance in world sport".
Surely Brazil will have a warm welcome for these thousand or so towering representatives of football's ethics and fair play.
My books and Panorama films exposing Fifa corruption, which ended the careers of former Fifa president Joao Havelange and his son-in-law and kickback king Ricardo Teixeira, open doors for me from the Senate and Congress in Brasilia, where I hug with Congressman Romario, a nifty goalscorer in his time, to the people's forums.
One evening in October last year, after the Global Investigative Journalism Conference, I was invited to meet the Rio Popular Committee for the World Cup and Olympics.
Rio taxpayers are being looted for the World Cup and drained of even more money by the 2016 Olympics. Fifa, the International Olympic Committee and the Brazilian crooks and politicians didn't expect the cork coming out of the bottle.
More than 300 activists turned up: university teachers, urban planners, a few old hit-and-run fighters from the days of the military dictatorship, trade unionists, students and, horror of horrors, ranks of neat, middle-class, pissed-off taxpayers. And journalists with good jobs and lots of anger.
The Black Bloc anarchists who smash the "capitalist" bank windows are saving their masks for the action and don't care for this kind of polite collective. But for the next month it is likely they will all be on the streets, shoulder to shoulder, sharing vinegar-soaked neckerchiefs to protect against the gas attacks.
The tough lads from the favelas don't attend polite, crowded meetings in downtown office blocks. But, I was told, they will be in the crowds protesting against corruption and seeking payback against the cops who routinely baton them in the shanty towns.
A year earlier, at a weekend conference in Sao Paulo of activists from communities around the land, I listened as they talked of forced evictions by land speculators. "Don't want to leave your comfortable little house in easy reach of your place of work? See how you cope as the cops protect us when we smash water and sanitation pipes."
The conference was about sharing and bonding. I asked one activist how long it took her to get to us. "Twenty-four hours on a bus," she said.
As we talked, her fingers chattered across her laptop. Social media is one of their advanced weapons against a sluggish state.
In the Rio audience were two well-dressed blazers from Fifa, touring the country with a list of the vast sums they claimed Fifa is "investing" in Brazil.
The activists' response was not abusive, not vicious, but contemptuous. The Fifa PR men seemed to know so little about Brazil – silky PR peddlars patronising the locals.
A recent poll, by the biggest – and most conservative — national paper, reported that at least 11 per cent of Brazil's 200 million population will protest. The latest tsunami of documented Fifa corruption, favours, bribes and grease have resonated through Brazil's media. No surprise – where's that gas mask?
I will be looking out for my Sao Paulo friends on tonight's news. Their anger was first sparked by overcharging and rackets in building the stadiums and the intriguing way tickets are distributed. Now they will know that among the Fifa blazers and Sepp Blatter's personal guests in the luxury white coaches heading for the congress are teams of Fifa lowlifes, not fit to debate and vote on the game.
The friends in Sao Paulo tell me that because of high walls around the congress centre there may only be a modest protest, a dry run for Thursday around the first game of the tournament, and then building day-by-day around the country.
Over two weeks The Sunday Times has produced a stunning list of officials from 33 of the 209 national associations accused of pocketing millions of dollars.
If they were all suspended this morning until their names were cleared, there would be a lot of empty chairs in the Transamerica congress hall. How can these suspects be allowed to participate? Will they be shunned by other delegates? That's not how the Fifa family works.
Will the Brits make a difference? England's Greg Dyke, Scotland's Campbell Ogilvie, Northern Ireland's Jim Shaw and Trefor Lloyd Hughes from Wales could stand up, speak up and walk out, reflecting the massive loathing in our islands for the Blatter gang. Would they be joined by our friends Paddy McCaul and John Delaney at the Football Association of Ireland in Dublin?
Could our British vice-president, Jim Boyce, from Northern Ireland, speak up too. Maybe Jim would press for Mr Blatter to reveal his salary, the bonuses he awards himself and all the other perks that he prefers to stay silent about.
Up on the platform, where several of the 24 executive committee members have been forced out in the past three years, are several more who should be facing serious questions – but are unlikely to be troubled.
In the shadows are likely to be special agents from an FBI organised crime squad which has been investigating Fifa. I know because I have met them three times in an anonymous building near the US embassy in London.
Fifa's bribes culture is dollar-based and qualifies for investigation under the Foreign Corrupt Practices Act. The Feds already have one co-operating witness and probably another. The sponsors talk the talk but have been passive for years.
Maybe the FBI will have to sort it all for us.
The author's new book on Fifa corruption is at transparencybooks.com
Register for free to continue reading
Registration is a free and easy way to support our truly independent journalism
By registering, you will also enjoy limited access to Premium articles, exclusive newsletters, commenting, and virtual events with our leading journalists
Already have an account? sign in
Register for free to continue reading
Registration is a free and easy way to support our truly independent journalism
By registering, you will also enjoy limited access to Premium articles, exclusive newsletters, commenting, and virtual events with our leading journalists
Already have an account? sign in
Join our new commenting forum
Join thought-provoking conversations, follow other Independent readers and see their replies