World Cup 2014: Fabio Capello and Russia aim to rebuild their damaged reputations together
After a disastrous tournament as England manager in 2010, Capello will be hoping things go better this time around
Jack Pitt-Brooke
Tuesday 17 June 2014 10:48 Comments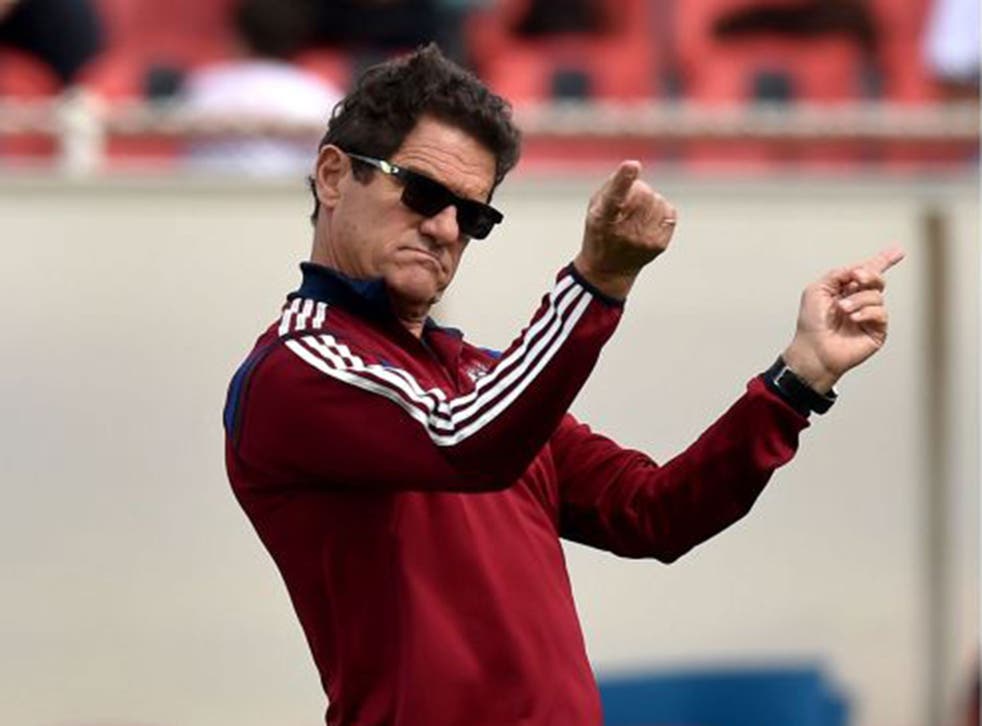 Fabio Capello and Russia are back in the World Cup today, both keen to show that the world game has not moved beyond them. They are both in Cuiaba, near the Bolivian border, for tonight's game against South Korea, the last of the first round of matches.
It is a long way, and a long time, from when Russia last played in the competition. They were at the 2002 tournament and were gifted an easy group. Managed by Oleg Romantsev, they beat Tunisia in Kobe but lost to Japan in Yokohama and 3-2 to Belgium in Shizuoka, and were eliminated.
That 12-year absence stings the pride of a country who will, of course, be hosting the competition next time around. This World Cup, and this relatively easy group – Belgium, again, South Korea and Algeria – are good opportunities to assert their strength and status before next year's competition.
"We have things to prove in this World Cup," said veteran centre-back Vasily Berezutskiy this week. "It's been 12 years since Russia have participated in the World Cup so our objective is to play more than three games, try to qualify from our group and after that we will see."
Fabio Capello could certainly burnish his own reputation with a good showing in Brazil. The 67-year-old has had a glorious career but in his last job, with England, he looked fairly ineffective at times. At the 2010 World Cup, in South Africa, England were dismal and were put out of their misery by a far superior German side.
It was a natural pairing, then, when Russia and Capello joined forces in July 2012. Russia were humiliated at Euro 2012, failing to progress from a group including Czech Republic, Poland and Greece. There was widespread anger at Dick Advocaat, the players and the RFU president, Sergei Fursenko. Failing to get to World Cup 2010, losing a play-off to Slovenia, was bad enough. But this was the last straw.
So Capello came in, with a very similar task to when he joined England: to resurrect an underachieving nation, to reimpose discipline and standards, to kick a complacent generation into shape. When he took over as England manager, he banned tomato ketchup. When he took over with Russia, he banned shisha pipes, which had been blamed for bad results.
The players have not changed desperately much from those who were in Guus Hiddink and Dick Advocaat's teams. It has still been Igor Akinfeev in goal, with Sergei Ignashevich and Berezutskiy at centre-back. The biggest casualty of Capello's reign has been Andrei Arshavin; a symbol of both the puckish confidence of the Russian side under Hiddink but also their comfort and loss of focus under Advocaat.
World Cup 2014: Match-by-match results

Show all 62
Capello's Russia, though, have been impressively solid, driven and resilient. They topped their qualifying group, winning all of their home games and capitalising on the fact that Portugal could not beat Israel at home in their penultimate match. The football has not been spectacular but Capello has reimposed the unity that had dissipated in recent years.
"He is tough and demanding," said the midfielder Oleg Shatov. "Discipline is the most important thing for him. If a player is standing in the defensive wall and turns around, he'll say, 'I will not tolerate that in my teams. If you say you're scared, you can leave and I'll use another player'."
Capello has impressed Russian fans through his willingness to live in Russia and watch games from all over the Russian league, rather than just flying in when convenient. He has picked a squad entirely made up of domestic-based players. They might be fielding slightly less individual quality than they did a few years ago, but exoticism is a rare weapon in modern football.
"All of our players have been thriving in Russia, but people outside the country don't know us," said Alexander Kerzhakov, who played in 2002 as a teenager and is now back up front, replacing Roman Pavlyuchenko. "What is important, though, is that our coach, Fabio Capello, knows us and our strengths. We know what we're capable of and if everyone plays to the best of their abilities, we will succeed."
The problem for Russia is that their best player, veteran midfielder Roman Shirokov, injured his Achilles last week and will miss the whole tournament, depriving them of much skill and nous in the middle of the pitch.
This does mean that exciting young forward Alan Dzagoev should get to play centrally, making space for Dynamo Moscow's exciting 21-year-old Aleksandr Kokorin, who cuts in from the left wing.
As ever with Capello, the individual players have to compromise with him. "Capello is a great trainer, he has a big personality," said Berezutskiy. "He's won many titles and trained great teams. He is our main star."
Register for free to continue reading
Registration is a free and easy way to support our truly independent journalism
By registering, you will also enjoy limited access to Premium articles, exclusive newsletters, commenting, and virtual events with our leading journalists
Already have an account? sign in
Join our new commenting forum
Join thought-provoking conversations, follow other Independent readers and see their replies