World Cup 2014: Germany's self-built home from home
The luxurious hideaway where Joachim Löw's squad are plotting every last detail of their campaign to rule the world again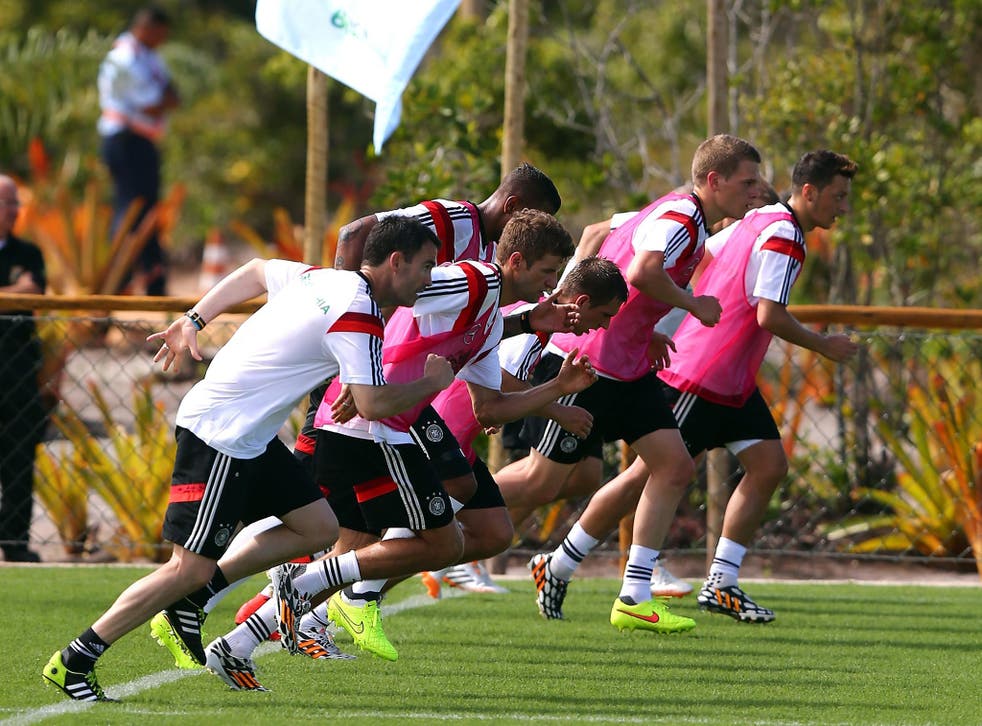 Getting there feels like a journey into the heart of darkness. The nearest World Cup venue, Salvador, lies 250 miles north as the crow flies. Fortaleza, where Joachim Löw's footballers face Ghana today, is 870 miles away.
Campo Bahia, the place where Germany are plotting to win back the World Cup, could not be more different from England's base in the exclusive, celebrity-friendly Rio suburb of Sao Conrado.
We are in the deep south of the north-east state of Bahia and the journey there involves a river crossing from the sleepy town of Santa Cruz Cabralia on a rusty old car ferry and then a drive through mangrove forest. One handmade road sign attached to a tree beside the narrow road says: "Attention – 100-year-old man in the road." There, sitting beside it, is a man who looks considerably older than the World Cup itself.
Eventually, you reach Santo Andre, a village of 3,000 people, which is the temporary home of a Germany team yet to put a foot wrong at this World Cup.
On the pitch they celebrated the landmark of their 100th World Cup finals match by crushing Portugal 4-0 in their opening Group D game on Monday. Off it, it seems they are playing a blinder too.
Germany are the one team in this competition who actually built their own training base, the German Football Association (DFB) having ignored the fact there are 1,000 hotels in nearby Porto Seguro – a popular resort of palm-fringed white sandy beaches – and instead joined forces with a Munich-based developer in the Campo Bahia project. As Guto Jones, who works for the Bahia tourist board, says: "The Germans just came in and did their own thing."
The consequence is that they have everything down to a tee. The training pitch a short distance away has its grass cut exactly 22m long – the length of the grass in all World Cup stadiums. The press conference marquee has the flavour of an expensive Frankfurt convention centre, with a huge Mercedes ad, Adidas mannequins and neon lighting. For the German press, meanwhile, there is a McDonald's cafe transported lock, stock and barrel across the Atlantic, with tall, blonde waitresses flown in from Berlin and Frankfurt. Talk about German efficiency.
And unlike the Croatians, who were filmed skinny-dipping in their hotel pool, there is no danger of anybody encroaching on their turf – not with the DFB having cannily booked journalists into hotels on the other side of the river.
As Hansi Flick, Löw's assistant coach, told reporters on Wednesday: "Campo Bahia really plays its part because in this atmosphere we can relax and play it cool and be ourselves, and not be on the lookout for cheeky photographers."
Inside the camp, the squad are accommodated separately in a series of villas – expected to sell for $1m each after the tournament – and there has been no recurrence of the off-field tensions that Bastian Schweinsteiger said arose during their Euro 2012 campaign.
That said, the German game plan is not without controversy. Campo Bahia has stirred debate back in Germany, where the game's grassroots sector has questioned the DFB's spending on the project – though the actual detail of how much money, if any, the DFB did contribute is difficult to establish.
Among the locals, meanwhile, there have been some complaints about the tight security around the camp. Others say it has not brought in the extra business hoped for – yet a German charm offensive seems to have got the vast majority onside.
Before their opening match in Salvador, Schweinsteiger and Manuel Neuer donned shirts of the city's best-supported club, Esporte Clube Bahia, and were filmed chanting along with supporters.
The local A Tarde newspaper spoke of their "show of charisma" and the DFB have invested funds in local football and music projects, one of which Chancellor Angela Merkel visited in Salvador on Monday.
Sergio Pompeu, who lives in Porto Seguro, says: "They are keen to show they are connected to the people and people here are loving them."
Apart from Mats Hummels' thigh injury against Portugal, just about the only thing to have gone wrong so far was Thomas Müller's wayward shot that flew into a table of diners beside the training pitch the other day.
It was Müller who grabbed the headlines with his hat-trick against Portugal, though the display of metronomic passing by Toni Kroos – playing alongside Philipp Lahm and Sami Khedira in a three-man midfield – also had the German press purring.
Kroos, 24, made impressive strides under Pep Guardiola at Bayern Munich last season and has been linked with a move to the Premier League. Although there is a feeling in Germany that he is merely bargaining for a big salary rise from Bayern, Monday's evidence suggests he would be a rich addition to any English club.
"You have to be as precise as possible that the recipient of your pass can do something with the ball and not have a hard time trapping it," he said, explaining his laser-guided deliveries, and it was no surprise to hear him add that the key is to practise over and over again.
Today, Kroos expects to get less time and space in midfield against Ghana than the Portuguese allowed them, and Flick believes there is room for improvement in their defensive positioning.
Germany beat Ghana 1-0 when the countries met in the group stage of the 2010 World Cup when, as this evening, defender Jérôme Boateng came up against his half-brother Kevin-Prince.
For Flick, the most important thing is that the squad do not get carried away by their flying start. "A big start needs enthusiasm and a good finish needs discipline," he said, repeating what has become this German squad's mantra.
It is a mantra that could take them a long way, though for taxi driver Oscar Simoes, sitting beside the ferry landing stage, the Germans have already made their mark. "I'm happy they're here as it's spreading the word about this place," he said.
Register for free to continue reading
Registration is a free and easy way to support our truly independent journalism
By registering, you will also enjoy limited access to Premium articles, exclusive newsletters, commenting, and virtual events with our leading journalists
Already have an account? sign in
Register for free to continue reading
Registration is a free and easy way to support our truly independent journalism
By registering, you will also enjoy limited access to Premium articles, exclusive newsletters, commenting, and virtual events with our leading journalists
Already have an account? sign in
Join our new commenting forum
Join thought-provoking conversations, follow other Independent readers and see their replies