World Cup 2014: I don't need to prove a thing, insists Marouane Fellaini
Ian Herbert
Saturday 05 July 2014 03:17 Comments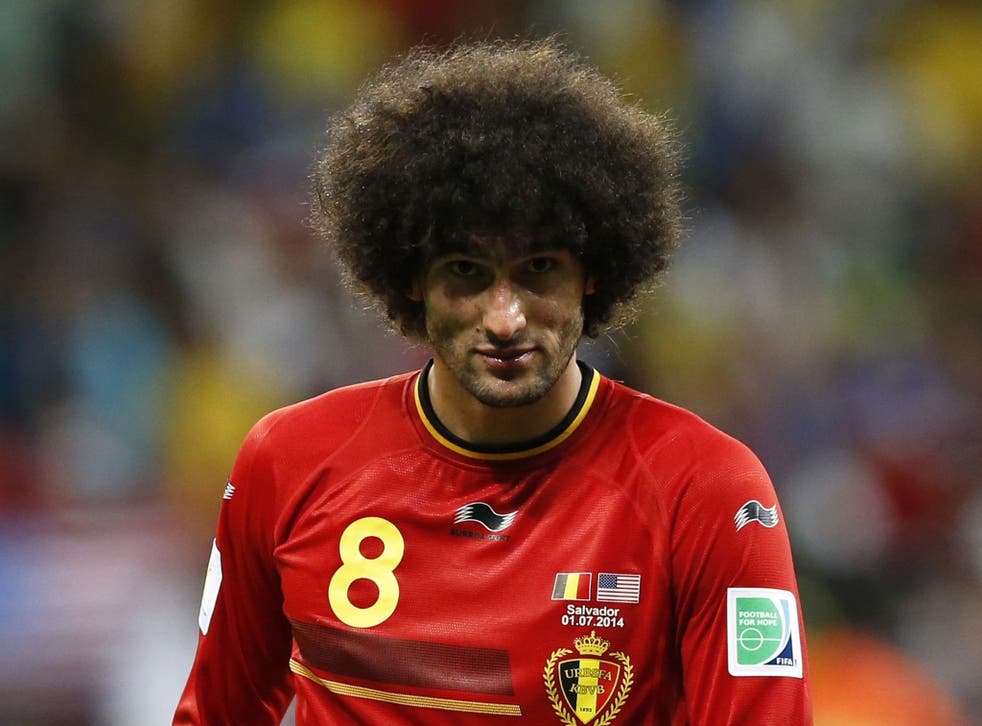 Marouane Fellaini bridled at the suggestion that he has taught the world a thing or two about his qualities in the past weeks, after their devaluation at Manchester United.
"I don't need to prove anything. I played football for eight years as a professional so I don't need to prove [anything]," he said yesterday, placing himself on the radar for the first time at this World Cup after something of a self-imposed exile following the traumas of Old Trafford.
Fellaini, 26, has been one of the few consistent threads to a Belgian side who have progressed to tonight's quarter-final against Argentina despite mixed form. He held out no clear hope that he would remain at Old Trafford under the new manager Louis van Gaal – "we will see after the World Cup," Fellaini said – though his departure is not a foregone conclusion.
Moments like tonight can be career-affecting for a man at a professional crossroads. There is a genuine feeling in Marc Wilmots' squad that they can beat Argentina and it is hard to avoid the impression that Fellaini would love the chance to stick two fingers up to the many who doubted his capacity to play for United.
His sensitivity to the way his reputation has been revised in the last year was never far from the surface as he discussed his team. "I always believed in myself," he insisted.
Kevin De Bruyne, the central midfielder adored by the Belgian nation as the playmaking fulcrum of Wilmots' side, knows a bit about being chewed up and spat out in England, too, after his Chelsea career went south and he found salvation at Wolfsburg. He is still only 22.
Belgium 2 United States 1 player ratings

Show all 23
It was put to De Bruyne that Romelu Lukaku's resurgence against the United States in the round of 16, after a disappointing group stage, had restored faith in the striker. "Yes, but you know how it goes in football and with media," he said. "If you play two normal games they say you are shit and then you play one great game and you are the best in the world. You have to look a little bit between the lines."
It will not be straightforward tonight against Lionel Messi and hard not to be mesmerised by the challenge created by the little man. The Independent columnist Rafael Benitez observed yesterday that having tall players such as Fellaini, Axel Witsel, Vincent Kompany and Daniel van Buyten trying to deal with Messi makes it even harder to handle his low centre of gravity and mobility.
But the Belgians' hopes lie in the meagreness of Argentina's performance against the Swiss, with neither Angel di Maria, Ezequiel Lavezzi nor Gonzalo Higuain playing with any degree of intensity. And the defence is not insuperable. The Belgians represent the first team of genuine attacking threats the South American nation have faced here.
"They have [the attacking threats]," Wilmots said of Alex Sabella's team. "But I also saw they showed a lack of balance within the team and that they had problems. If Messi fires there could be trouble. But if you ask me whether I prefer a good collective or one great player, I prefer the team."
Fellaini will vouch for that. There has been an unmistakable desire in the squad to assert what poor use United have made of him, by deploying him as a No 8, not a No 10. "We will play all together and try to play well," Fellaini reflected. "We are together. I am happy to play for this team. For this country."
Register for free to continue reading
Registration is a free and easy way to support our truly independent journalism
By registering, you will also enjoy limited access to Premium articles, exclusive newsletters, commenting, and virtual events with our leading journalists
Already have an account? sign in
Join our new commenting forum
Join thought-provoking conversations, follow other Independent readers and see their replies