World Cup 2014: Mesut Ozil and Mario Gotze go selfie crazy amid air-guitars, congas and cheers as Germany team arrive in Berlin
Half a million fans acclaim returning Germany squad  at the Brandenburg Gate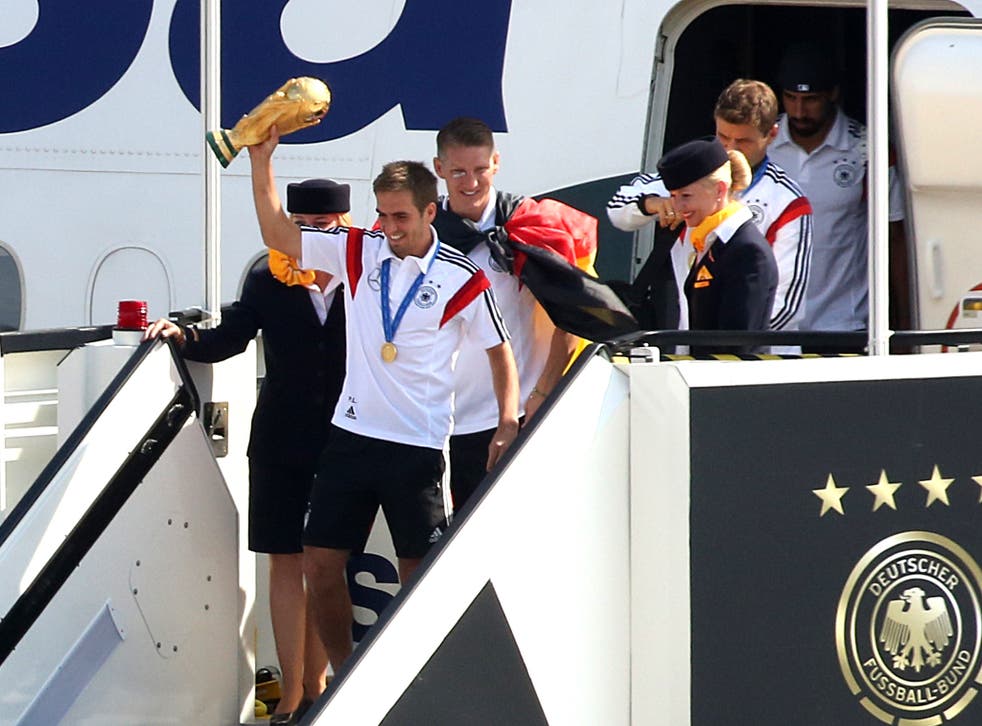 Almost half a million fans lined the streets for Germany's World Cup victory parade to the Brandenburg Gate here on Tuesday and were treated to some bizarre party antics from their heroes.
After an 11-hour flight back from Brazil, delayed for two hours after a baggage carrier collided with the aircraft, the Germany squad flew in low over the "fan mile", where the public had been gathering since the previous evening.
After landing at Berlin's Tegel airport, the Germany captain Philipp Lahm led the team off the aircraft holding the trophy aloft, followed by Bastian Schweinsteiger, who was draped in the German flag and sporting a bandage under his right eye after getting a cut to the face in the final against Argentina.
The team then set off on a two-hour trip to downtown Berlin in a black bus which had been painted with the years of Germany's World Cup victories: "1954, 1974, 1990, 2014!"
In pictures: Germany return from World Cup

Show all 10
The players all changed into matching black T-shirts bearing the number "1", then climbed on board an open-top bus for the last stage of a journey that has lasted 24 years since their previous World Cup triumph.
Then the squad took to the stage at the famous landmark, to be greeted with chants from the crowd of "football gods". But there were problems with the sound system, which meant that most of the players' words were lost in the din. The fans cheered louder then ever when defender and Berlin-born Jérôme Boateng shouted: "I can't hear you!"
In a rehearsed piece of stage theatrics, Lahm had emerged concealed by four of his team-mates, who walked out with heads bowed and arms behind their backs. Then the quartet suddenly fell to the ground while the captain held the trophy aloft to the cheering crowd.
The squad then started to dance and play air-guitar before kicking little replicas of the World Cup football Brazuca into the crowd and performing a conga around the stage, led by Schweinsteiger triumphantly holding the trophy aloft.
"We're all world champions!" the Germany coach Joachim Löw said. "Of course, it was a long way to the title, and an incredibly tough one in the end. But we're incredibly happy to be here with the fans now."
Midfielder Toni Kroos led the crowd in a chant of "Miro Klose" – a tribute to veteran striker Miroslav Klose, who became the World Cup finals' leading scorer during the tournament with 16 goals.
"We're just mega proud of this achievement, after standing here in 2006 and 2008 as third and then as second – and now we've finally done it after this long journey, with this sensational team," the Arsenal defender Per Mertesacker said, while Chelsea striker André Schürrle added: "It's beautiful. It feels very good, it's all gone perfectly for us."
Striker Thomas Müller posted a "selfie" in front of the crowd on Twitter, and said: "Waaaaaaaahhhhnnnnnssiiiiiiinnn! [Insanity] Thank you for this great reception! Dear fans, you are a champion!"
The president of the German Football Association (DFB), Wolfgang Niersbach, said of the squad's reception. "This is a dream. Seeing this enthusiasm, I do not know what in our country can trigger this sense of belonging more than this World Cup. Our players are looking forward incredibly to enjoying this moment."
Fans agreed. "It's indescribable," said Till Uhlig from Hannover, who was among the throng. "They've all taken their holidays to come here. It's absolutely crazy. We were behind the stage where the bus pulled up. Just incredible."
Berliner Katrin Fels added: "We knew it would happen. It was clear from the start of the year that we had the best team. It's perfect, perfect for all generations."
Register for free to continue reading
Registration is a free and easy way to support our truly independent journalism
By registering, you will also enjoy limited access to Premium articles, exclusive newsletters, commenting, and virtual events with our leading journalists
Already have an account? sign in
Register for free to continue reading
Registration is a free and easy way to support our truly independent journalism
By registering, you will also enjoy limited access to Premium articles, exclusive newsletters, commenting, and virtual events with our leading journalists
Already have an account? sign in
Join our new commenting forum
Join thought-provoking conversations, follow other Independent readers and see their replies