World Cup 2014 profile: Dani Alves escaped grinding rural poverty after he won a place at academy
Simon Hart talks to the coach who developed him and hears from one former prospect who, like countless others, did not make it
Simon Hart
Monday 30 June 2014 20:51 Comments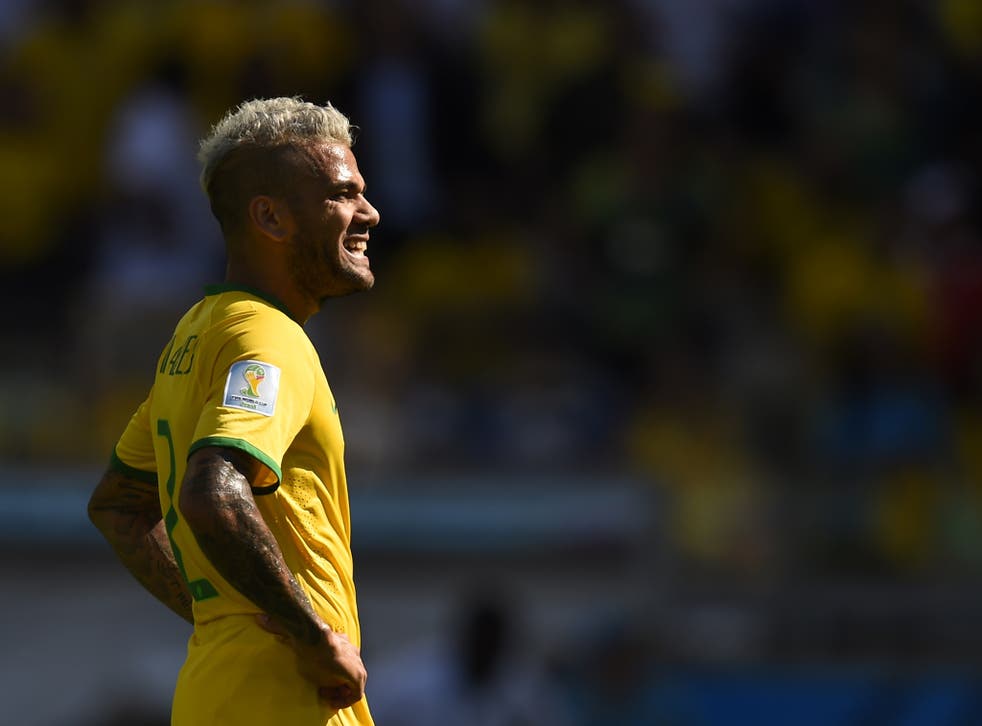 Football as an escape route: it is the biggest cliché of the Brazilian game but there is no avoiding it as you step inside Esporte Clube Bahia's Fazendao training ground. The security gate closes and you leave behind the favela with its potholed roads, half-finished buildings and yellow-and-green plastic bunting, and find in front of you, set against a backdrop of orange-brick shanty housing, an oasis of grass football pitches.
When some 70 per cent of the population live on the minimum wage or much, much less, it is football that helps the dreams of so many young Brazilians take flight.
"Ninety per cent [of footballers] come from the lowest classes and, coming from conditions of poverty, football is an opportunity to rescue themselves, their families and those around them," explains Nelson Goes, director of the club's youth department."
The 80 youths aged between 14 and 20 who live in the unprepossessing dorm blocks up on the hill know that the dream can come true. It was here, after all, that Brazil's Barcelona full-back Dani Alves – who grew up some 300 miles inland in the small rural outpost of Salitre and was out in the fields helping his father at 5am each morning – began his journey to fame and fortune.
But for every Alves there is a Gervasio Xavier Junior, for whom the dream did not come true. More of him later.
First, Goes, the Under-17s coach, who oversaw Alves' initial development when he arrived at Bahia in 1999, recalls his 18 months working with him: "He came from the interior of Bahia from a club called Joazeiro. He is from a rural area, which is poor. After one month at the club it seemed like he'd been here a year. He got on with people, he was a joker and liked a laugh. He is a charismatic person but always worked hard and trained at full intensity.
Brazil 1 Chile 1 (Brazil win 3-2 on penalties) player ratings

Show all 22
"He was very aggressive in his attacking play," he continues. "In Brazil, this is the full-back's job. In Europe it's more conservative but he always had this. We had a three-month state championship at Under-17 level where he scored 10 or 12 goals playing as a full-back."
By the age of 18, Alves' break arrived when the absence of the team's regular full-backs persuaded Bahia's then coach Evaristo de Macedo –a former Barcelona and Real Madrid player – to throw him into the first team. Alves' website describes how he marked his debut by scoring a goal and winning a penalty, and Goes remembers: "He came in and he stayed in." By 2002 he had the golden ticket to Europe with Seville.
Alves embodies the Brazilian football fantasy but, as Goes acknowledges, so few actually live it – indeed, he estimates the chances of any of young player following Alves' path as "0.01 per cent".
However, a more typical story is the fate that befell Gervasio Xavier Junior. For every Alves or Neymar there must be a million nearly-men and Junior, 29, is one of them. He is watching the World Cup unfold from inside the press centre at the Arena Fonte Nova, where he manages the canteen.
As a schoolboy growing up in Uruguay, one of Salvador's poorest neighbourhoods, he trained with both of the local clubs, Vitoria and Bahia, and at 16 an agent arranged a trial for him with Corinthians. His parents begged and borrowed to buy him a ticket for the 24-hour bus journey to Sao Paulo and he remembers the excitement of it all. "Players from all over Brazil. Bunk beds. Lots of joking. High hopes. An opportunity to be in Sao Paolo with Corinthians. It was an adventure." The memories flash back like a series of holiday snaps.
A physically big man today, he was a powerful midfielder with an eye for a pass and he came through his trial game on the club's famed Terrao, a football pitch of bare earth. He graduated to the grass and he remembers a striker with "big hair" who was "really skinny but very fast and had so much talent". Today, while he serves journalists food, he watches that same player – Jo – wear the canary-yellow jersey at his home World Cup.
After Junior's two months at Corinthians came to nothing, his parents sent him out to work at 16, packing bags in a supermarket. "I stopped playing for a while," he says, but he kept knocking on doors. Along the way he encountered the conmen who prey on the desperate dream-chasers. "I was picked up by an agent who promised to send me to a club in Parana called Cascavel. When the day came to go, he said: 'Wait a few days more'. He was trying to trick me to get money. The club didn't even know he existed. I was 20. I ended up with no job and no club."
There was later "an email to go on trial with Leeds United", which came from a Fifa agent to whom he paid a deposit of £800. "Somebody had got the name of a real agent," he adds. "The money was lost."
Eventually, in his early twenties, he realised the dream of playing professional football with a club called Galicia in the second division of Bahia's state championship. He was paid £160 a month and, because Galicia's season ran for only six months, the club refused to pay him for the half of the year when they had no fixtures. Thus for four years he held down a job as a salesman while playing and training with Galicia. "It was very difficult – not eating right, sleeping badly, combining eight hours' work and three hours' training."
He laments the "corruption and self-interest" encountered on his unglamorous odyssey yet beams his sunshine smile and stresses "football still makes me happy". He wants to do a coaching course next year but for now simply feels fortunate, in his roundabout way, to have made it to the World Cup. "I am here in this atmosphere – it's like a gift for me, living football again. Afterwards it will be back to reality."
Register for free to continue reading
Registration is a free and easy way to support our truly independent journalism
By registering, you will also enjoy limited access to Premium articles, exclusive newsletters, commenting, and virtual events with our leading journalists
Already have an account? sign in
Join our new commenting forum
Join thought-provoking conversations, follow other Independent readers and see their replies