Spain World Cup 2014: Spain's humiliating exit signals the painful death of tiki-taka as we know it
The defending World Cup holders saw their defence fall at the first hurdle after two opening defeats eliminated Vicente del Bosque's side from Brazil 2014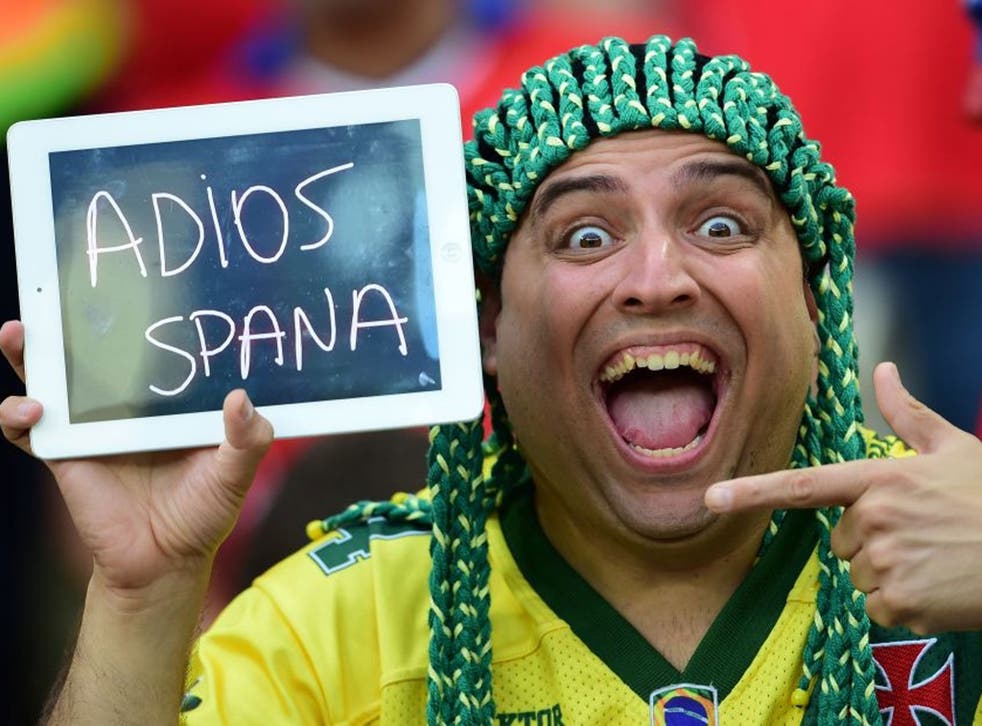 Don't be fooled by the doubters. Tiki-taka is dead. Spain's complete capitulation in the World Cup, Barcelona's fall from grace from the top of Spanish and European football, and Bayern Munich's demolition at the hands of Real Madrid in the Champions League are all worrying signs for fans of the possession-based style.
Chile's 2-0 victory over Spain condemned the reigning World Cup holders to an early flight home after Vicente del Bosque's side became the first defending champions to lose their opening two matches in World Cup history.
Some have claimed that the end of Spain's six-year domination of world football does not mean the end of tiki-taka, but simply a new dawn in the history of Spanish football as the old guard come to the end of their careers. This simply is not true.
Of the starting XI for Spain on Wednesday evening, only goalkeeper Iker Casillas, Xabi Alonso and Andres Iniesta are over 30 – the latter by just 38 days – and the average age of those players came in a little over 27 years old. Even without 34-year-old Xavi in the team, that's far from over the hill.
The problem lies in how teams are coping with the patient, passing-based style of football employed by these sides. Opponents of Barcelona and Spain in recent years have often sat back in fear that any defensive error will allow their opponents the simplest of chances to score, and thus showed little-to-no threat in attack.
Spain 0 Chile 2 player ratings

Show all 22
But lately sides like Real Madrid, Atletico Madrid, Bayern – under Jupp Heynckes – and the Netherlands have shown that a well-disciplined back-line will allow those ahead to flood forward using pace as a key weapon. Chile followed suit yesterday evening, and utilised Alexis Sanchez, Arturo Vidal and Juan Manuel Vargas' willingness to drive forward whenever possible to secure what was a well-deserved victory.
It's widely expected that key players such as Sergio Ramos, Andres Iniesta and David Silva will still figure in this Spain squad come the 2016 European Championships, and they'll need to show a more direct philosophy if they are to succeed in France. That doesn't mean they need to lump it to the big man up top, so-to-speak, but take their chances quickly and precisely rather than jinking in and out of the box until an opportunity arises.
The Netherlands demonstrated a clinical finishing ability to leave Spain stunned in the 5-1 mauling last Friday, which paved the way to the 2010 winners' early exit, and they could even use the final group match against Australia to begin a new chapter of in Spain's history.
This isn't a claim suggesting that tiki-taka was never the right option. It tore apart teams time and time again for years and led Spain to the very top in both club football and on the international stage, but the time is right to take a fresh approach and keep one step ahead of the opposition.
One clear problem though as been the alarming decline in the performances of captain Casillas, and you wouldn't be surprised if he is dropped for Manchester United's David de Gea in the near future. De Gea is struggling with injury and is unlikely to return in time to face Australia, meaning Pepe Reina is the only other option to replace Casillas. As a result, the Real Madrid legend may get another run out, but don't be surprised if it proves to be his last.
22-year-old Koke is another who could find himself in a prominent role for Spain should Xavi announce his international retirement after the tournament. His good form for Atletico Madrid this season has been a key reason behind the La Liga success, and he has also shown a strong partnership with striker Diego Costa to unlock the best from the Brazilan native – something that those on the pitch clearly struggled to do yesterday.
Tiki-taka could make a comeback, but it'll have to develop as every style does. Pep Guardiola's intentions at Bayern to implement his favoured tactics into the Bavarian's approach has shown signs that it incorporates a more direct and fast-paced attack, although this season domestic success couldn't be replicated in the Champions League.
Guardiola to manage Spain? Don't bet against it.
Join our new commenting forum
Join thought-provoking conversations, follow other Independent readers and see their replies