World Cup 2014: With 100 days to go until kick-off, will Brazil be ready?
With 100 days to go until the World Cup begins, the hosts continue to struggle with overspending and delays. James Young reports from Belo Horizonte on what is still to be done both on and off the pitch
James Young
Tuesday 04 March 2014 02:00 Comments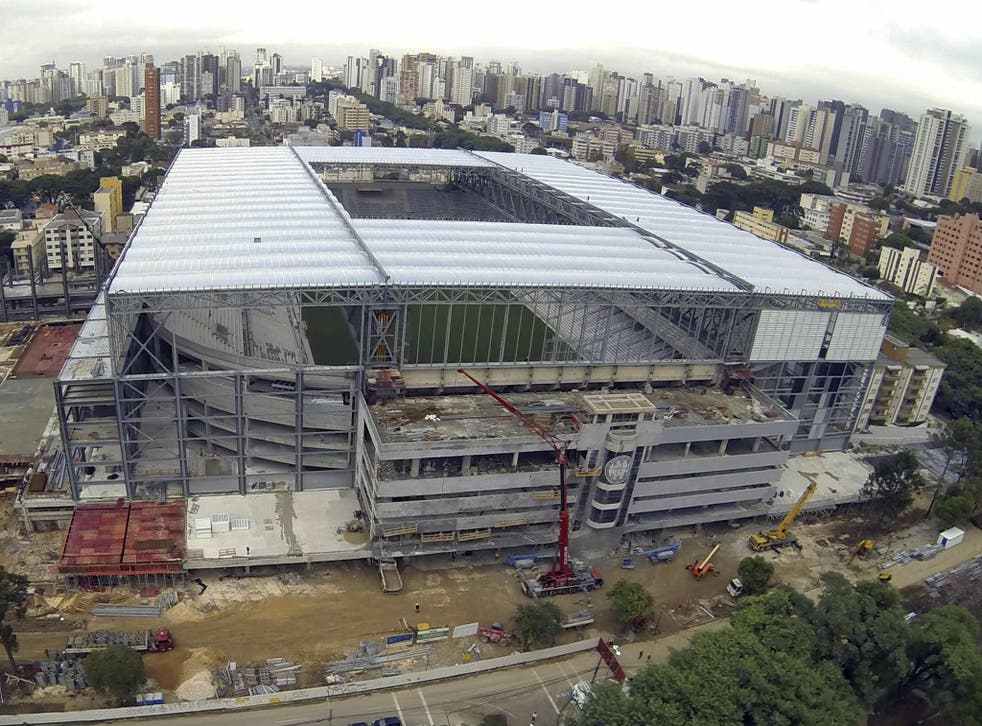 National team
It is easy to forget that before last year's Confederations Cup, Brazil were a side in serious decline, ranked 19th in the Fifa world rankings in April 2013. Most of the senior playing staff had been culled following the galling defeat against the Netherlands at the 2010 World Cup, and Brazil were in need of serious rebuilding.
That process finally bore fruit last June, after Mano Menezes' groundwork with a young team had been hewn into shape by the battle-hardened Luiz Felipe Scolari, and Brazil harnessed the energy of the often violent street protests that raged outside the stadiums to sweep Italy, Uruguay and Spain aside on their way to the Confederations Cup title.
After years of floundering, Brazil have found an identity under Scolari, with a line of three attacking midfielders (if the mercurial Neymar can be described in such limited terms) behind Fluminense striker Fred as a reference point up front.
Those looking for an achilles heel will find it here. Troubled by injury and unconvincing form, Fred's stock has plummeted in recent months and worse, he has only games against uncompetitive opposition in the Rio de Janeiro state league (a little like Manchester City or United spending five months of the year playing against Stalybridge Celtic and Altrincham) to prove that he is ready to lead Brazil in the World Cup. If he is not, Scolari will look to former Manchester City and Everton enigma Jo, now in stellar form back home with Atletico Mineiro, but in truth neither is likely to have experienced international centre-backs quaking in their boots.
Impending doom may also lurk in the form of goalkeeper Julio Cesar, a Scolari favourite but unwanted at QPR and now trying to get back in shape with Toronto FC. And Brazil face a deceptively tricky draw, with Spain, the Netherlands or Chile potentially lying in wait in the last 16.
Despite these worries, a side built around Neymar, Thiago Silva and Oscar looks strong enough to challenge for the trophy, especially as Brazil have the advantage of playing in front of their own boisterous fans. If the hosts can build momentum early on, they may prove unstoppable.
Stadiums
Despite delays, overspending and the deaths of six construction workers, it seems as though Brazil's stadiums will be ready for the World Cup – just. But this has been a slapdash process from the beginning, and what should have been a time for test events and last-minute adjustments has become an undignified race against the clock for the four venues yet to open – which include the arenas in Manaus and Sao Paulo, where England will play in the group phase.
Worries remain. Due to the sluggish pace of stadium work, Fifa threatened to remove Curitiba as a host city in February, and the progress of the Arena da Baixada remains under close scrutiny. Both that stadium and the Arena Corinthians are scheduled to open only in May, just a month before matches start.
Overall, Brazil has given the world a lesson in how not to prepare for a World Cup, with many of the key infrastructure programmes, which were supposed to be the tournament's long-term legacy to the nation, abandoned in the mad dash to be ready for kick-off.
Fifa, unsurprisingly, is unimpressed. Secretary general Jérôme Valcke was recently asked if Brazil needed another "kick up the backside", a reference to the ticking-off he gave the country's preparations in 2012. "Ask me again after the World Cup," he answered, grim-faced.
Airports
While the stadium-building process is at least limping towards the finishing line, infrastructure works are in a considerably more precarious state. In a country larger than the contiguous USA, air travel will be the only way to get around between more distant venues, and Brazil's airports, bursting at the seams to begin with, are a worry.
Four of the country's key airports already operate above their planned capacity – even without taking into account the extra traffic generated by the World Cup. A recent survey by Exame magazine showed that Guarulhos airport in Sao Paulo, one of the country's main international hubs, was used by 36 million passengers in 2013 – 44 per cent above its official capacity.
As of last month, only 45 per cent of building work at Confins airport in Belo Horizonte, where England will play their final and potentially decisive group game against Costa Rica, had been completed, and at present the airport resembles a massive building site. And it has been confirmed that the airport in Fortaleza will utilise a temporary tarpaulin arrivals terminal during the World Cup, due to delays in rebuilding work.
With Brazilian airlines aiming to increase the number of flights on offer to meet the increased demand caused by an estimated 600,000 foreign visitors, there are also worries that airports will simply not have space for so many arrivals and departures. "Anyone who says there won't be problems is lying," president of Brazilian airline Avianca, Jose Efromovich, told the Wall Street Journal last month.
What awaits fans?
Even with the chaotic preparations, World Cup visitors are likely to have a wonderful time in Brazil – provided they pack a healthy dollop of patience alongside their sunscreen. The irony is that this will be down to the warmth and gregariousness of the Brazilian people and the spectacular natural beauty of the country, and little to do with event organisers. If the World Cup is a success, it will be despite officialdom, not because of it.
Despite a friendly welcome being guaranteed, some safety concerns are inevitable. Street crime is alarmingly common in Brazil, and while police activity will be intense in tourist areas and around the stadiums, there is a fear that resources may be stretched by the volatile atmosphere that is likely to surround the World Cup. The mass street demonstrations of last June have transformed into smaller but often violent affairs in recent months, dominated by aggressive Black Bloc groups. Anti-World Cup protests are promised during the event.
In response, the Brazilian government is likely to deploy everything short of nuclear weapons to prevent protesters impacting negatively on the Fifa jamboree. A specially trained national task force of 10,000 riot police has been trained especially for the event, and president Dilma Rousseff said last month that the army could be called in should demonstrations spiral out of control. Police in Sao Paulo have been using officers skilled in martial arts to patrol recent anti-World Cup protests.
The Brazilian people remain ambivalent about the World Cup. A recent survey showed that only 52 per cent of the population is in favour of the tournament being held in Brazil, although most of the anger is focused on the vast amounts being spent on the event, in a country where infrastructure and public services are sorely lacking.
The antipathy has even spilled over into officialdom – in a stab at getting in synch with voter feeling, Recife city council recently announced it was cancelling the Fifa Fan Fest in the city, saying that the £5 million cost of the event could be "spent better elsewhere". Fifa has threatened to sue for breach of contract.
Brazil's ongoing struggle with football violence, at least, is unlikely to be an issue during the World Cup – the country's notorious torcidas organizadas, or hooligan gangs, mainly consisting of youths from poor urban neighbourhoods, are generally concerned with purely tribal spats with local rivals, and are unlikely to be interested in scrapping with foreign fans.
Register for free to continue reading
Registration is a free and easy way to support our truly independent journalism
By registering, you will also enjoy limited access to Premium articles, exclusive newsletters, commenting, and virtual events with our leading journalists
Already have an account? sign in
Join our new commenting forum
Join thought-provoking conversations, follow other Independent readers and see their replies