Xavi dismisses critics that label Spain boring
Simon Stone
Monday 02 July 2012 11:22 Comments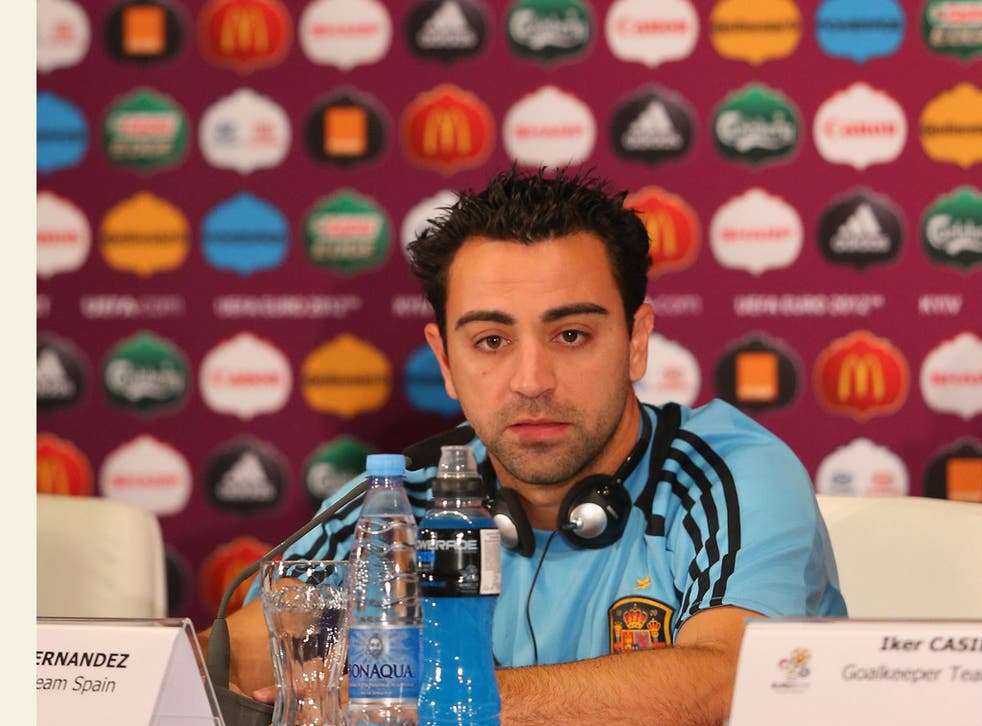 Spanish playmaker Xavi has dismissed the allegation Spain have become a boring team.
Their tiki-taka style thrilled supporters at the last European Championships, also at the World Cup in South Africa.
Now it has taken them to the brink of history as the only side to win three major international tournaments on the trot.
Yet it seems tiki-taka is no longer what it once was.
With David Villa ruled out through injury and Fernando Torres not back to the level that once had opposition defences quaking, Spain coach Vicente del Bosque has taken the novel approach of selecting teams with no orthodox forwards.
As four of the eight goals they have scored in Poland and Ukraine came against the Republic of Ireland, there is evidence to back up the boring tag.
However, Xavi is not buying it.
"We are not bored," he said.
"All our players know how to adapt and how we play.
"It is important that our fans can identify with our style.
"They enjoy it and we enjoy it.
"If people think it is boring that Spain always win, that is fantastic for us."
Indeed, Xavi feels the style of play has rescued his career.
In an era when the physical dominance of midfield areas seemed to be taking over, he would have found it difficult.
But, first with Barcelona, then with a previously under-performing national side, a system has been found that allowed the 32-year-old to confirm his status as one of the best players in the world.
"I feel very lucky," he said.
"Some years ago football had gone in the direction of being more physical.
"We had slightly weaker, but more technical, players.
"That is what we tried to do with Spain and thankfully it worked out really well for everyone."
Del Bosque was certainly making no apologies for the way his team perform.
"We cannot stay in the past century," he said.
"Football is evolving and our players have changed.
"The nucleus is the same but you cannot say we haven't tried to change anything and have stayed on the same line."
Del Bosque must decide whether to include former Arsenal skipper Cesc Fabregas, who is one of those who has been used in an offensive role during the current tournament.
Andres Iniesta, whose extra-time goal defeated Holland in the World Cup final, is another, with Del Bosque seemingly intent on filling his midfield rather than take the bold step of including Athletic Bilbao's Fernando Llorente, who proved so troublesome for Manchester United in two meetings last season.
"We will play with three attackers that's for sure," said Del Bosque.
"There will be three men in the front who are going to be responsible for attacking.
"Each member of the team has his own mission."
Del Bosque needs to get it right because history awaits this special group of players.
Yet, in a sense, they have already achieved their most significant task; transforming the perception of a team many felt, like England, were destined to fail.
"This feels different," said skipper Iker Casillas.
"Four years ago we achieved something the team had never achieved before.
"Then we won the World Cup, which showed we were evolving as a team.
"After four years, now we are in another final, which is something no-one could have imagined before the first one.
"People talk about creating history. But it has been created already. We did it with that very first win."
PA
Register for free to continue reading
Registration is a free and easy way to support our truly independent journalism
By registering, you will also enjoy limited access to Premium articles, exclusive newsletters, commenting, and virtual events with our leading journalists
Already have an account? sign in
Join our new commenting forum
Join thought-provoking conversations, follow other Independent readers and see their replies