Jadon Sancho 'not important' and 'cannot contribute' for Manchester United says manager Erik ten Hag
Jadon Sancho has been left out in the cold by Manchester United, the manager says he is 'not available'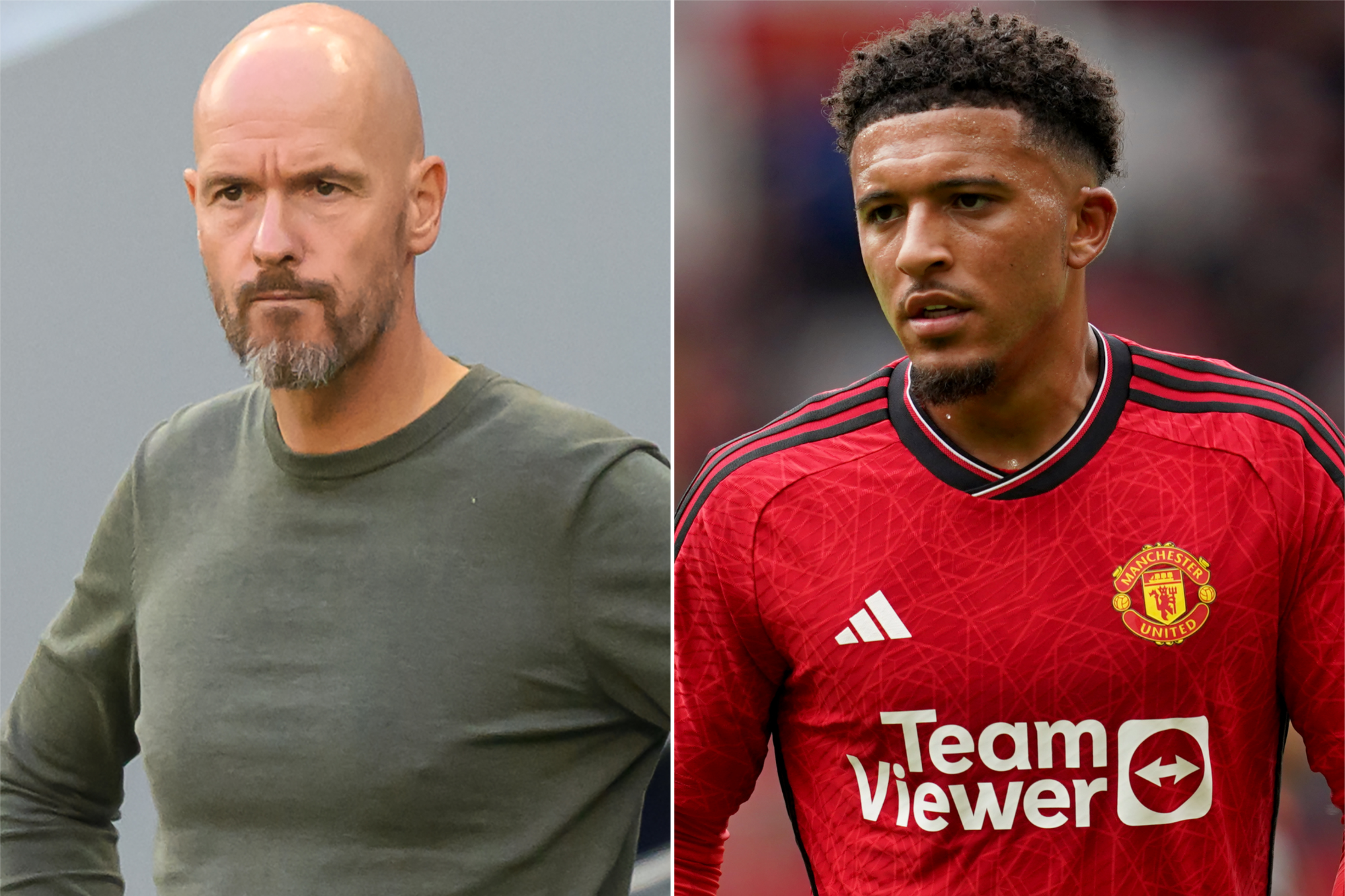 The most damning appraisal from Erik ten Hag came not of the excluded Jadon Sancho but of his immediate predecessors, Ralf Rangnick and Ole Gunnar Solskjaer. There was, he said, "no good culture" when he came to Manchester United. Rangnick may concur to some extent: he went public in his frustrations about life at Old Trafford but it is likely to sting Solskjaer, who felt he was restoring some of Sir Alex Ferguson's principles.
But if Ten Hag sensed a softness when he arrived at United, the Dutchman has proved a hard man, much as the Scot did. More than three decades ago, Ferguson famously addressed a drinking culture, selling the gifted pair of Paul McGrath and Norman Whiteside. Sancho's indiscretions came on the training pitch and on social media, rather than in the pub, but one of the most expensive buys in United's history has been omitted, awaiting disciplinary action. There is no timescale for a potential return and no reassurance from Ten Hag's words. "He is not available, so in this moment, he is not important, because he can't contribute," the manager said.
There was a case that Sancho could have been more significant, that circumstances could have given him the chance to belatedly kickstart his United career. But, minus an £86m winger in Antony – on a leave of absence, and with no guarantee of if and when he can return either – a £73m winger has been sidelined as well, not even permitted to train with the team. Meanwhile, United face a demanding double header: in-form Brighton and then Bayern Munich in Bavaria. There looks a hole in Ten Hag's plans, a vacancy on the right wing. "We constructed the squad smart," he countered. "We have many options there, so I don't worry about that."
But Ten Hag may have traded short-term pain for the prospect of long-term gain, seeking to raise standards even as he may lose matches. He did not disagree with the suggestion, arguing instead that the collective was more important. "It's in favour of the team," he said. "That is what my decision is based on. That is not about me, and to be strict. No. This is in favour of the team."
And a team, he feels, requires values. Ten Hag talked about strict lines, with the sense Sancho crossed the line, and more than once. "Strict lines is the point," he said. "It is what the club asked me because there was no good culture before I enter last season. To set good standards; that is what I did. That is my job: to control the standards. It is never [that] someone makes only one mistake [before they are punished]."
Ten Hag's explanation for why he went public in his criticism is simple: he was asked about Sancho's omission at Arsenal. "When I am asked the question, I will be honest," he said. He is a blunt communicator but United like that. There were plenty of times when Ferguson picked rows; just ask Roy Keane, Ruud van Nistelrooy, David Beckham, Paul Ince, Wayne Rooney, Carlos Tevez or Jaap Stam. Ten Hag would argue that rows have picked him.
But Marcus Rashford and Cristiano Ronaldo can testify to his toughness; David de Gea and Harry Maguire, too. Each case is different. Rashford, late for a meeting, dropped to the bench, came on to score a winner against Wolves, admitted the manager was right and went on to become player of the year. Ronaldo placed a detonator under his United career and ended up leaving by mutual consent with the vast majority of supporters backing the manager. De Gea and Maguire's fall from grace came for footballing reasons, but Ten Hag did not shirk either decision when he felt it was in the team's interests.
The manager can be the martinet. It is uncontroversial to say that United required strong leadership when he took over. It is nevertheless a risk to omit a talented player. Misjudge the mood and instead of strengthening the team spirit and unity, he alienates others in the side. Amid it all, there was no sign if he sees a road to redemption and reintegration for Sancho or if his United career is effectively over.
But after a host of questions about the dropped winger and a series of answers about standards, the options in the squad and how the team matters more than individual, the transcript showed the words Ten Hag uttered included neither "Jadon" nor "Sancho". For the United manager, he had become the man with no name.
Join our commenting forum
Join thought-provoking conversations, follow other Independent readers and see their replies