Middlesbrough's Tony Pulis and Sunderland's Chris Coleman having different experiences in the north east
The two Welshman go up against each other on Saturday and while one is chasing the play-offs, the other is contemplating relegation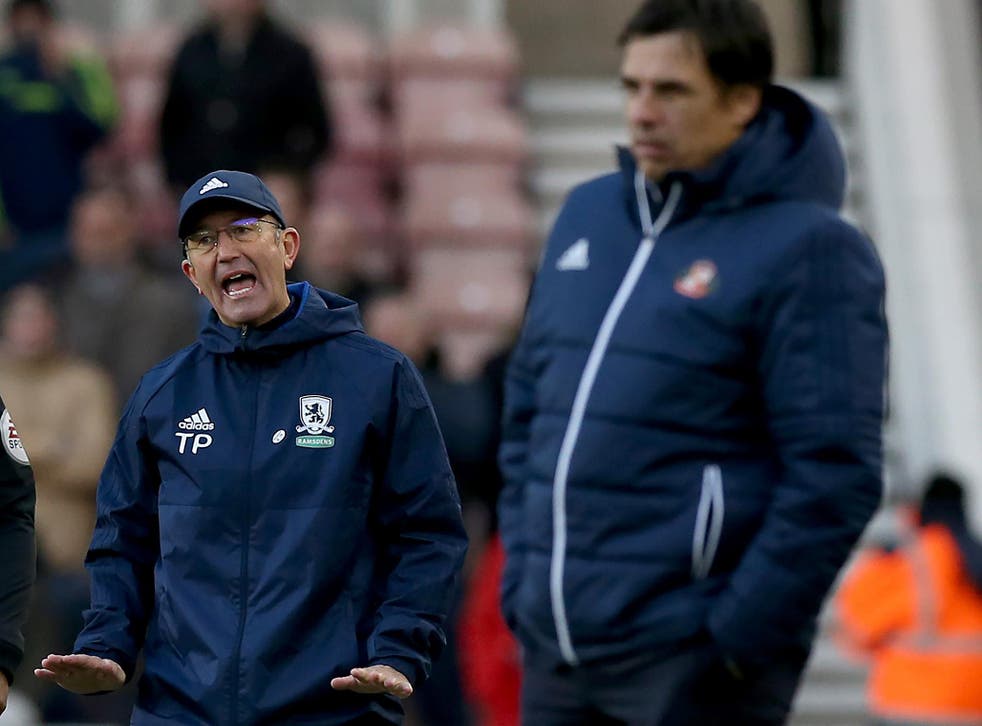 In the run up to Christmas, Steve Gibson spent a few days around the training centre which he had helped Middlesbrough move to the best part of 20 years earlier. Before then the club's players would train at a local prison or on a council estate.
Across the way is a five-star Spa Hotel, a golf course and beyond that a range of luxury housing, some used by new signings. The football team may have struggled in recent years – they have spent seven of the last eight years in the Championship – but it has always felt like there has been a plan.
Gibson was not impressed with what he saw and two days before Christmas, Garry Monk was sacked, in the afterglow of a victory against Sheffield Wednesday. Tony Pulis was by then Gibson's target (for the third time), and with Swansea showing interest in a manager born an hour away in Newport, he had to move quickly, so he did. He called Pulis and told him his plan.
"He was a like a dog with a bone really," said Pulis. "It was flattering that someone of his esteem and character wanted to bring me to the club. I had a long chat with him after they won at Sheffield Wednesday, and he kept ringing me from that point afterwards."
The pair struck up an immediate rapport. Gibson liked Pulis's straight talking. They sat next to each other in the Riverside Stadium's directors' box to watch a 2-0 victory against Bolton following his appointment.
As the transfer window closed as January ended, Pulis was asked if he wanted new players to be added to the squad he inherited. "No," he replied, smiling. "I think the chairman here's spent quite enough money to be honest. I think it's time he got something back for what he put in."
On Thursday, Chris Coleman, the manager of Sunderland, admitted he had never uttered a single word in conversation with Ellis Short, the owner of Sunderland, who moved back to America last summer.
Short's interest in a football club he bought for £22m in 2009 now amounts to a solitary phone call each month to the chief executive, Martin Bain. The club has £137m worth of debt and is up for sale. Short had asked for £50m last summer but could not find a buyer. It is now available for nothing, with the hope Short will write off his own £69m loan. It would still leave a new buyer with a £68m loan to Security Bank Corporation, and annual interest at £8m. There has been no sign of a buyer yet. The club is bottom of the Championship, three points from safety, with a poor goal difference.
Coleman continues to impress with his passion and honesty. He has moved his young family to the area. He had nothing to spend in the January transfer window. He admits he can now no longer sleep because of Sunderland's situation.
"I do wake up in the middle of the night and think about A, B and C, should I do this, should I do that?" he said, "That's the job. It's not all semi-finals in tournaments – that was great, but that's gone, I'm out of it now.
"It's about now and about the challenge. It's a big one and where we are now it's super-tough, it's negative and everybody will be looking at us in the negative. I also know it can change, and I hang onto that. I've seen it change, it's happened, I've just got to make sure it happens again.
"I've come back into the domestic side where it's day-to-day and there is no escape. Even if you want an escape you can't because there's another game to prepare for.
"Do I need picking up sometimes? My wife sees me every day, she is the one who deals with it. She gets the brunt of it when maybe she is talking to me and I'm not really listening. I'm thinking about something else.
"You keep chasing that feeling of achievement and we have not had that for the last four or five games so I'm still chasing."
Coleman was born in Swansea, 50 miles away from Pulis. There are 13 years difference between the two men. It feels like they are in different worlds, despite the 30 miles between their clubs.
Pulis has kept his family home in Bournemouth. "Debs (his wife) has been up a couple of times," he said. "We've had days off and we went to Whitby the other day and walked along the beach. We had fish and chips there. It was wonderful. We enjoyed driving over the Yorkshire Moors, again fantastic views, the sun was out and the sheep were around. We went to the Rievaulx Abbey and then to a pub recommended to us and had a pub lunch."
Even the time for such a venture has largely been beyond the north-east's other Welshman in the Championship.
"I went to Seaham beach with my wife, which was lovely," added Coleman. "But mainly it's been home, stadium, training ground, away, hotel. I'm a bit further north now and I've heard the coastline's fantastic."
The view of the Championship remains more bleak. There is talk of demonstrations at the Stadium of Light before the game between the two clubs on Saturday.
"Am I blameless? No," added Coleman, "I'm in charge of the team and you always put the results down to the manager, but I don't take responsibility for what's happened in the last three or four years, and a lot of the frustration has come from that.
"I think the reason why maybe I'm not targeted as much is because I came here with no money to spend, we lost players, we've replaced (them) with no money, loan players, and we were lowly when I arrived, but the impact I was hoping to have hasn't happened."
Somehow he still has belief. "If at the end of the season we finish fourth from bottom – bang, it's job done, we've stopped the slide, we've stopped the unthinkable, but we've still got some way to go yet."
Join our new commenting forum
Join thought-provoking conversations, follow other Independent readers and see their replies