Comedy of Anfield goalkeeping errors provide nod to the past
Alisson and Thibaut Courtois both made grave errors that recalled a previous goalkeeper from Liverpool vs Real Madrid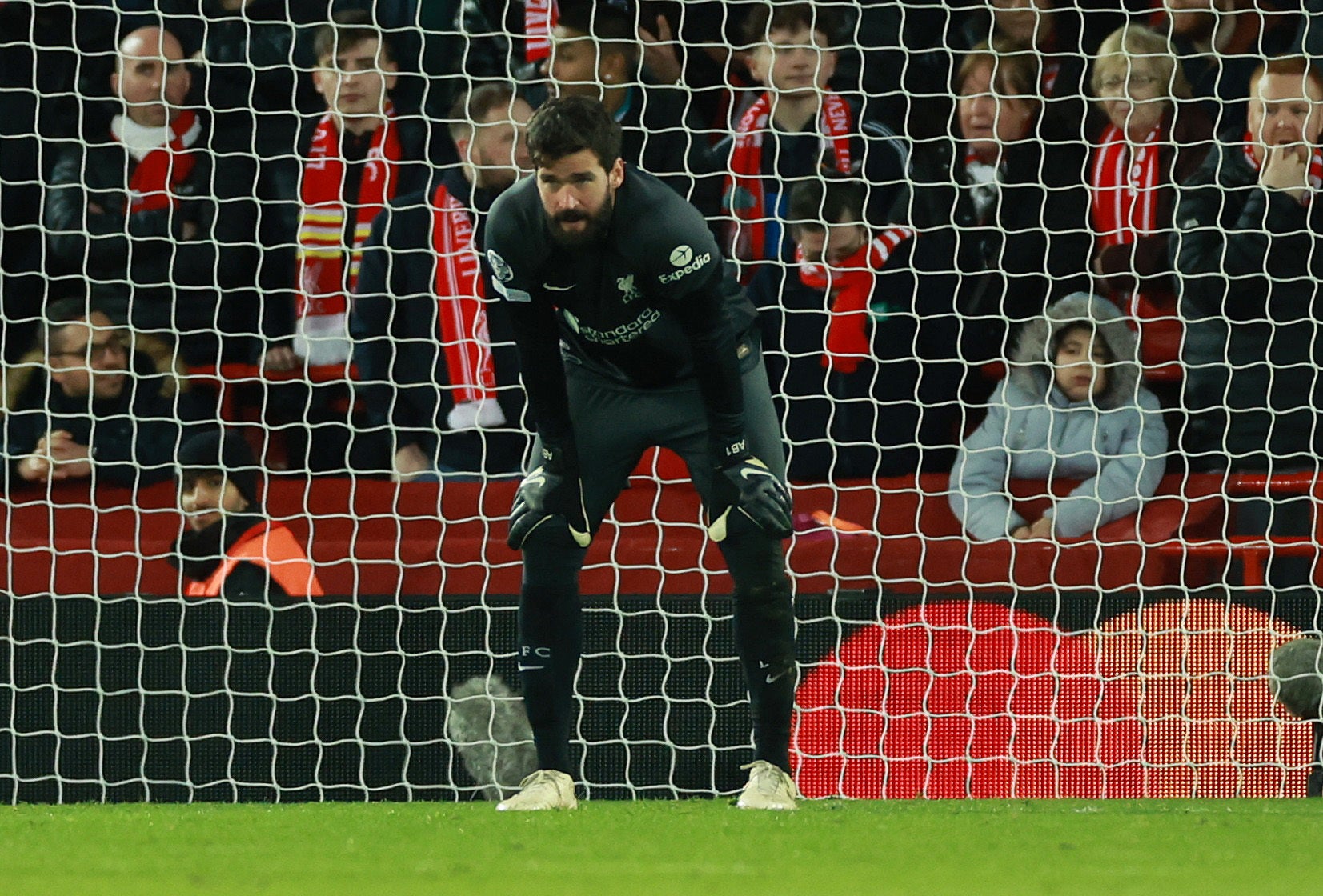 Belatedly, Loris Karius has company. It may be of scant consolation to him; not after the best part of five years, not when his career is defined by it. But, as the German prepares for his first cup final since the 2018 Champions League, two who have been named the best goalkeeper in the world have joined him. They may be a largely distinguished bunch, but it is a band none would want to be a member of.
Maybe Liverpool against Real Madrid does strange things to goalkeepers, even the very finest. In 2018, Karius rolled the ball on to Karim Benzema's leg and thus into his own net. It was the sort of aberration that felt bordered on the unique. Until, that is, within the space of five meetings of Liverpool and Real, there were two comparable errors. Thanks to Thibaut Courtois and Alisson Becker, a Champions League classic doubled up as a Loris Karius tribute night.
Courtois had been unbeatable in Paris in May, his nine saves a record for a Champions League final. He was defeated twice in the first 14 minutes of the Anfield rematch: once by a rarity – a Darwin Nunez backheel – and then by something still more freakish. Dani Carvajal's hooked backpass may have bounced a little higher than the Belgian would have liked but it scarcely seemed to present any problems. Until the ball bounced off Courtois' knee to Mohamed Salah, whose presence in the box was less a case of gegenpressing than optimistic thinking. He was rewarded with a tap-in.
Liverpool could enjoy a touch of schadenfreude. For about 20 minutes anyway. And then Alisson cleared the ball into Vinicius Junior and it rebounded past him and into the unguarded goal. One Brazilian scarcely requires much assistance to score against another – this was the winger's fifth goal in four games against Liverpool – but he got it anyway.
In a comedy of (penalty) areas, it was perhaps still worse. It may have stemmed in part from one of Alisson's great strengths, his preternatural sense of calm. It tends to lead to one glaring mistake a season but, in a campaign when he has been Liverpool's outstanding player, there have been two in 2023 already: he has assists of sorts for Goncalo Guedes, then of Wolves, in the FA Cup and now Vinicius Junior.
There is a case for saying they simply cancelled each other out; take away a blunder apiece and it was 4-1. Alisson might be entitled to argue he made the game's best save, keeping out a Vinicius curler, delaying his compatriot's second goal for five minutes.
Yet there was a deflating element to his error. It came in a shift in momentum. Real are the comeback kings, the side accustomed to trailing. Perhaps it does not matter how they go behind, because they did to Paris Saint-Germain and Chelsea and Manchester City last season and they eliminated all. Liverpool are the momentum side, the team who look to harness the power of Anfield to eviscerate and embarrass even the most decorated of visitors. They have 4-0 wins here over both Real Madrid and Barcelona during even Stefan Bajectic's brief lifetime and, when they were two goals to the good after a quarter of an hour, they may have sensed a chance to inflict a historic humiliation on the European champions.
This, after all, is a ground where goals can come in a flurry in Champions League ties. Alisson knows that more than most. In Karius' last European game at Anfield, Liverpool scored five in 34 minutes. The beaten goalkeeper, retrieving the ball repeatedly from the Roma net, was Alisson. It was no deterrent to Jurgen Klopp, who signed him in the summer for a then world-record fee for a goalkeeper.
Fast forward five years and Alisson conceded five in 47; not to Salah, Sadio Mane and Roberto Firmino but to Vinicius Junior, Eder Militao and Karim Benzema. Only one felt his fault: he seemed particularly luckless when Benzema's first goal took a telling deflection off Joe Gomez. It was, though, just the third time this century Liverpool conceded five times in a game at Anfield.
If oddly flawed goalkeeping contributed to an extraordinary scoreline, a sense of the surreal enveloped Anfield. All bar one man, obviously. Carlo Ancelotti has ample, and unwanted, proof that Liverpool's Champions League games can take on a life of their own. The greatest final fightback of all came at his own expense. But Liverpool's response then only involved three goals. And, 18 years after the miracle of Istanbul, Real had five. Maybe Courtois can frame it that he was a catalyst for one of the great comebacks. But for Alisson, like Karius in 2018, there is only the anguish of wondering what might have been.
Join our commenting forum
Join thought-provoking conversations, follow other Independent readers and see their replies