Liverpool v Watford match report: Joe Allen and Roberto Firmino keep Jurgen Klopp's Europa League finalists on a roll
Liverpool 2 Watford 0: Home side cruise to win as Joe Allen's first league goal since January sees off the Hornets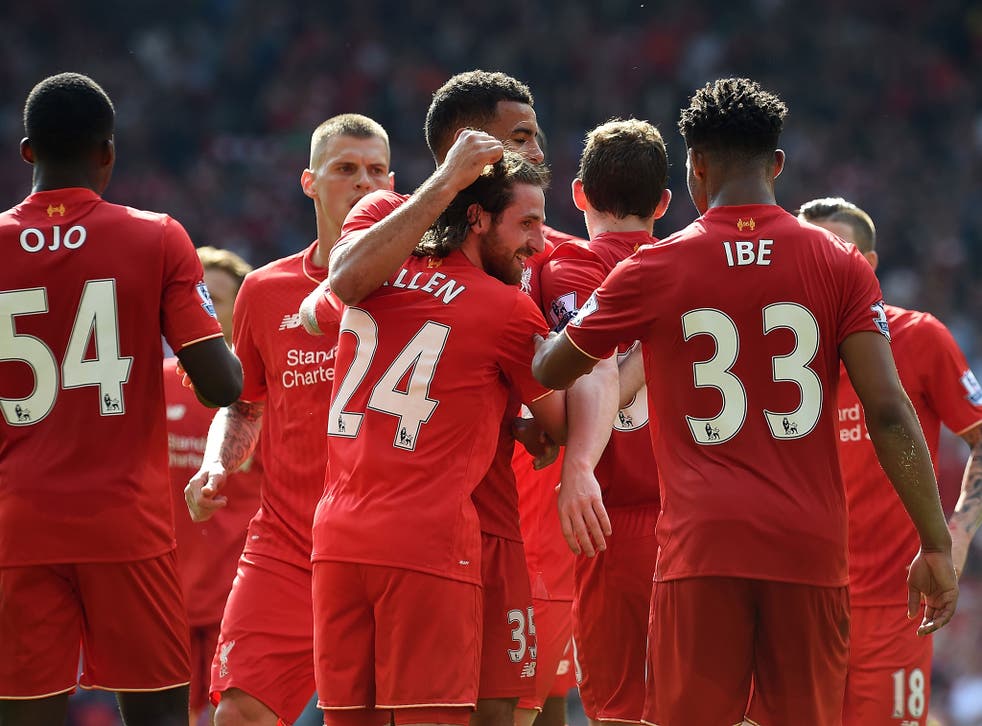 A fire show on Thursday night. An early summer stroll across same pasture on Sunday afternoon. Anfield could hear players communicating with one another. A supporter's rattle in the Main Stand was the most consistent sound.
Liverpool, however, did not require an atmosphere of religious festival proportions to help them beat Watford who but for a 20 minute spell in the second half, played like a team distressed by their record in the previous 14 league matches where they had taken just nine points.
Considering Liverpool had not lost in 11 at home, it was predictable that the outcome would be this. And yet, Jürgen Klopp was still able to offer something unscripted.
He walked into the press room and did not wait for questions. After Liverpool had earlier in the day requested that ticketless fans not to travel to Basel for their Europa League final with Sevilla next week by releasing a statement on their website, he retracted his own contradicting message delivered on Friday.
"Last time I spoke about Basel, I spoke like a supporter," he said. "I'm a supporter. I like this game. But I invited all Liverpool fans and this was not too smart to be honest. Basel is a nice city but it is not ready for us. It's my mistake."
Klopp was searching for the right words because he appreciates it is a sensitive issue.
"We have to take back this invitation," he continued. "Only people with tickets go there, please. It would be chaos and we don't want this.
"If you cannot be there [in the stadium] then stay at home or come to Liverpool and watch the game with your friends. Let's have a party after. It's really, really, really necessary that you now listen. Most of the time you can ignore what I say but now it's really important."
The euphoria of reaching a European final and the way it has happened, indeed, has made up for Liverpool's inconsistent league form this season.
Klopp needed to win here because it is unimaginable that he would be happy carrying the record of being the manager that leads Liverpool to their joint lowest placing in the Premier League era, even though he hasn't been in charge for the whole campaign.
Although this victory opens the possibility of finishing fifth, it is more likely Liverpool will finish sixth if they win their remaining two games and that will mean, an unwanted historical note will be avoided. Either Southampton or West Ham United might end up finishing eighth instead.
The manner of Liverpool's goals summed up the Watford's mood, meanwhile. The first, particularly, was a terrible one for Quique Sánchez Flores's side to concede, with nobody smelling obvious danger in three phases of play.
The sequence concluded with Christian Benteke heading down for the onrushing Joe Allen, whose decision to spring forward went unchecked. From there his determination to score was greater than Heurelho Gomes's desire to save.
For Liverpool's second, Ikechi Anya was too casual in possession and because of that Roberto Firmino was able to drive through an open field. Although his shot from outside the box was not especially powerful, it was enough to pass Gomes.
Had Watford's league form in each half of the season been reversed, maybe Flores would not find his position under threat, as it seems to be. The Pozzo family are considering making a change even though he has achieved what neither Graham Taylor nor Aidy Boothroyd could do the last two times Watford were in the Premier League: maintaining that status beyond one year.
"Speculation in football is normal and you need to learn to live with it," Flores said. "Sometimes life is ridiculous."
Register for free to continue reading
Registration is a free and easy way to support our truly independent journalism
By registering, you will also enjoy limited access to Premium articles, exclusive newsletters, commenting, and virtual events with our leading journalists
Already have an account? sign in
Register for free to continue reading
Registration is a free and easy way to support our truly independent journalism
By registering, you will also enjoy limited access to Premium articles, exclusive newsletters, commenting, and virtual events with our leading journalists
Already have an account? sign in
Join our new commenting forum
Join thought-provoking conversations, follow other Independent readers and see their replies