Women's World Cup
The 'huge ego' at the centre of Spanish football's sexism storm
Unwanted kisses, crotch-grabbing and allegations of using federation money to pay for orgies, Spanish FA president Luis Rubiales has become a magnet for controversy, writes Miguel Delaney
Tuesday 22 August 2023 13:41 BST
Comments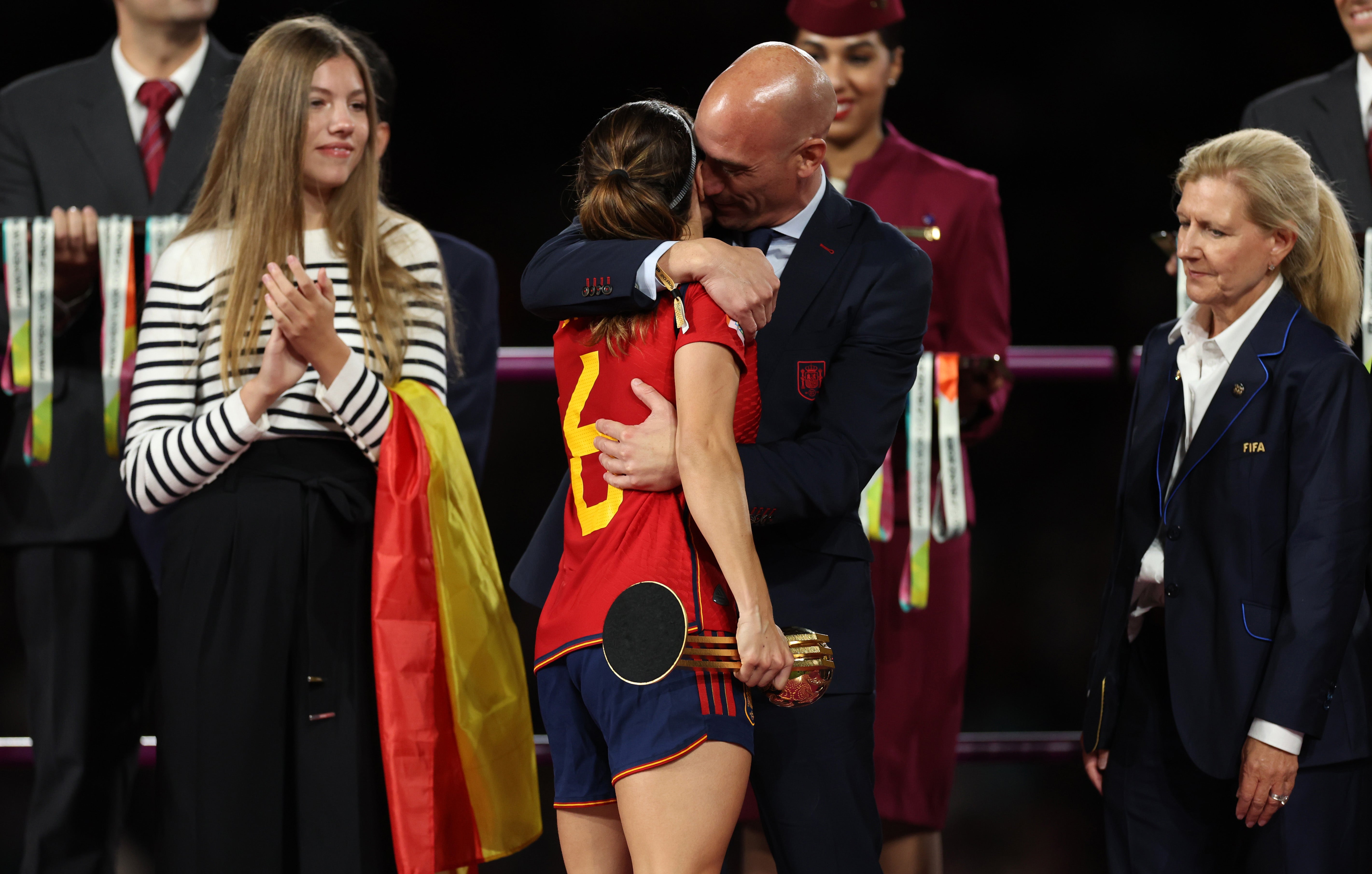 Even before Luis Rubiales had planted a kiss on Jenni Hermoso's lips during Spain's World Cup celebration, other officials in the stadium were so struck by his behaviour that they were sending around videos. One, confidentially sent to The Independent, shows the president of the Spanish football federation appearing to grab his crotch in triumph. The gesture, which goes back to Ancient Rome, is generally taken to mean "I'm the man".
It is certainly an aggressively masculine gesture, making it all the more out of place at a women's football tournament that is defined by its inclusivity. It feeds into one of many growing arguments in Spain, that Rubiales did not know how to comport himself at such an event, raising further questions over his suitability to oversee the federation. That the Queen of Spain and her 16-year-old daughter were close to him has only added to that.
There is still the sense that Rubiales doesn't really know what he did wrong in the kiss on Hermoso. If a widely criticised non-apology was not indicative enough, there were his litany of comments before it.
Rubiales had described those who took issue with his "public show of affection" as "idiots", "stupid", "fools" and "losers" before summing it all up as "bulls**t". His subsequent apology then pretty much amounted to being sorry if anyone was offended.
Victorious Spanish squad returns home after World Cup win
That happens to amount to a lot of people, who are queuing up to condemn the Spanish official in a controversy that is nowhere near quietening down.
Miquel Iceta, the minister for culture and sport in Spain, described it as "unacceptable". Yolanda Diaz, the second deputy prime minister of Spain, has said Rubiales should resign because "a woman has been harassed and assaulted". Irene Montero, the minister for equality, went furthest and described it as a "form of sexual violence".
Such words are beginning to change the view of some in Spanish football that as usual, nothing will happen.
The situation has now gone beyond pressure growing. While the kiss is obviously sufficient for such a controversy on its own, it comes amid a wider context that goes beyond Rubiales' backing of manager Jorge Vilda despite player complaints that included not being allowed to lock doors of their hotel rooms on international duty until 2019.
Sources within Spanish football were using words like "embarrassment" and "a disgrace that people like this represent our game".
Newspaper El Pais meanwhile ran an editorial lamenting how a moment of glory for Spain's women's footballers, who were enjoying the praise of the whole planet, was overshadowed by the behaviour of a man.
Rubiales has previously caused such ructions in the game, however, that other figures were all too willing to privately Whatsapp other headlines.
Among them was the story: "The ex-boss of Rubiales' cabinet says he paid for orgies with federation money," in relation to private parties reportedly organised. Rubiales denies it.
Another read: "Luis Rubiales acquitted of the accusation of assault of the architect who renovated his house," in a case that also saw him accused of using money from the player's union – of which he was president – to pay for the work.
And then: "Rubiales deal with [Gerard] Pique for a €24m pitch to bring the Super Cup to Saudi Arabia – 'you are left with six kilos'", after a series of leaks showed some controversial deals with the former Spanish defender.
Up to all of this, however, he had probably been best known outside Spain for the bombshell decision to sack men's manager Julen Lopetegui two days before the 2018 World Cup, a call that sent the Spanish team into a tailspin last-16 exit. It's one of those historical quirks that the situation almost represents the inverse of that with Vilda, whom he has stood by.
In the case of Lopetegui, Rubiales felt he had no choice because the manager had disrespected the federation by agreeing to take a job with Real Madrid after that World Cup without informing them. With Vilda, Rubiales felt Spain's rebel players – some of whom boycotted the Women's World Cup – had disrespected both the manager and the federation, so backed the manager adamantly. It was repeatedly pointed out that he and Vilda have a strong relationship and Vilda's father, Jorge, is currently head of the Royal Spanish Football Federation (RFEF)'s women's football department.
Either way, compromise was never much of a consideration in either situation, although the latter did force changes to women's team preparation standards and facilities. Some of the victorious players remain aggrieved they even had to ask and Ballon d'Or winner Alexia Putellas made a noteworthy comment in the moment of victory.
"You've seen that the minute women's footballers believe a little and are provided with basic facilities, everything comes out better."
Rubiales' defenders – and there are more than a few – would say this shows an evolution.
He was less than a month into the job when the Lopetegui incident happened in June 2018 and was already seen as a significant improvement on predecessor Angel Maria Villar, who was suspended as president after being detained the previous July on allegations of collusion, embezzlement and falsifying documents.
On sacking Lopetegui, Rubiales came out with the following: "These are the values of the new federation and whoever doesn't like it will have to get used to it."
Rubiales rose to the role after his work with the Association of Spanish Footballers, where his experience in leading squads through bankruptcy and administration at lower-profile clubs while still a player was greatly valued.
One such call to help actually came at his last club, which happened to be Scottish side Hamilton Academical. One of the last things he heard on his fourth and final appearance in Scotland – a 4-1 defeat at Rangers – was the chant: "Baldy bastard, what's the score?"
A defender, Rubiales wasn't seen as having the typical technical skill of Spanish players, but was respected for his tenacity.
He was at Hamilton in the season that ended with Spain winning the men's World Cup in South Africa, which somewhat cuts across any purported wider influence on the women's success. It was Spain's coaching revolution around the turn of the millennium that led to the rise of both of Spain's world champions, and Rubiales was at clubs like Gaudix and Lleida as this was happening.
It should be stressed he is seen as a moderniser in other ways, though, for a federation that badly needed it. It is under Rubiales that a department of integrity and security has been created. And "Rubi", as he insists staff at the federation call him, was also influential in a crucial move that has been seen as decisive in potentially bringing the 2030 World Cup to Spain. Although many had felt Saudi Arabia would win that bid through their growing influence, bringing in Morocco with Portugal and Spain has split the African vote and essentially forced the Gulf state out of the process.
Those who have worked with Rubiales at Uefa level meanwhile describe him as "ambitious" and "capable", but with a "huge ego", that leads to a lot of abrasiveness. He has already fallen out with the successive regime at the player's union and La Liga president Javier Tebas. Many would say that is nothing new. Otherwise, that perceived modernity at federation level now stands in contrast to the regressive behaviour of the last few days.
El Pais described the kiss as "like a bad joke from Benny Hill". Unfortunately, it is only getting more and more serious.
Rubiales looked like he was certainly feeling it at Monday's victory parade. There were no videos of his behaviour there as he was very restrained and didn't appear on stage.
In the words of one source, it's about time.
Join our commenting forum
Join thought-provoking conversations, follow other Independent readers and see their replies