Manchester City vs Arsenal: Five things we learned as the champions blow dreadful Gunners away
Manchester City 5-0 Arsenal: The Premier League champions turned on the style at the Etihad as the listless visitors were thumped in embarrassing fashion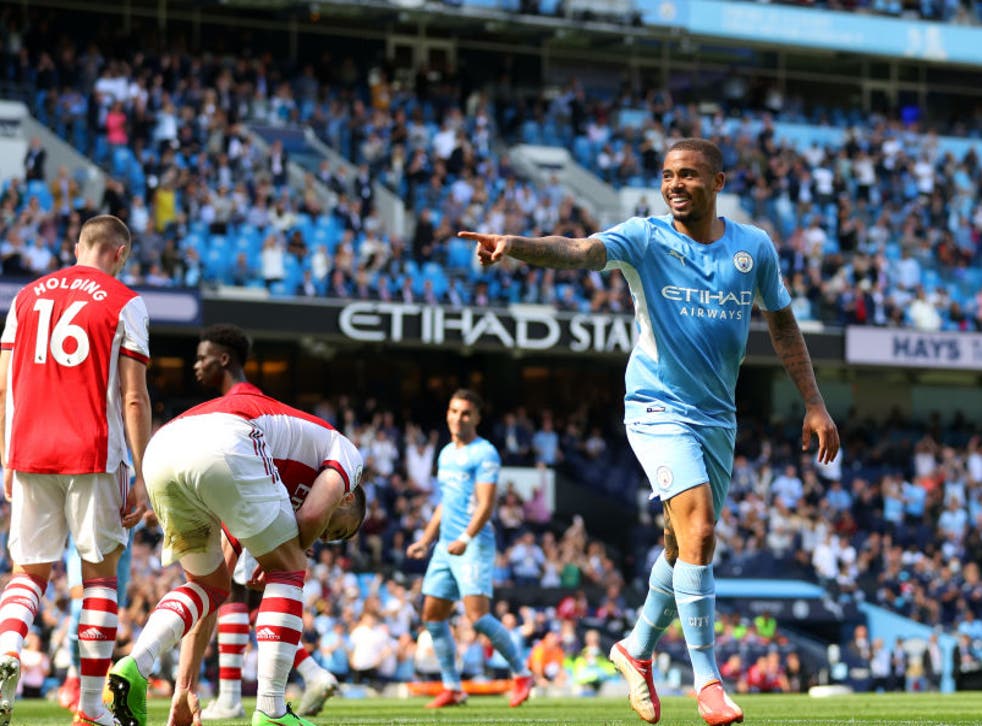 Manchester City put a spineless Arsenal to the sword on Saturday afternoon as they thrashed Mikel Arteta's side 5-0 at the Etihad Stadium.
It was all to easy for the defending Premier League champions as they went ahead after just six minutes, Gabriel Jesus crossing for Ilkay Gundogan to nod home from close range. And the hosts doubled their lead in the 12th minute when a low cross evaded a flurry of Arsenal bodies before Ferran Torres tapped in from six yards out.
Granit Xhaka was then sent off for the visitors after a two-footed challenge on Joao Cancelo. And Pep Guardiola's side made it three before the break as Man City began to turn on the style. Jack Grealish ran at a petrified Arsenal defence and picked out Jesus in the middle who converted the simplest of finishes.
The champions scored another eight minutes into the second half when Rodri superbly placed his curling effort into the bottom corner from the edge of the penalty area. And they made it five in the latter stages when Torres' glancing header nestled into the back of the net to bring the curtain down on a one-sided battering.
Here are five things we learned.
Shambolic Arsenal defence in total disarray
If the alarm bells were ringing for Arteta before this game, now the sprinklers have been set off.
The Spaniard lined up with a back five in the hope of keeping things compact and restricting the space the hosts could run into. In reality, what he witnessed was an utter mess typified by the complete lack of organisation between the three centre-backs: Sead Kolasinac, Calum Chambers and Rob Holding.
City's two goals in the opening 12 minutes were easily preventable. A high, looping ball into the box could not be dealt as the red statues panicked in the Manchester sunshine. And then a low cross zipped through countless Arsenal defenders as Torres was able to tuck away totally unmarked from six yards.
The mess - which continued into the second half - is a result of either Arteta's lack of tactical awareness or his inability to communicate those tactics to his players. It's true that the individuals in the back five don't have a great deal of pedigree. But any Premier League side would have been embarrassed by the goals they conceded. It was a shambles that needs addressing immediately as they head into the international break without a point or goal to their name.
Gundogan back to his best
Ilkay Gundogan netted 17 times last season in a breakout campaign when it came to his prowess in front of goal. Prior to the 2020-21 season, the German had never surpassed a tally higher than six goals.
The Man City number eight had made a relatively quiet start to this season as he took more of a back seat in the final third. But at the Etihad on Saturday lunchtime Gundogan returned to his attacking best as he caused all sorts of problems for the Arsenal defence.
Playing as the most offensive of a midfield three, the 30-year-old perennially drifted in between the lines, making late runs into the box that were ignored by the visitors' centre halves. And his goal came from just that.
But it wasn't only his movement and finishing. Gundogan's constant pressing and desire to win the ball back at a frightening pace is exactly what you come to expect from Guardiola's players. He is a key man in the champions' side and will be ever-present again in their bid to win the Premier League title this season.
No striker? No problem
Since their 5-0 win over Norwich last weekend, Manchester City have missed out on both Harry Kane and Cristiano Ronaldo. But do they actually miss them? Not one bit on the evidence of today.
Jesus and Torres have been rather rudely overlooked as forward players who can play upfront and provide that cutting edge. They made their voices heard this afternoon with relentless movement and clinical finishing. Jesus enjoyed drifting out to the right-hand side and linked up brilliantly with Torres in the middle.
There was also a scary reminder of their strength in depth when both Riyad Mahrez and Raheem Sterling came off the bench in the second half. And that's before you even get to goalscoring midfielders Gundogan and Rodri.
Nine goals scored and none conceded since the opening day defeat to Tottenham. You try telling them they need a number nine.
Xhaka's temperament indicative of unravelling Gunners
If there was a symbol of Arsenal's failure to learn under Arteta then it would comprise of a furious Xhaka trudging off the pitch having just been shown the 11th red card of his professional career.
The Swiss midfielder's careless, thoughtless, out-of-control lunge after just 35 minutes was a damning indictment of the naivety Arsenal possess. It also made it abundantly clear the lack of leadership on that pitch. Xhaka is one of Arteta's most experienced players and yet he flew off the handle at a time when what was needed was a period of calm.
Arteta gave his skipper a pat on the back as he walked off the field and down the tunnel. The manager also appeared to be moaning about the decision to show Xhaka a red card. A man overcome by denial and prepared to go down with the sinking ship.
There's a bad feeling around the Arsenal camp at the moment and when your captain is flying off the handle in such a high-pressure environment, it does not bode well for the games to come.
Man City send message to title rivals
Chelsea's win over Arsenal last weekend was an ominous one. The 2-0 victory that Thomas Tuchel's side picked up could have been many, many more but they ended up settling for a comfortable victory at the Emirates.
So how do Manchester City respond? Well, they thrash Arsenal, refusing to take their foot off the North Londoners throats until the final whistle. Both Chelsea and City have completely bossed Arteta's men on consecutive weekends to make their respective cases as title contenders.
In a week where they missed out on bringing a Manchester United legend to the club, there was no better way of re-asserting their dominance than with this type of performance. From the very first moments of the match the win never seemed in any doubt as they denied Arsenal a shot on target for the entire match.
Man City face Leicester and Southampton in the league after the international break, before a mouthwatering trip to Stamford Bridge on September 25. Title race very much on.
Join our new commenting forum
Join thought-provoking conversations, follow other Independent readers and see their replies