Man City's stand-ins step up again and send message to the rest
Manchester City 1-0 Newcastle: Julian Alvarez and Phil Foden helped ensure City didn't miss their injured and departed stars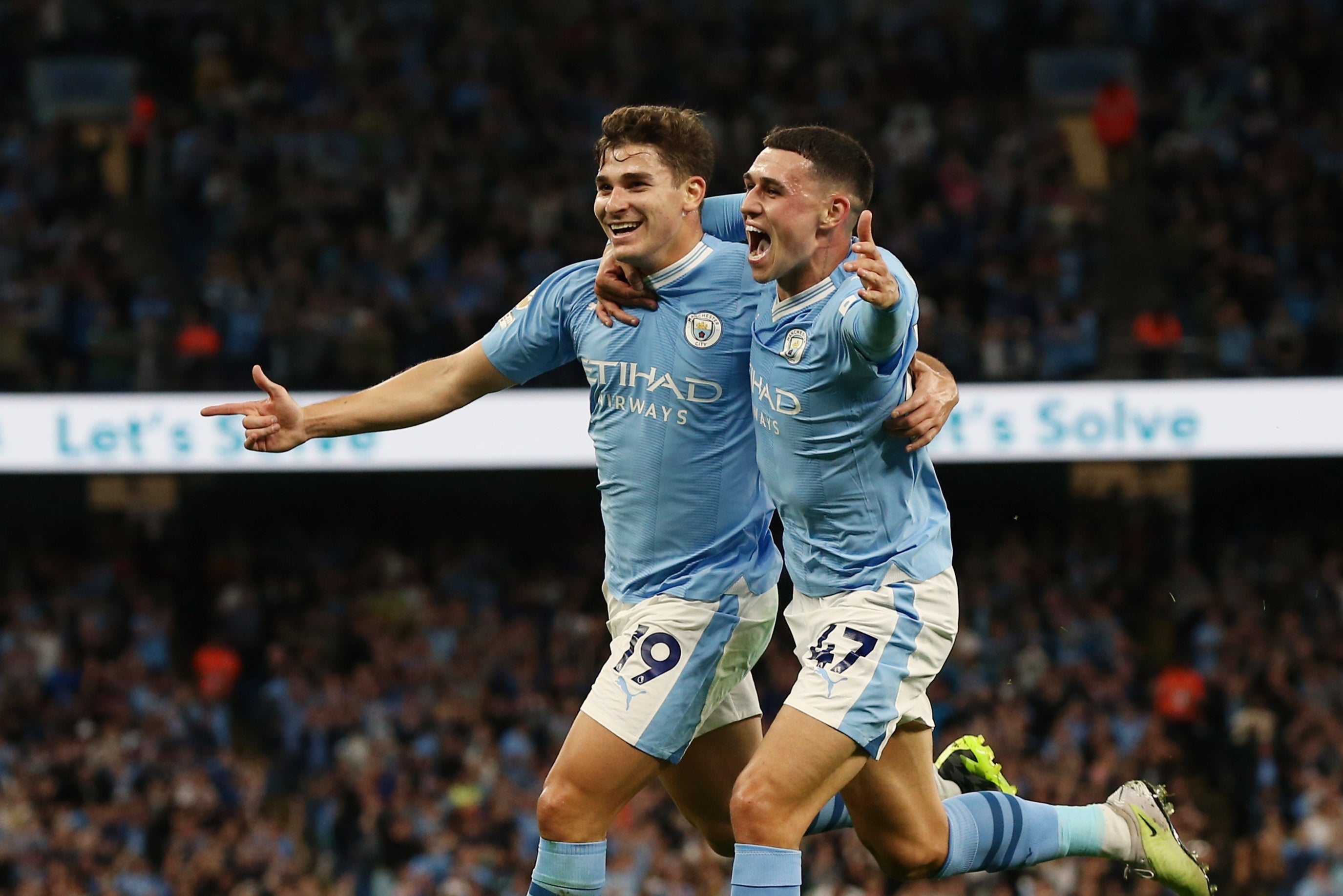 Take three talismanic attacking midfielders out of a treble-winning team and even Manchester City might struggle. Or so the theory went, anyway. Even as they paraded the trio of trophies they secured last season, it was in the absence of a triumvirate with rare and complementary gifts, in the departed Ilkay Gundogan, the injured Kevin de Bruyne and the ill Bernardo Silva. And yet as they overcame the opening weekend's most impressive side, the rising force, perhaps the pretenders to their crown, it was their replacements who proved decisive.
Mateo Kovacic to Phil Foden to Julian Alvarez. Goal. Newcastle were defeated and, even at this early stage, it could be a six-pointer of a strike. Kovacic was the first summer signing, Foden and Alvarez the world-class talent and World Cup winner who started finals on the bench last season, the deluxe deputies waiting for an opportunity, and then seizing it.
It is a fallacy to say City have the biggest squad – their bench against Newcastle included Oscar Bobb, James McAtee, Sergio Gomez and Maximo Perrone – but they have a core with quality.
Even when short of players, they had just enough. Three days after overcoming Sevilla to win the European Super Cup, when Pep Guardiola made a solitary substitution in Greece's 30-degree heat, Eddie Howe made all five changes while his City counterpart made none.
If it was fatigue against freshness, City had the resilience and resolve to restrict Newcastle to one, 70th-minute shot on target. There was a winning mentality in their refusal to cede ground. Even as Newcastle applied pressure, they encountered an immovable force. Nine of the players who completed the Sevilla game got the full shift against Newcastle 72 hours later. It was a triumph of willpower and of 11 starters.
The goal, admittedly, came from a man confined to the bench for 84 minutes in Athens. But Alvarez has started City's other three matches this season. The reinvention of the Argentinian as an attacking midfielder can seem an attempt to crowbar him into the team, to give Erling Haaland's deputy enough outings to satisfy him. As an auxiliary midfielder, he is more runner than passer, but he scored from the inside-right position, his 13th goal in as many starts at the Etihad Stadium, and what is already something of a trademark finish, a rising drive towards the top corner.
With De Bruyne out for much of the rest of 2023, Alvarez has scope for a longer run in midfield. After Cole Palmer staked his case for a place with goals in both the Community Shield and the European Super Cup, there is a recurring theme of the stand-ins stepping up. With Palmer demoted to the bench – Nathan Ake was the only other player to drop out – the Mancunian to catch the eye was Foden. He got an assist for finding Alvarez; arguably he deserved one more for picking out Haaland time and again.
Three times the Englishman sent the Norwegian through on goal. That used to be De Bruyne's job, picking him out, and a combination of uncharacteristically erratic finishing and a save from Nick Pope meant the usual scorer drew a blank, their burgeoning connection bodes well; indeed Foden almost doubled the lead from a pass by Haaland. If the striker was both relentless and, with a couple of stray touches, showed hints of tiredness, Foden was the man of the match.
Then there was Kovacic. His capacity to take the ball in close quarters and find teammates makes him more of a quintessential Guardiola midfielder than either Alvarez or Foden. But he is scarcely a like-for-like replacement for Gundogan, lacking the German's goals and assists, his was the sharp, line-breaking pass to Foden that brought the breakthrough.
It caught Newcastle out. The most obvious culprit for the goal was Nick Pope, who got a hand to Alvarez's shot but perhaps should have kept it out. Yet their workaholic midfield were trapped ahead of the ball, affording the Argentinian too much space.
Sandro Tonali, spectacularly good in the 5-1 demolition of Aston Villa, was taken off after failing to exert the same impact. The winger Anthony Gordon, meanwhile, was brought off before he could be sent off: booked for raking his studs down Ruben Dias' calf, a further foul on the Portuguese led to his swift substitution. Harvey Barnes, who took his spot and followed his teammate into the book mere moments after coming on, had that shot on target, but Ederson held it and Newcastle were beaten.
Which may not surprise students of footballing history. There are barren runs and then there is Newcastle's record at the Etihad Stadium, with no point since 2005. If there were reasons to believe this offered their best chance for quite some time, they ended up with a 15th consecutive league defeat at this ground. For Guardiola, it was a 12th win in 13 meetings with Howe. And from City, it was a message to their challengers.
Join our commenting forum
Join thought-provoking conversations, follow other Independent readers and see their replies