Why Man City's FFP case could be another Super League moment for football
Other Premier League clubs are carefully watching Newcastle's prospective new sponsorship deal amid expectation it could have implications for the investigation into City's finances, explains Miguel Delaney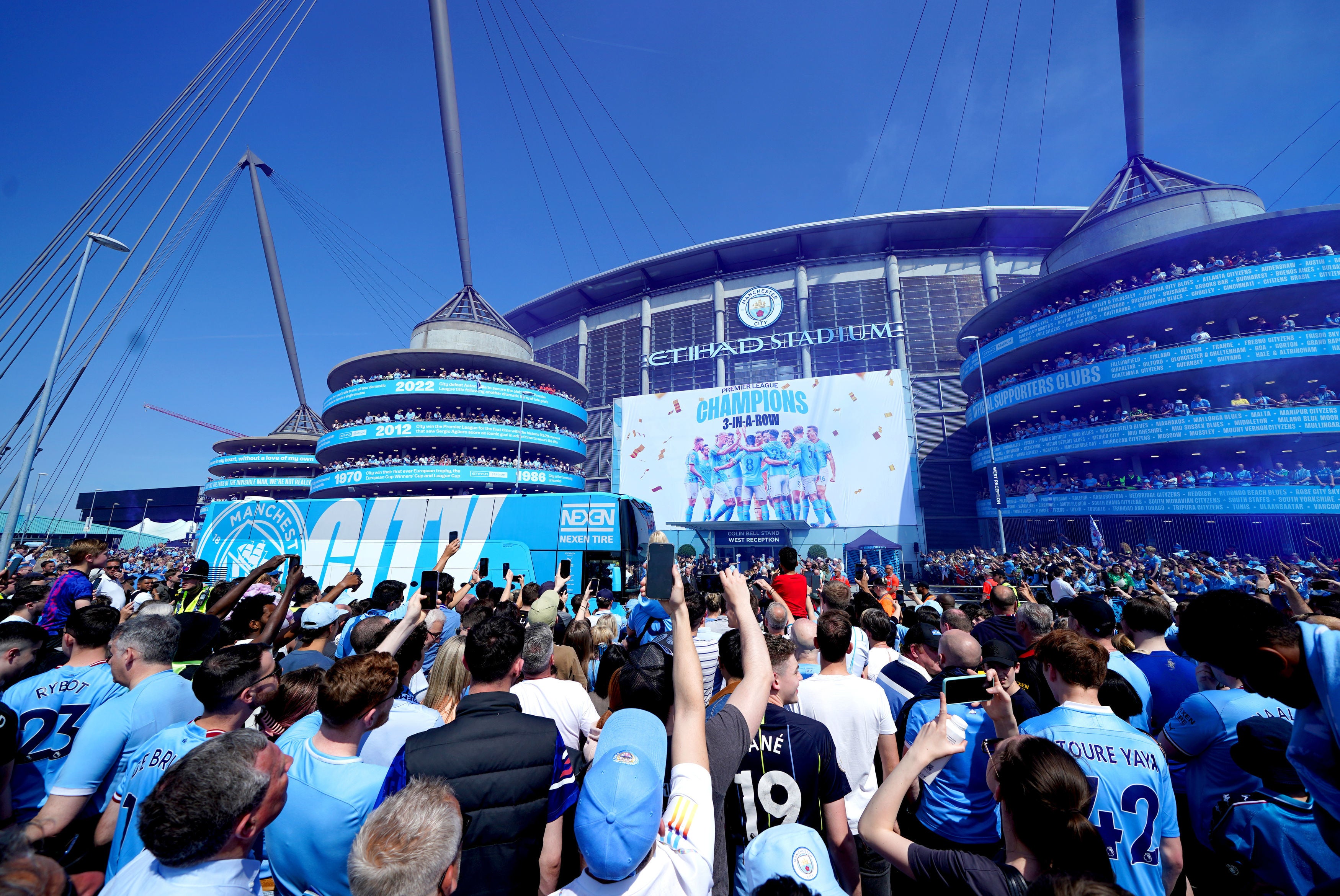 As Manchester City prepare for a week that could fulfil a 15-year objective, the discussion within the rest of the Premier League has not been about their undeniable greatness. It has still been about these 115 charges for alleged breaches of Financial Fair Play rules.
Opinions were naturally shared in many executive lounges on the last weekend of the season, with particular attention to how any decision on Newcastle United's prospective shirt sponsorship deal with events company Sela – which, like the club itself, is primarily owned by Saudi Arabia's Public Investment Fund – might be relevant to City's case. There is a belief it could lead the Premier League to a situation where it is accused of treating City by different rules to Newcastle.
Pep Guardiola was of course concerned with none of this as he prepared for the FA Cup final. While the Catalan and senior City figures feel this is all overplayed, especially as the club absolutely insists upon its innocence, many others in football stress quite the opposite. There is a belief the true scale is not being grasped, whether City are exonerated or not.
Such is the strength of feeling, for now just bubbling under the surface, that many sources from London to Nyon describe it as a "potential Super League moment" in terms of the ructions it could cause. There is "fury". And, just like that moment back in April 2021, the Premier League is facing severe pressure from several different areas.
There was first of all the agitation of the other clubs, who pushed for investigation in the first place.
More immediately, there is obviously City's strenuous defence, one source describing the legal back and forth as "like war". Most coverage has so far been given to numerous legal challenges and obstructions, particularly as regards the objection to Murray Rosen KC as head of the Premier League's independent judiciary panel.
In terms of the club's tactics in the case itself, The Independent understands City's expensive legal team are primarily arguing this is not about "fraud". That accusation is after all why the entire story has such gravity. City are accused of failing to accurately disclose information, with owner funding alleged to have been disguised as sponsorship from two Abu Dhabi companies, airline Etihad and telecommunications group Etisalat.
The Independent has been told the club's lawyers are arguing this is not about any of that but instead an "associated party issue". That, covered on page 132 of the Premier League's handbook, relates to parties "having material influence over the club or entity in the same group of companies as the club". It is why Newcastle's Sela case may be relevant, since that would be judged under the same regulations.
Those regulations were actually updated after the Newcastle takeover, as the other 18 non-state-owned clubs raised concerns over how they could be outstripped by inflated sponsorship deals from companies in autocratic states such as Saudi Arabia. As it stands, Financial Fair Play regulations allow clubs to make a loss of £105m over rolling three-year periods, so long as that is covered by cash injections from owners.
Anything exceeding this would be a breach.
In terms of arguing that the current case is about associated parties, City actually attempted the same tactic with the previous Uefa case, that covered the same ground.
They insisted that was – under the European body's terms – a "related party issue". Uefa's Investigatory Chamber stated it wasn't about any of that, and that if it is about failure to accurately disclose information it doesn't make any difference if the parties are related or not.
The Court of Arbitration for Sport came down on the governing body's side in this aspect, as covered in paragraphs 124 to 135 of the judgement. Paragraph 127 reads that the panel found "the related party issue is separable from the charges based on the Leaked Emails".
CAS did ultimately overturn Uefa's verdict due to alleged breaches being "either not established or time-barred".
Should the Premier League go down the route of looking at associated parties, it could mean the process going on far longer – potentially years – since this is an exceptionally difficult area to properly prove. More complications arise from the nature of autocratic states, where rulers have almost total executive power.
It is why many Premier League executives are keenly watching what happens with the Sela example, especially since the relationship there is more direct. The events management company and Newcastle United have the same primary owner in PIF.
This is not to suggest there is anything untoward in that sponsorship, and it is understood there has already been sound advice that it represents "fair market value", especially given Newcastle's Champions League qualification.
A growing feeling among the other Premier League clubs – who are now acutely conscious of the wider effects of state ownership – is nevertheless that such deals should not be looked at through the prism of associated parties or fair market value. The increasing argument is that they need to be looked at through the prism of equity, since that is what money that ultimately comes from the same owners could be perceived to represent.
While there are a number of different ownership examples such an approach could relate to, many sources believe it shows the specific complications of allowing autocratic states to own football clubs.
One argument is that the Premier League needs to prohibit associated party sponsorships altogether.
"By allowing such rules," one source explains, "you are effectively saying that, if it's fair value, it doesn't matter if it's equity or sponsorship."
For now, some think there is the possibility that Newcastle will be looked at on a different basis to City. If that happens, it might be setting a precedent for City to follow, or – as one source put it – "write their defence for them".
If the Premier League do look at the latter through associated parties, though, it could see the case go on for over two years, maybe up to four.
Other clubs are already furious at the length of time it has taken up to now, forming another pressure on the Premier League. It is why some football figures, as reported by the Independent last week, have long advised the competition that they should have independent units to deal with such cases. They believe it is a farce that the competition could be clouded by such uncertainty for so long.
One argument that has been made is that, such is the complexity of a case like this, it requires more forensic financial expertise rather than the extent of legal advice the Premier League is understood to have leant on.
"They don't know the scale of what they're dealing with," were the words of one source.
The Premier League are absolutely not commenting on anything to do with the case, but a fair counterargument that could be made is that the four-plus years the investigation took shows how seriously this has been dealt with.
For all the rancour under the surface right now, though, the eventual conclusion could lead to an explosion.
If the panel does reach a guilty verdict, there is first of all the likelihood that City would seek an arbitration hearing before further potential appeals in the High Court and the Court of Appeal. Other Premier League clubs would meanwhile seek the strongest possible punishments – potentially up to expulsion – and the prospect of legal action has privately been raised by individual clubs. Premier League rules do allow clubs to sue each other.
If the punishment is weak, though, the current belief is that could lead to a "mutiny" within the Premier League. That may even happen if City are exonerated.
All of this comes amid a more febrile atmosphere surrounding the dominance of state-owned clubs, especially as City come to the brink of a treble and Newcastle so quickly and impressively reached the Champions League. It has meant more attention than ever is being paid to the Sela sponsorship.
State politics are just one more under-current to the City story, too. As one expert on the area said: "How would UAE-UK relations be affected if one of Abu Dhabi's prize assets was punished like that?"
Join our commenting forum
Join thought-provoking conversations, follow other Independent readers and see their replies