Manchester City are leading the way when it comes to promoting the ladies' game - time for United to take note
Since bringing the women's team in-house in 2014, City have become the best in England. Now, the club is helping the women's game take baby steps forward
Glenn Moore
Thursday 01 February 2018 09:39 Comments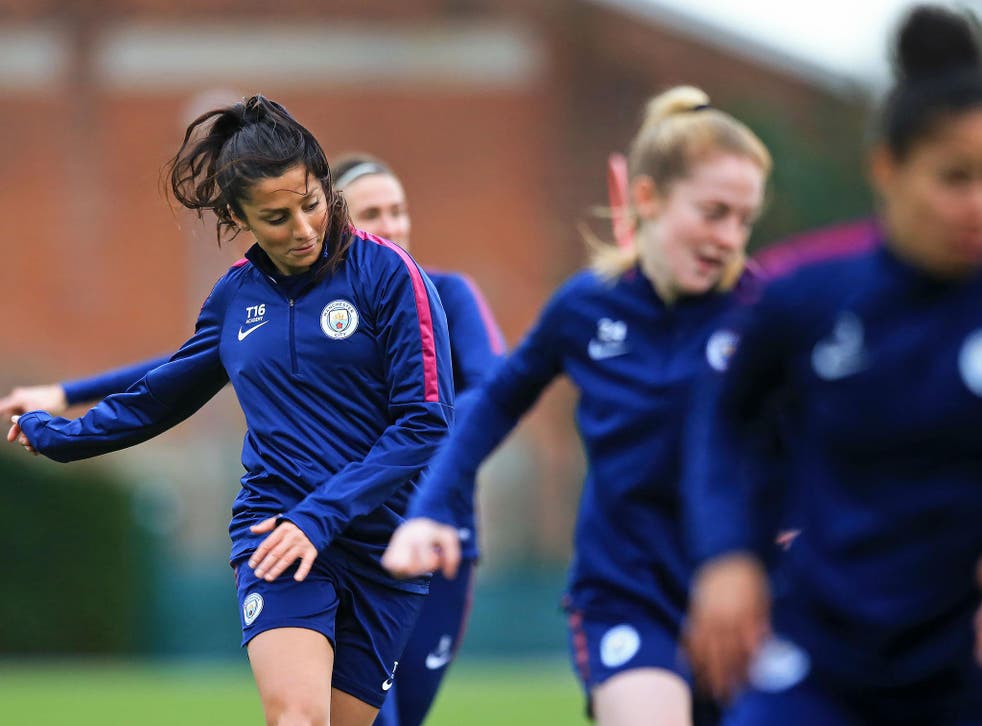 At 7pm on Thursday night the players of Chelsea Ladies and Manchester City Women will kick-off a match that will go a long way to deciding whether City retain the Women's Super League title, or Chelsea can regain it. As they do so, at the back of the cramped press box at Kingsmeadow, the compact venue Chelsea Ladies share with AFC Wimbledon men, the clubs' social media teams will whirr into action.
On @ChelseaLFC and @ManCityWomen there will be kick-by-kick updates going out to their 135,000 and 91,700 followers respectively. On Friday, however, while Chelsea's outlet continues to relay news updates, videos and player tweets, City's will fall silent, waiting to be re-activated for Sunday's Women's FA Cup tie at Brighton.
City have taken the decision to merge the Twitter outlets of their men's and women's teams into one parent channel, @ManCity. This was part of the 'Same City, Same Passion' campaign launched last week with a stirring one-minute video showing clips of both men's and women's teams under the strapline 'Same game, Same club. Same #mancity'.
The @ManCityWomen feed now operates only on matchdays, in part to avoid confusion with the men's team should matches overlap, in part because of the sheer volume of tweets during a game.
This may seem a peripheral development at a time when Pep Guardiola is taking his transfer spending on the men's team towards half-a-billion pounds in 18 months. Yet while no one is pretending the financial rewards or investment are ever likely to be remotely similar for the women's game as the men's, it underlines City's determination to treat both equally in many other respects.
City's female players already share medical support, performance analysis tools and other facilities on the Etihad campus. Now the club are seeking to raise the level of engagement with the women's team by fans of the men's.
Since bringing the women's team in-house in 2014, City have become the best in England. They currently hold all three domestic titles in the women's game (league, FA Cup and league cup) and are in the last eight of the Champions League. However, it has been a struggle turning that success into matchday support.
Their 7,000-capacity Academy Stadium has never been close to full. Last season's Champions League semi-final against holders and eventual winners Lyon drew 3,548 - the return in France attracted 19,214. This season City's seven matches in all competitions have attracted on average around 1,200.
City are confident the product is good. The issue is simply getting people to give it a try. Gavin Makel, City's head of women's football, said: "One of the aims is to increase the visibility and profile of the women's team, but more importantly we want to showcase the quality of the product on the pitch as we do that. Sometimes, you hear people say they don't like women's football, but it turns out they've not seen a game. We've had supporters of the men's team come to a women's game once and then become season ticket holders."
Thus the re-brand. The campaign video has had 2.1m views on Facebook and another 840,000 on Twitter, huge numbers for the women's game. There have been some City fans complaining they are not interested in news from the women's team cluttering their timeline, and some pointed comments from fans of other clubs referring to women's rights in Abu Dhabi, home of City's owners, but the response has mostly been very positive, with Makel adding: "We're very pleased."
City's twitter feed has 5.78m followers, more than 60 times that of @ManCityWomen. When youngster Ellie Roebuck signed a new contract there were 2,000 likes. In the past there would have been a handful.
So far City are the only club to combine twitter feeds in this way. The others all have separate accounts though Bristol City Women have an additional presence on @Bristol_Sport which also covers the men's team and the organisations rugby, basketball and motor sport teams.
For Chelsea, City's biggest rivals, the issue is mainly historical. To maximise brand impact the men's, youth and community feeds are combined but the women's team was, at the time, almost an afterthought. So it was given its own feed and now has its own identity and loyalty. The club have several foreign payers and do considerable geo-targeting ensuring, for example, followers in South Korea receive plenty of exclusive information about Ji So-yun.
Chelsea have also focused on building local support around their new Kingston home (which they will own once AFC Wimbledon move back to Merton). There is eye-catching advertising at local railway stations and widespread leafleting. This has helped build an average gate of 1,851 already - a figure they were close to on Sunday despite their WSL match with Everton clashing with Chelsea men's televised home FA Cup tie.
Despite the switch to Thursday night for BT's television coverage (an issue now affecting women's football fans as well as men's) Chelsea are expecting a bumper gate tonight. Among those in attendance will be Phil Neville, the new England manager. There is quite an irony in the post going to a player so associated with Manchester United given they are now the only Premier League club without an adult women's team (while Southampton don't have a senior team they currently run an U21 side).
Since becoming England manager Neville has added his voice to those calling for United to run a women's team. Were United to become involved they have the resources to replicate City's rapid rise and establish a rivalry that would help both clubs' marketing. For now, though, City have Manchester to themselves.
Register for free to continue reading
Registration is a free and easy way to support our truly independent journalism
By registering, you will also enjoy limited access to Premium articles, exclusive newsletters, commenting, and virtual events with our leading journalists
Already have an account? sign in
Join our new commenting forum
Join thought-provoking conversations, follow other Independent readers and see their replies