David Herd played out his career in the shadow of greatness - but was a star in his own right
The former Manchester United star was a thoroughbred marksman who, over the course of most seasons, could be relied upon to supply goals in abundance at the top level
Ivan Ponting
Monday 03 October 2016 11:26 Comments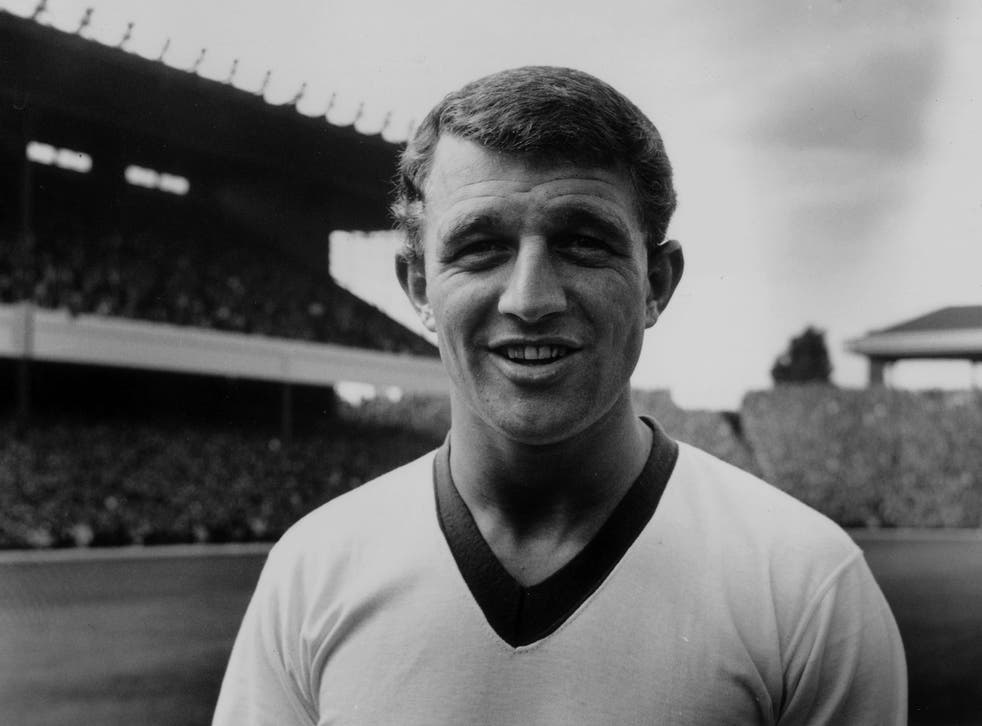 David Herd, the former Manchester United and Arsenal striker who passed away on Sunday, played out the pomp of his football career in the shadow of greatness. He was a dashing, free-scoring Scottish international centre-forward, and in many teams he would have been a star in his own right. But at Old Trafford in the 1960s, the circumstances were extraordinary.
Herd spearheaded an attack which contained George Best, Denis Law and Bobby Charlton, by common consent the most talented trinity ever to come together under the colours of a British side.
The upshot was that no matter how compelling his own contribution to the Manchester United cause, invariably it was overshadowed by one or all of his exalted colleagues; and when things didn't go United's way, too often he was a convenient scapegoat for fickle fans.
To football insiders, though, people who understood and discounted the vagaries and injustice of instant superficial judgements, Herd was a thoroughbred marksman, an honest professional who, over the course of most seasons, could be relied upon to supply goals in abundance at the top club level.
Statistics can create a misleading impression, but in the case of the muscular Herd, his scoring record leaves little room for doubt about his quality. In 503 starts for his four clubs in English domestic football, he netted 269 times, considerably better than a goal every two outings, a ratio for which today's Premiership managers would auction their offspring.
Herd breathed his first in Lanarkshire because his Scottish father, Alec, an accomplished inside-forward in the successful Manchester City side of the 1930s, was determined that any son of his should be eligible to wear the Caledonian colours; thus he sent his wife over the border to give birth.
But the boy was raised in Manchester and it was while kicking a ball around the Moss Side streets with Dennis Viollet - another gifted attacker, destined for glory with Manchester United - that Herd Junior revealed extensive talent, so that in 1950, aged 16, he signed for Stockport County of the Third Division North.
At Edgeley Park, he made a scoring debut against Hartlepools United in May 1951, lining up as a winger and forming a right-flank partnership with his father, who was then in the twilight of his long career.
Soon, in his favoured role of spearhead, Herd began attracting scouts from top clubs and in 1952 a swap was arranged with Manchester United, with wing-half Billy McGlen ready to head in the opposite direction. The youngster signed his contract and packed his boots, but at the last moment McGlen opted to join Lincoln City instead and, despite United boss Matt Busby attempting to substitute a cash deal, the transfer fell through.
But for McGlen's change of heart, Herd would have fetched up at Old Trafford nine years earlier than eventually he did and been part of the Busby Babes phenomenon, which lit up English football in the 1950s. However, had he done so he might have been involved in the Munich air disaster of 1958, which cost eight players their lives, so it was never a decision he regretted.
Clearly, though, such a talented performer could not remain long in the League's basement division, and in August 1954 Stockport sold their promising marksman to Arsenal for £10,000.
At Highbury, Herd found a team in transition following the championship success of 1952/53, but he remained on its fringe until the winter of 1956/57 when the previous possessor of the number-nine shirt, Cliff Holton, was switched to wing-half.
Pacy, strong and unfailingly enthusiastic, he began to accumulate goals with gratifying regularity, most of them the product of one of the most explosive right foots in British football, his high-velocity strikes once being timed at 72.5 mph. Herd was capable of unloosing his missiles from virtually any angle and he had the precious knack of keeping them low, a technique much feared by goalkeepers.
However, having become used to success in the seasons either side of the war, Arsenal were not happy with several mid-table finishes in the late 1950s and at the turn of the decade manager George Swindin, wheeling and dealing to improve matters, began using Herd as transfer bait to attract stars from other clubs.
Understandably the prolific Scot, who struck 107 goals in 180 appearances for the north Londoners and collected five full caps after making his international entrance against Wales at Cardiff in 1958 - stern competition from the likes of Ian St John and Alan Gilzean precluded further outings for his country - was not amused.
He was hurt at being offered to Huddersfield Town and Blackburn Rovers, and his disillusionment reached a head when he was mooted as a makeweight in a part-exchange deal for Newcastle United's creative inside-forward George Eastham.
This news was music to the ears of Manchester United manager Busby, still rebuilding in the wake of the Munich tragedy, and in July 1961 the 27-year-old Herd finally made the move to Old Trafford which had been first suggested when he was in his teens.
This time he commanded a much heftier fee, £37,000, but over the next seven seasons he was to emerge as one of the canniest purchases of Busby's lengthy reign.
Yet, at first, Herd struggled to fit in. Whereas at Highbury most attacks were direct, being channelled through the hard-running centre-forward, United expected their goals to come from all quarters and he had to adapt to a more fluid way of playing, with gifted individuals constantly interchanging positions with bewildering rapidity.
Initially he felt marginalised and started roaming deep in search of possession, which didn't suit his straightforward game and soon some so-called fans were on his back. Busby was quick to identify the problem, though, ordering Herd to spend as much time as possible in the penalty box and, particularly after the arrival of the brilliant Denis Law as co-frontman, the goals began to flow.
In 1962/63, during which the stuttering United had hovered perilously close to demotion before a late springtime escape, they deflected criticism by winning the FA Cup, with Herd netting twice in the 3-1 Wembley final triumph over Leicester City.
That proved to be the turning point for United. Boosted immeasurably by the addition of the rookie Best during the following campaign, they matured into the most ravishingly entertaining English team of the 1960s, lifting League titles in 1965 and 1967.
Herd, who was at his most devastatingly effective when sprinting on to beautiful through-passes from Charlton and Paddy Crerand, returned successive seasonal goal tallies of 17, 21, 27, 28, 32 and 18. It was an invaluably consistent sequence halted only by a broken leg, suffered in the act of scoring against Leicester City in March 1967 on the way to his second championship medal.
Poignantly, after he had performed nobly in several continental campaigns, he could not find a berth in the line-up which won the European Cup in 1968, his place going to young Brian Kidd.
By then Herd was 34 and that summer United, for whom he had accumulated 145 goals in 265 appearances, freed him to join fellow First Division club Stoke City. He served the Potters for two years before his mobility declined too far for the English top flight and he completed his playing days under former Old Trafford team-mate Seamus Brennan at Waterford in the Republic of Ireland.
There followed a brief but successful stab at management with Lincoln City, with whom he narrowly missed promotion to the Third Division in 1971/72, but he left Sincil Bank six months later following a disagreement with the chairman, and was replaced by future England boss Graham Taylor.
Now he left the game to work full-time at David Herd Motors in Manchester, a thriving business which he ran with a partner for more than 30 years.
Football remained his passion, though, and lunchtime visitors to his garage in Lostock Road, Davyhulme, would often hear voices raised in excitement. If they wandered around to the back of the premises, they were likely to find the proprietor engaged in an impromptu, but deadly serious, kickabout with his mechanics.
David George Herd: born Hamilton, Lanarkshire, 15 April 1934; played for Stockport County 1949-54, Arsenal 1954-61, Manchester United 1961-68, Stoke City 1968-70, Waterford (Republic of Ireland) 1970-71; capped five times by Scotland 1958-61; managed Lincoln City 1971-72.
Register for free to continue reading
Registration is a free and easy way to support our truly independent journalism
By registering, you will also enjoy limited access to Premium articles, exclusive newsletters, commenting, and virtual events with our leading journalists
Already have an account? sign in
Join our new commenting forum
Join thought-provoking conversations, follow other Independent readers and see their replies