Bruno Fernandes: Manchester United must learn the art of resting star man in danger of burn-out
Fernandes' performances on the periphery of games have been on the increase this year
Richard Jolly
Monday 26 April 2021 08:08 Comments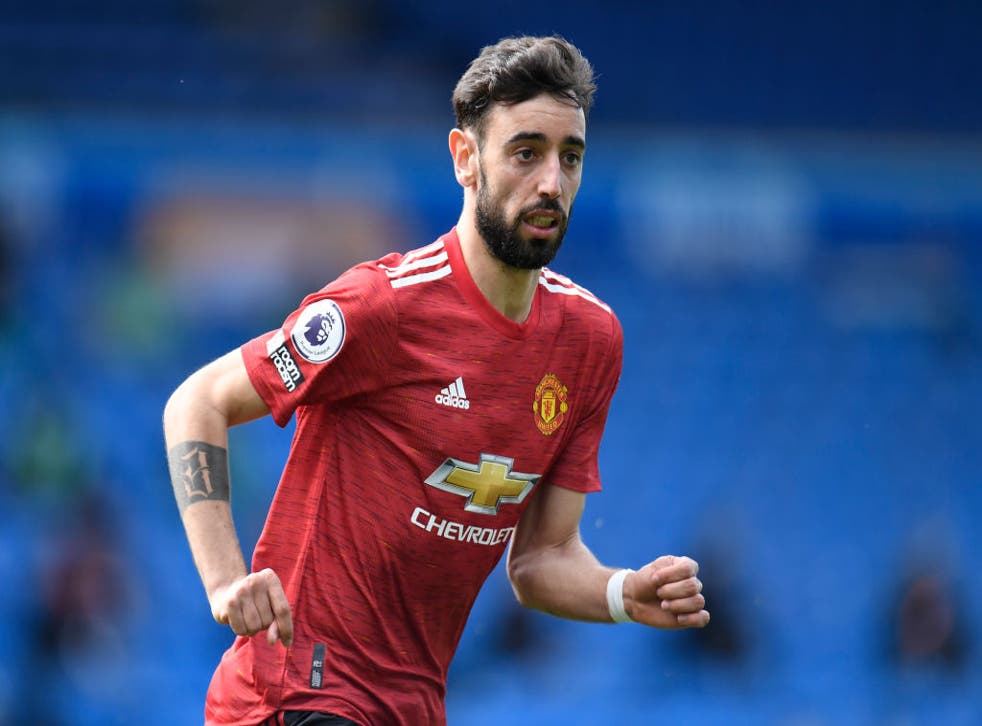 "Leaving the field, No 18 Bruno Fernandes," proclaimed Leeds' PA announcer. Except it wasn't, not even in the 89th minute. It was Fred whose number – 17 – was up. Perhaps it was a case of typing the wrong digit into the electronic board, rather than a change of heart.
Certainly there are times when it feels as though Ole Gunnar Solskjaer cannot countenance removing Fernandes. There are reasons: The talisman transformed his reign and much as the departing Ed Woodward showed loyalty to the Norwegian, the Portuguese made it possible.
United owe second position and a place in next season's Champions League in part to Fernandes. With 24 goals and 18 assists in a relatively brief Premier League career, he offers both hope and the statistical likelihood he will make something happen.
Even at Elland Road, in one of his less effective games, Fernandes could have been the match-winner, dragging a shot just past the post. "We just didn't have the moment," said Solskjaer. United can be a moments team, Fernandes a moments player. That reliance on moments of magic makes it still harder to remove him. Solskjaer may be scarred from a rare time he left Fernandes out; there was a void in his absence as they exited the FA Cup at Leicester.
And yet when the final whistle blew at Leeds with Fernandes, rather than Fred, still on the pitch, he had only scored twice in 14 appearances, both from the penalty spot.
His contribution extends beyond that – there was the stepover for Mason Greenwood's first against Burnley, though not officially an assist, and a lay-off for Marcus Rashford's equaliser against Brighton – but United's most productive player since Robin van Persie's golden debut year has had less end product.
His last brilliant goal was his superb volley against West Bromwich Albion on Valentine's Day, his last strike in open play against Real Sociedad four days later.
Over those two months, the idea of Fernandes winning Footballer of the Year has been mooted less often, the notion Luke Shaw may be named United's player of the season voiced more frequently. Paul Pogba's overall level of performance has been better than Fernandes' in recent month but he has been rotated: in and out of the team, around the side between the flanks and a deeper midfield role.
It isn't to suggest Fernandes should lose his status as the No. 10 but his ubiquity has come at a cost to Pogba and to Donny van de Beek; it is a consequence of United's frequent lack of creativity in the months before his arrival. But perhaps there is an art to picking the moment to take him out, rather than simply leaving him in.
The volume of perspiration may have diminished the inspiration. Fernandes has carried United at times, but at Leeds they looked more reliant on Marcus Rashford. Brunodependencia is United's Messidependencia but even Fernandes, with his old-school willingness to be ever-present, can risk exhaustion. He finished last season with a flurry of goals, but his final five were spot-kicks; invaluable as his excellence from 12 yards can be with pressure penalties, his impact diminished in open play.
History may repeat itself. His season has now included 4,585 minutes of football; with Euro 2020 in the summer, it could extend beyond 6,000.
Solskjaer cannot be faulted for the 609 he played for Portugal but 2832 in the Premier League and 885 in Europe highlight a reluctance to substitute Fernandes, even when games are won. His second-leg starts against Sociedad and Granada, when the first had brought emphatic away wins, felt unnecessary; so, too, the 12-minute cameo at Luton.
In two legs against Roma, in a possible Europa League final versus Villarreal or Arsenal, burning out Bruno could backfire.
In the Premier League, the policy of automatically choosing him may be justified by United's stress-free end to the domestic season. But while a one-minute rest would have changed little and playing with Fernandes has brought United's improvement, part of Solskjaer's strategy for next year must entail finding a way to play without him.
Register for free to continue reading
Registration is a free and easy way to support our truly independent journalism
By registering, you will also enjoy limited access to Premium articles, exclusive newsletters, commenting, and virtual events with our leading journalists
Already have an account? sign in
Register for free to continue reading
Registration is a free and easy way to support our truly independent journalism
By registering, you will also enjoy limited access to Premium articles, exclusive newsletters, commenting, and virtual events with our leading journalists
Already have an account? sign in
Join our new commenting forum
Join thought-provoking conversations, follow other Independent readers and see their replies