The art of penalty-saving: Mark Crossley on mind games, Stuart Pearce's influence and instinct
In the latest instalment of our series on football's finer crafts, the former Nottingham Forest goalkeeper opens up on his famed ability for stopping a spot kick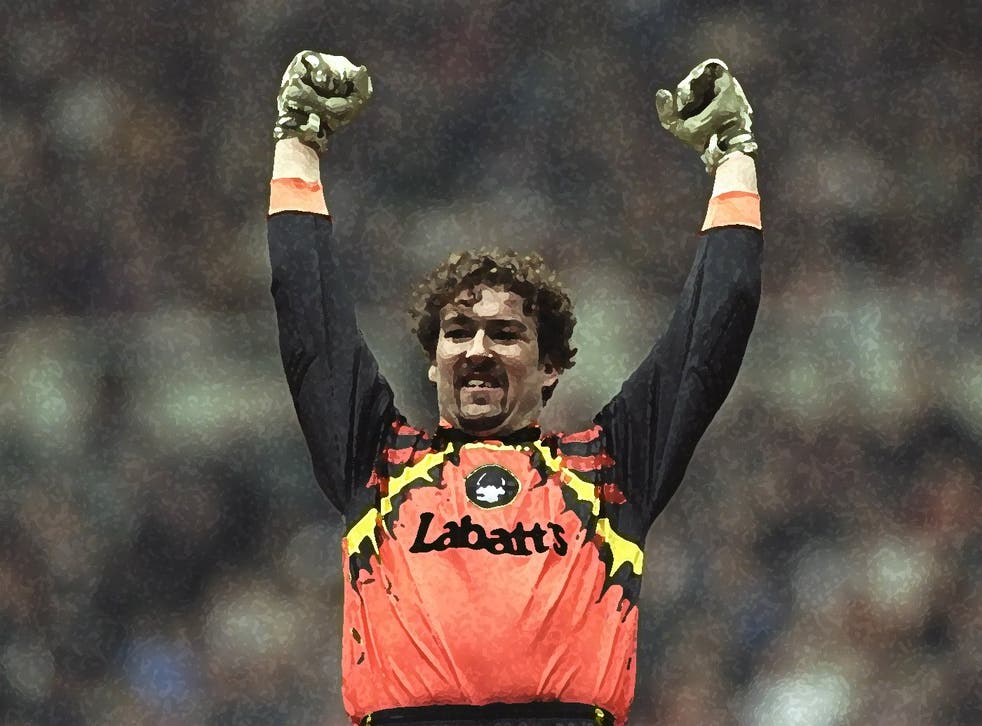 Any time a goalkeeper faces a penalty, the odds are stacked against them. But they wouldn't have it any other way. No one expects them to make a save, so whenever they do, they earn a rare taste of the exultation goal-scorers and match-winners feel so frequently.
"As a goalkeeper, you can only be a hero," former Nottingham Forest, Middlesbrough and Wales keeper Mark Crossley tells The Independent, explaining why he relished facing penalties. "You're never the villain. It's the only time as a goalkeeper that you can't be the villain."
During a professional career that spanned more than 20 years, Crossely earned a reputation as one of the most proficient penalty savers in English football. In 2002, it was calculated that he had saved 57 per cent of the penalties he'd faced up to that point, an incredible ratio given that, on average, only around 15-20 per cent of spot kicks are saved.
Crossley saved three penalties in a single FA Cup fifth-round shootout against Tottenham for Forest in 1996, and he is the only goalkeeper ever to stop a Matt Le Tissier penalty, accounting for the Southampton legend's only unsuccessful effort from 12 yards in 48 attempts. And he is also one of only three goalkeepers – along with Dave Beasant and Petr Cech – to save a penalty in normal time of an FA Cup final, diving low to parry Gary Lineker's strike at Wembley in 1991.
That save from Lineker, unfortunately for Crossley, didn't prevent a 2-1 defeat to Tottenham and means he is the only keeper to save an FA Cup final penalty yet still end up on the losing team. But it serves as an example of the delay tactics the Forest goalkeeper would often employ to gain a psychological advantage over the kicker.
"As soon as the penalty is given, I'd try to delay as much as possible, and that's when I'd decide which way I was going to go," Crossley says.
"When I brought Gary Lineker down when he went through on goal, the rule had just come in for a professional foul [being a red-card offence]. There was a long time before the penalty was taken.
"If you see the footage, you'll see me saying 'I got the ball, I got the ball. Don't be booking me. Don't even think about sending me off.' I was trying to put a doubt in the referee's mind and thinking, 'This penalty is going to be a while. It's an FA Cup final. The pressure's on him [Lineker] now.' I could see him rubbing his nose, and I'm thinking, 'He's nervous.' I managed to get a good hand on it and turned it away from the corner."
Crossley was a late-comer to goalkeeping, having been a towering, left-sided centre-back in his youth. When the regular goalkeeper of his junior team was injured, the 15-year-old Crossley, being the tallest player in the side, was thrust between the sticks where he thrived.
He had also regularly taken penalties before his transition into goalkeeping, and he feels his experience in taking spot kicks informed his ability to save them.
"I think it does," he says. "The way that I used to try and approach the ball in the run-up from outside the box, if I was going at a straighter angle, I'd go across my body, and if I was running up at more of an angle, I used to go the side I was running towards.
"I tried to fill my goal, get my arms out wide. I used to shimmy to one side. If I shimmied to the left, I was going right; if I shimmied to the right, I was always going left. As the player is getting to the ball, if he can see you going one way, hopefully his peripheral vision will see me and he'll shoot the other way."
In part, Crossley credits his penalty-saving prowess to the fact that, for many years at Forest, he would face one of the English game's most fearsome penalty takers on a daily basis in training. Stuart Pearce may be best known for his saved penalty against Germany in the 1990 World Cup semi-final, but the long-time England left-back had an otherwise unimpeachable record from 12 yards and struck the ball as truly as anyone.
"Stuart Pearce used to say to me, 'Which penalty don't you like to face? Do you like it to go across your body? Up high?' For me, the lower you go, the harder it is for the keeper to save it. I used to leave a lot of them because he'd bend my fingers back."
Psychology formed a key tenet of Crossley's approach to facing penalties, and he'd try to interrupt his opponent's focus whenever possible.
"I saved three penalties in a shootout at White Hart Lane in the fifth round of the FA Cup. The final penalty of the shootout was Teddy Sheringham, and I'd just played with him for a year. I went up to Teddy and said, 'Don't forget, I've worked with you and I know where you put your penalties.' Just trying to put doubt in his mind, and I managed to save the pen."
It is common nowadays for goalkeepers to have been briefed on the penalty habits of upcoming opponents, with footage studied pre-game and statistics pored over. Ahead of any high-stakes penalty shootout, television coverage often captures a glimpse of an iPad-wielding goalkeeping coach running a keeper through video of the most recent strikes of the players he's about to face.
When Crossley began his career, in the late 1980s, video analysis was rudimentary at best. It was a creeping influence throughout his top-flight tenure, though, yet he chose largely to ignore it, keeping faith instead in his instincts.
"I wouldn't do any video analysis, even though it was available, because that used to put me off. As time went along and I got older, yeah, I used it. But in the early days, when I was saving all the penalties, I used to go mainly off being instinctive.
"The pressure at the time when you're actually facing one, so many things can go through your head. At the end of the day, when you're facing people like Le Tissier and some of the people I saved penalties from, I just used to go off instinct on that day.
"For me, if you go with your instincts, there's no looking back."
Join our new commenting forum
Join thought-provoking conversations, follow other Independent readers and see their replies