Mauricio Pochettino feels Chelsea's young squad must be given time
Co-sporting directors Paul Winstanley and Laurence Stewart have led a recruitment drive that has prioritised youth over experience.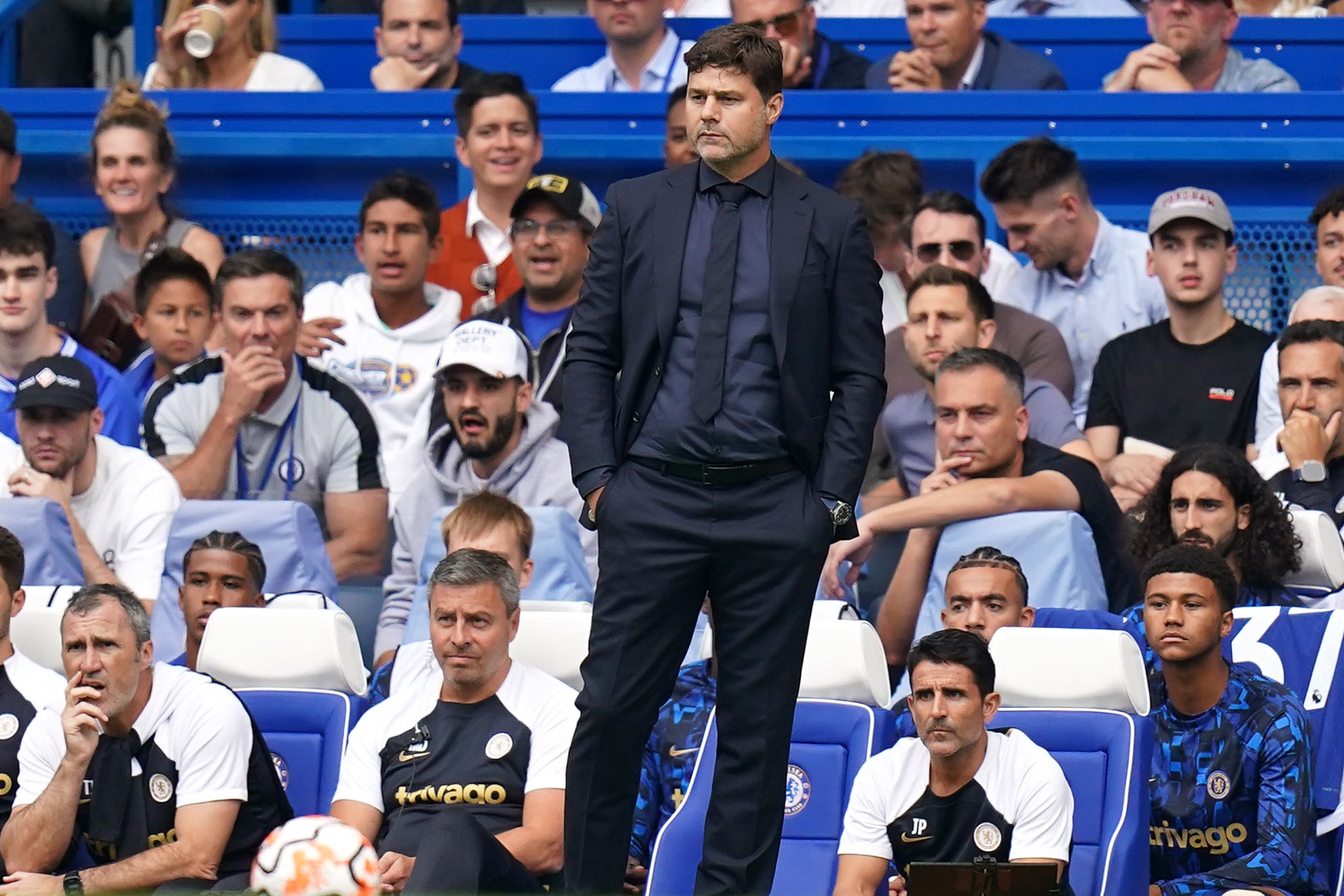 Chelsea's policy of targeting young players in the transfer market must be given time to prove its effectiveness, according to boss Mauricio Pochettino.
Co-sporting directors Paul Winstanley and Laurence Stewart have led a recruitment drive that has prioritised youth over experience during the last two transfer windows.
At an average age of just over 23 the club have the youngest squad in the Premier League this season, with contracts of seven or eight years for new players common at Stamford Bridge.
They have broken the British transfer record twice in 2023 on two players who are under 23, Enzo Fernandez and Moises Caicedo.
Yet the team have taken just four points from the manager's first four league games in charge, after a summer in which recruitment spend in the previous 12 months under the current ownership surpassed the £1billion mark.
The manager was unhappy with the ease with which Nottingham Forest's Anthony Elanga was allowed to run through the heart of his team's defence to score the only goal in the visitors' 1-0 win at Stamford Bridge before the international break, and mistakes in defence and in midfield have been a theme in the season's early weeks.
Nevertheless, Chelsea have enjoyed periods of dominance in all four fixtures, particularly in the 1-1 draw with Liverpool on the opening weekend and in the 3-0 win over newly-promoted Luton.
Former Chelsea goalkeeper Asmir Begovic said this week that the squad lacked the kind of world-class individuals that helped the club win five Premier League titles and two Champions Leagues over the past 20 years.
But Pochettino has seen enough to be reassured that his ideas are taking root amongst his young squad, and appealed for the necessary patience for an inexperienced group to find their flow.
"They were (once) young also, John Terry was young, Frank Lampard was young, (Didier) Drogba was young," he said. "You know better maybe than me, that is a completely different pressure. This is a different Chelsea to what I saw when I was at Tottenham or Southampton. Worse or better? I'm not saying that.
"But it's different pressure. Different circumstances. Now we cannot compare with the past. I think it's not fair. It's a different Chelsea. What I want to translate is the fans want to win because the normal way in the past for Chelsea is to win.
"We need to accelerate all the process, because Chelsea is about to win, and we want to win. But I understand that the process is completely different to in the past. Because we have a different approach to the game and the philosophy and the ideas, (it means) we have a young squad of course.
"(We have) very talented players that need time to perform. But for sure we have one of the best squads of young players with the project. But of course we need time. We need to be careful about how we evolve and how we develop these ideas. But it's true, players that need to improve and improve."
Chelsea travel to Bournemouth on Sunday looking to win away from home for just the second time since March, with their only victory on the road in that time coming on their previous visit to the Vitality Stadium at the end of last season.
Pochettino spoke positively about his side's performances so far this campaign despite a points return that has left them 12th.
He emphasised that his young squad are carrying the club into a new era where success is planned over a longer period, investing in potential rather than ready-made stars.
"I cannot give my opinion about what (Begovic) said because I didn't hear," he added. "But it's obvious that at the moment, if you're talking about a name like John Terry or Lampard or Drogba… come on.
"Today maybe we have the potential of Lampard or Terry or Drogba, but they are young. They need to prove that they can be one of these guys.
"In the past, Chelsea was about to sign (big) players, like Drogba. Now the idea is to buy young people to have the possibility to develop and to build a team. We are in the process of building a team."