Newcastle fans confident about safety in Milan despite stabbing of supporter
Italian police confirmed that a 58-year-old Magpies fan had suffered wounds in an attack on Monday.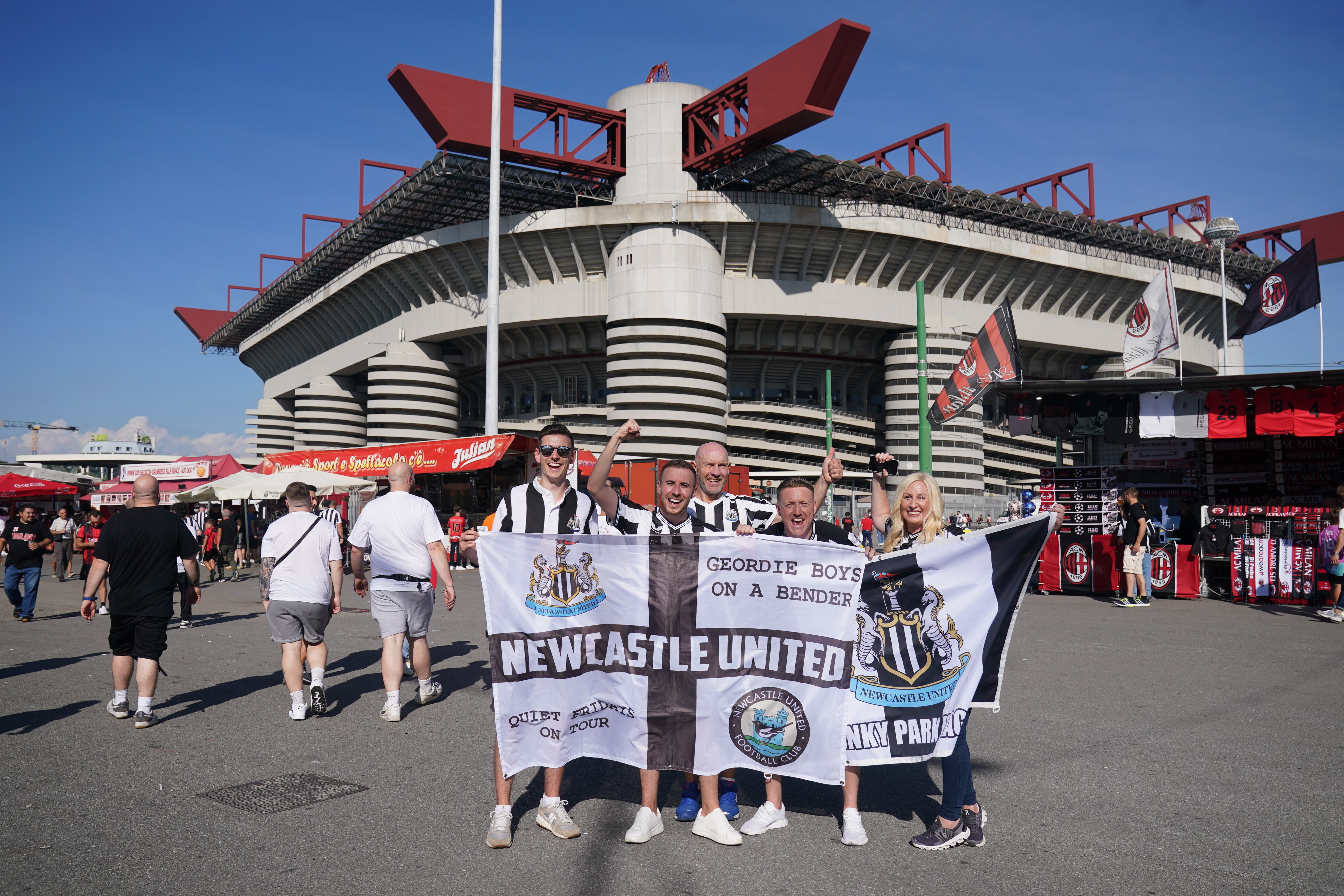 Newcastle fans headed for San Siro on Tuesday evening confident they were safe after one supporter was stabbed as thousands gathered in Milan.
Local police confirmed that a 58-year-old Magpies supporter had suffered three wounds in an incident at around midnight on Monday after being set upon by a group of up to eight men wearing hoodies in the popular Navigli area of the city.
A police spokesperson told the PA news agency: "The incident took place about midnight in the neighbourhood of Navigli, which is populated with bars.
"A police patrol came across the incident, which involved seven or eight people wearing hooded sweatshirts. We are still searching for these people.
"A supporter of Newcastle, who is 58 years old, suffered two slight wounds to his arms and one a little bit deeper on his back. He was sent to the Policlinico Hospital and is expected to be discharged later today.
"DIGOS (Divisione Investigazioni Generali e Operazioni Speciali), the branch which deals with football supporters, is investigating, but at this moment it is not clear if this is related to football or something else because no emblems were visible."
Newcastle were liaising with the authorities in the wake of the incident, and wished the fan involved a speedy recovery.
A club spokesperson said: "We are deeply concerned by reports that a supporter was seriously assaulted in Milan on Monday evening and we are liaising with local authorities to understand the circumstances.
"Our thoughts are with the supporter and their family and we hope for a full and speedy recovery."
Around 5,000 visiting supporters were expected at the stadium for the opening Group F fixture, with more having travelled simply to experience the atmosphere of the club's first Champions League game in 20 years.
Many gathered around the bars and restaurants in the Naviglio Grande area on the eve of the match close to where the stabbing occurred.
The area was quieter on Tuesday afternoon, but some of those who were present on Monday evening reported no problems.
Joe McDivitt, 57, from Cramlington, told PA: "We heard about it, but we knew nothing about it, just hearsay, rumours and what the lads have seen about it on social media.
"My daughter messaged me – she's in a huff because she's not here – to say just to be careful, but everything has been fine.
"We had no trouble, everybody was great. There was no bother. It was great."
Andy Roberts, 38, from Newcastle, said: "It's gone round the Newcastle WhatsApp groups about the guy getting cut with a machete or whatever. But if there's one out of 10,000…
"All the Italians we have spoken to have been very nice, very friendly, the taxi drivers are very friendly. The atmosphere seems good. We'll see what it's like after the game."
Many fans headed to the stadium on the city's Metro system, packing into sweltering trains along with their Milan counterparts and the atmosphere was boisterous, but good-natured.