1962 European Cup: The 'sliding doors' match when Tottenham fell just short of glory
The game against Benfica recalls one of the great nights at the Lane when the Tottenham Double side came agonisingly close to being crowned Kings of Europe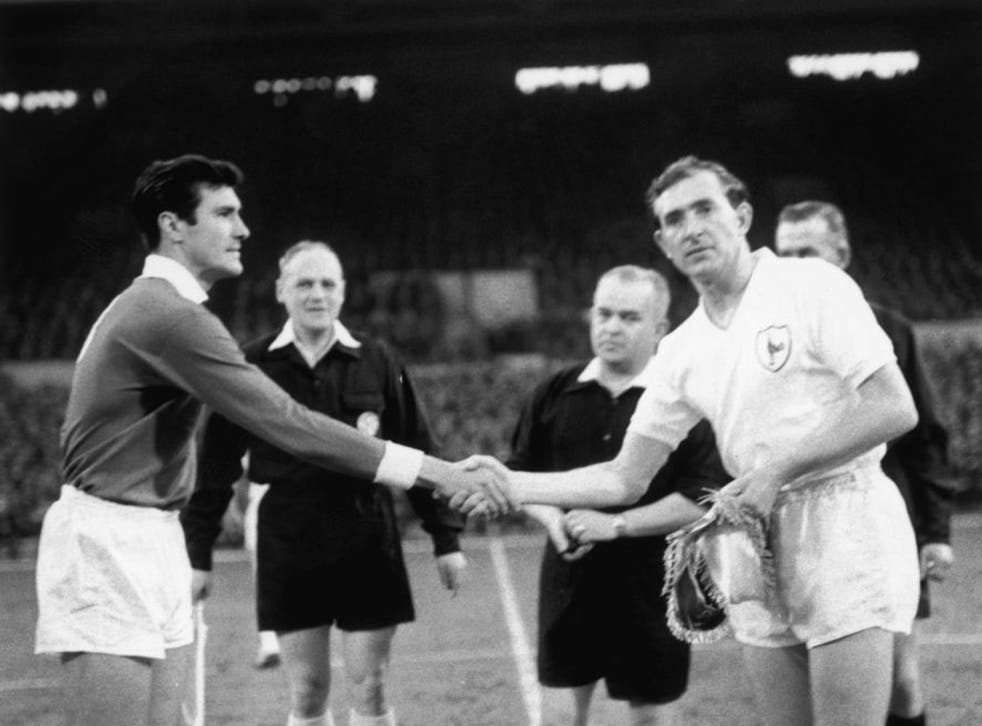 It is one of those Sliding Doors, 'what-if?' matches. What if Tottenham had beaten Benfica in 1962 and gone on to become the first British team to win the European Cup? Would they have spent the last half-century trying to regain a place at the top table? Or would they have gone on to greatness?
We'll never know, but Benfica's return to White Hart Lane for the first time in 52 years will stir a few memories for Tottenham fans of senior years for their previous visit was one of the stadium's great European nights, one when Danny Blanchflower's comment that 'the game is about glory' rang true.
Blanchflower was Tottenham captain when, on April 5, 1962, Spurs found themselves 90 minutes from the European Cup final. Barring their way were holders Benfica, led by Eusabio, supported by other stellar players of the early Sixties including another Mozambican, Mario Coluna, teenage winger Simoes and defensive pillar Germano.
The previous year Benfica had defeated Barcelona in the final, becoming the only side other than Real Madrid to win the trophy. But Bill Nicholson's Tottenham had won the Football League and FA Cup Double, the first team to do so in the 20th century, and had great players of their own in Blanchflower, Dave Mackay, Jimmy Greaves, Cliff Jones and John White, who was to be tragically killed by lightning two years later.
Spurs trailed 3-1 from the first-leg where they had been overwhelmed by the 86,000 crowd. They may not been the only ones, the officials disallowed goals by Jimmy Greaves and Bobby Smith for offside, the latter extremely controversially as two defenders were reported to have been standing on the line.
Nevertheless, Spurs were confident with Welsh winger Cliff Jones putting his faith in Bobby Smith's physicality rattling Benfica's goalkeeper as it did most European No.1's. Costa Pereira, however, was an exception and, recalled Jones afterwards, "wouldn't be intimidated by him".
As now, the game was played on a Thursday and 64,448 filled the Lane. They were aghast when, in the 15th minute, Jose Aguas turned in a mis-hit shot by Simoes to put Benfica 3-1 up. Spurs' prospects looked hopeless, the more so when it appeared the officials were again against them as Greaves had an 'equaliser' ruled out by another contentious offside decision.
"I thought it was a good one, I ran past two Benfica players before shooting," he said afterwards. Pathe newsreel tends to support his claim but suspicions that the officials were crooked - not unknown in European football in that era - are to an extent allayed by the same linesman chalking off a later Benfica goal that also looks onside, and the referee awarding Spurs a penalty.
Spurs did level ten minutes before the break when White's cross was volleyed in by Smith. Benfica, trading attacks, then hit the bar before the half ended. The penalty came soon after the resumption. White fell under Coluna's challenge as both contested a cross. Blanchflower tucked away the kick.
With no extra-time in those days another goal would force a replay (in Belgium) and Spurs, roared on by an engrossed crowd, attacked and attacked. Twice they hit the post, then, late on Mackay's header from Ron Henry's cross looped over Pereira, onto the bar and over. They were out.
Benfica beat Real Madrid 5-3 in the final, the second of their five finals in eight years. Tottenham had to settle for retaining the FA Cup, but went on lift the 1963 European Cup-Winners' Cup. But they had to wait until 2010 before they played again in the European Cup/Champions League.
Disappointed as he was Blanchflower observed: "It would be difficult to conceive of a more potent or popular soccer competition. Playing in the European Cup has been the greatest emotional experience of my career."
Match details
5 April 1962, White Hart Lane. European Cup semi-final, second leg
Tottenham (1) 2 Smith 35, Blanchflower pen 48 Benfica (1) 1 Aguas 15
Tottenham Brown; Baker, Henry, Blanchflower, Norman, Mackay, Medwin, White, Smith, Greaves, Jones
Benfica Costa Pereira; Joao, Angelo, Cavem, Germano, Cruz, Augusto, Eusebio, Aguas, Coluna, Simoes
Referee A Poulsen (Denmark)
Attendance 64,448
Benfica won 4-3 on aggregate
Bibliography
Danny Blanchflower (1997) by Dave Bowler
This One's On Me (1979) by Jimmy Greaves
Register for free to continue reading
Registration is a free and easy way to support our truly independent journalism
By registering, you will also enjoy limited access to Premium articles, exclusive newsletters, commenting, and virtual events with our leading journalists
Already have an account? sign in
Register for free to continue reading
Registration is a free and easy way to support our truly independent journalism
By registering, you will also enjoy limited access to Premium articles, exclusive newsletters, commenting, and virtual events with our leading journalists
Already have an account? sign in
Join our new commenting forum
Join thought-provoking conversations, follow other Independent readers and see their replies