A hot night in the Chinese Super League with Guangzhou Evergrande, 'the world's richest football club'
World football's rising power still has some way to go before it can truly challenge, as Nick Rider found out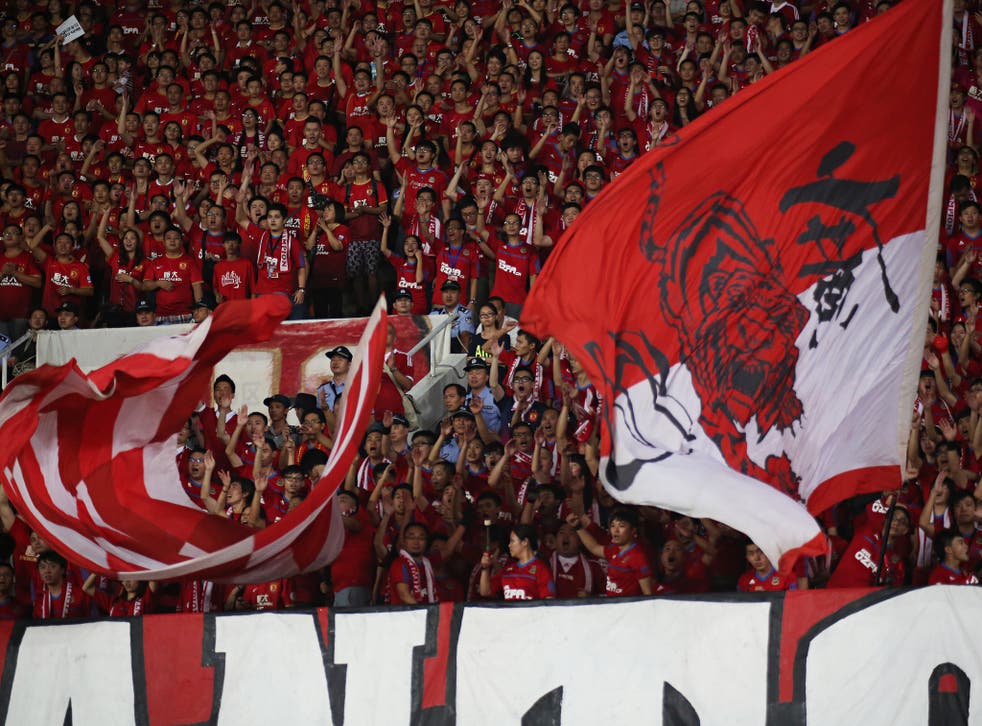 "We are Canton… more than a team, you are a legend!", read the giant banners across the Tianhe Stadium, home of Guangzhou Evergrande Football Club – using the old, international name for the city of Guangzhou, Canton, which seems to be brandished by local football fans with perverse pride. Like many Chinese legends, this is one that so far is scarcely known outside its home country.
It's become commonplace to say that China is the rising power in world football, and that Chinese pre-eminence is as inevitable here as in everything else. Most football followers in Europe had never heard of Guangzhou Evergrande until this February, when the club paid €42m to snatch Colombian Jackson Martínez from Atlético Madrid. We were used to the idea of China providing a nice late payday for fading glories like Anelka or Didier Drogba, but this was the first time the Chinese had lured away a player in his prime targeted by top European clubs.
Arsène Wenger worried gravely that this sudden spending by the Chinese Super League (CSL) would unleash fresh transfer and wage inflation the Premier League could not compete with. Since then, more players such as Graziano Pellè have been drawn to China, and only recently Manuel Pellegrini became the latest in a string of leading international coaches to head the same way. This summer Sky began showing live CSL games, raising the prospect that names like Chongqing Lifan or Shandong Luneng might become as familiar to the dedicated fan as Real Sociedad or Schalke 04.
China has had professional football only since 1994, and the Chinese Super League was set up in 2004, with a March–November season. Because of the notorious Chinese addiction to betting, Chinese football has suffered from repeated match-fixing scandals, which have led each time to clear-outs and reorganizations, the last in 2010. It's only since this last restructuring that the CSL has appeared really stable, and that China's new oligarchs have been encouraged, and inclined, to invest massively in domestic football rather than just buy trophy clubs abroad. Football has also been taken up vigorously by President Xi Jinping, known to be a fan, who has incorporated it into his vague but pervasive policy of pursuing the "Chinese Dream", with a newly expansive China taking up its rightful place in the world in every area you can think of – politics, economics, culture, sport…
In typically methodical style, official policy has marked out three "pillars" to make China a global football superpower: 1) to qualify consistently for World Cups (a target so far usually frustrated in Asia by Japan, South Korea or Australia); 2) to host a World Cup, probably in 2030; and 3) to win it. To foster home-grown talent the CSL has strict quotas on foreign players, with only five (of which one must be from another Asian country) at each club, of which only three (and one "other Asian") can be on the pitch at any time.
Guangzhou Evergrande has been by far China's most successful club since the 2010 reorganization. It's won the league every year since 2011, will almost certainly win it again this year, and twice won the Asian Champions League, in 2013 and 2015. The Evergrande in its name, symbol of its new era, dates from its 2010 acquisition by the Evergrande Corporation headed by Xu Jiayin, habitually described as the second-largest property developer in China. One only has to look across the amount of recent building in Guangzhou, with fifty-storey apartment blocks running into the mist, and extend it to all the cities in China, for the jaw to drop at the awesome wealth even its second-largest property developer must command. Plus, since 2014 the club's official name has actually been Guangzhou Evergrande Taobao, after Mr Xu sold a 40 per cent stake to the Alibaba Group of Jack Ma, "the man who brought the Internet to China", whose Taobao website, "the Chinese eBay", handles 60 per cent of all deliveries across the country. So the financial and other clout behind Guangzhou Evergrande is phenomenal. Some say it is already the world's richest club.
Yet, despite all that's said about Chinese football, not much seems known about what it's actually like.
On a Saturday night in late August Guangzhou Evergrande, still top of the CSL despite a slump with only one win in four, played at home against Hangzhou Greentown, third from bottom. Conditions were typical for August in south China: around 38º C and 70 per cent humidity, normally atrocious for football. Evergrande are currently managed by none other than Luiz Felipe Scolari, Big Phil, with an all-Brazilian coaching staff. The Tianhe Stadium is part of a huge multi-sports complex, with a running track around a surprisingly poor, bobbly pitch. There was no lack of atmosphere, though. Cameron Wilson, a Shanghai-based journalist whose Wild East Football website is an essential guide to the game in China, feels many Guangzhou fans are fair-weather "glory-seekers", and that the real "hardcore" of Chinese football support is still in Shanghai or Beijing. Even so, Guangzhou has the highest gates in the CSL, averaging over 40,000.
Long before match time the Evergrande end was packed out with red-clad fans, many in big Japanese-style supporters groups with well-prepared routines. Banners with things like "Always Red" were mixed with Chinese slogans, rhythmic waving of multi-coloured banners, songs, dragon drums and cymbals, in a uniquely Chinese take on international football fan-dom. Above the constant drumming you could pick out tunes like "The Red River Valley" and "When the Saints…". The less trained supporters along the sides didn't just listen, but joined in. The noise level remained at cacophonous for virtually the entire game.
After a very respectful pause for the national anthem (all standing), the volume peaked again as despite the heat the game began at a similarly intense pace, surprisingly for a team coached by Scolari. Guangzhou's current top scorer is a Brazilian, Ricardo Goulart, but it was clear the crowd's greatest adulation went to Chinese players such as Zheng Zhi (ex-Charlton Athletic and Celtic) and posterboy striker Gao Lin. There was plenty of energy and elaborate footwork on show, but an odd lack of coordination and mutual awareness in both teams. Time and again Evergrande made determined moves into the Hangzhou defence, only for players to run out of room and loose off vague crosses or easily-stopped shots. Gao Lin twisted a few times past two or three men with Cristiano Ronaldo-style stepovers and other tricks, sending the crowd into ecstasy, but then wasted the effort by insisting on trying to score himself. Scolari increasingly stumped up and down the touchline in familiar I-am-not-happy hands on hips pose.
Jackson Martínez came on in the second half and was an aggressive presence near the Hangzhou goal, but again seemed out of touch with his teammates. As time went on, both teams huffed and puffed, players crumpled due to heat or cramp and a nil-all draw seemed ever-more inevitable, the game became increasingly scrappy, with messy tackles and hoofed balls into the stands.
Hangzhou for their part defended vigorously, and several times threatened to cause an upset by nicking a goal on the rebound. One player, Denilson Gabionetta, a strong, fast Brazilian, often seemed out to win the game for them all by himself, but again when he drove his way through the Guangzhou half moves fizzled out because no one else from Greentown read where he was going.
Obviously, you can't make any definitive judgements on a whole league in a huge country on the basis of one 0–0 draw played in a steam bath, and when Evergrande had been in a mini-slump. The manic excitement of the crowd perhaps doesn't help: even the most anodine cross was met by a massive collective intake of breath, which doesn't exactly aid composure. Cameron Wilson reckons that the top teams in the CSL could be competitive in the Premier League, but the bottom teams would struggle in Leagues One or Two. Shortly after the game in Guangzhou, the national team again lost a World Cup qualifier to South Korea, if only 3–2. Chinese football clearly has a way to go to realize its leaders' ambitions. But, it's just as clear plenty of Chinese people have got seriously into being football fans.
Register for free to continue reading
Registration is a free and easy way to support our truly independent journalism
By registering, you will also enjoy limited access to Premium articles, exclusive newsletters, commenting, and virtual events with our leading journalists
Already have an account? sign in
Register for free to continue reading
Registration is a free and easy way to support our truly independent journalism
By registering, you will also enjoy limited access to Premium articles, exclusive newsletters, commenting, and virtual events with our leading journalists
Already have an account? sign in
Join our new commenting forum
Join thought-provoking conversations, follow other Independent readers and see their replies