And then there were three... Nobby Stiles to sell 1966 winner's medal
Midfielder becomes eighth World Cup winner to part with memento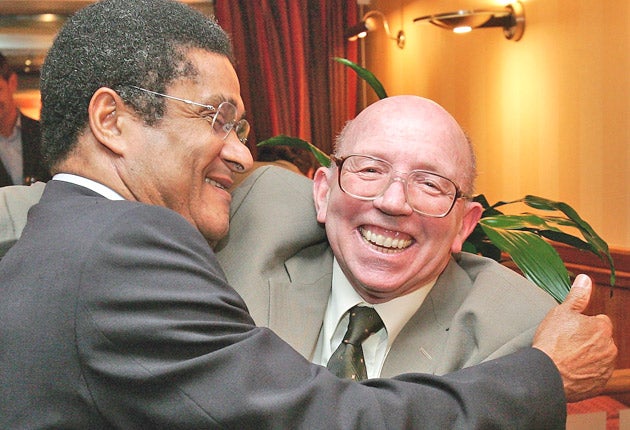 It was the pinnacle of their sporting lives and one that their countrymen have never repeated. But while the memories of that Saturday afternoon in July will live with England's 1966 World Cup winners for ever, the memorabilia will not.
Yesterday, more than 40 years on from their great triumph, Nobby Stiles became the latest member of the team to announce that he was selling his winner's medal. When he does, Roger Hunt, Bobby Charlton and Jack Charlton will be the only players to still to own their precious medallions. The other eight players (only the 11 who played the final were initially awarded a medal) have sold theirs to collectors or to museums.
Stiles, who since retiring from football has been working on the after-dinner speaking circuit and recently had a stroke, said he wanted to cash in on his medal, along with other items of memorabilia from his playing days, to provide for his family.
He said: "These things are very special to me; the memories of me growing up as a kid and of my football career. It was always my intention to leave the entire collection to my children. But I have three sons – how do you fairly divide up this sort of collection between them?
"I'm as patriotic as the next Englishman and will always cherish my memories and the friendships I made in my playing days, but at this stage of my life, I would rather have some control over the distribution of my memorabilia and know that my family will benefit."
That Stiles, the former Manchester United midfielder, has chosen to part with his most treasured footballing possessions serves to highlight the massive gulf in earnings between the 11 Englishmen who reached the pinnacle of their sport and those who ply their trade in today's Premier League.
While it is unthinkable that multimillionaires such as Wayne Rooney or Frank Lampard should ever have to do likewise to ensure a legacy for their children, almost every member of the 1966 team has sold their elusive trophies. They played in an era before exorbitant wages and lucrative sponsorship deals, and many had to forge new careers after their playing days ended. For many, the chance to realise the actual value of their World Cup medal – something which for so long held only sentimental worth – was an opportunity they could not pass up.
George Cohen, in 1998, became the first member of the squad to sell up. After retiring from football aged 29, he was beset by illness and financial problems. A first attempt to auction the medal failed when the highest bid fell £5,000 short of the £60,000 reserve price. The former right-back eventually sold it to his only former club, Fulham, for £80,000.
Ray Wilson, the oldest member of the team at 31, became an undertaker after hanging up his boots, working until he retired in 1997. He sold his medal for a reported £80,000 in 2002.
Goalkeeper Gordon Banks sold his at auction at Christie's for £124,750 in 2001. He said the decision to sell was to save his children from the burden of having to decide what to do with it after his death. Alan Ball raised the most money with his medal when tt sold at auction for £164,800 in May 2005. At the time, he said: "I have three children and three grandchildren, and the most important thing for me is to make sure that they are looked after as well as possible. Winning the World Cup in 1966 will stay with me for ever, but it is time to look to the future, not the past."
Team captain Bobby Moore and hat-trick hero Geoff Hurst both sold their medals to their former club West Ham United. The club paid £150,000 for each, which were sold as part of a collection of each player's memorabilia. Martin Peters sold his medal after being made redundant from his insurance company in 2001.
David Davies, an agent who works on behalf of many of the 1966 team, said: "For a lot of the guys, the money is more useful than a medal. They have families and children to think about and look after. And for the players, the medal is not the valuable thing; it is the memory of having played in the final and the achievement of having won it."
Late results: Honours for those who weren't on the pitch
After the 4-2 victory over West Germany, only the 11 England players on the pitch were awarded a winner's medal, as was Fifa policy at the time. It meant players such as Jimmy Greaves, the team's first-choice striker until an injury in a group game curtailed his involvement, were not given a medal.
Even Sir Alf Ramsey, the manager, was not awarded a prize. That was not rectified until last year. Fifa took the decision to award every player who won the World Cup prior to 1974 – the point at which the rules changed and squad players were given medals. The players were given the medals in a ceremony at Downing Street.
It meant recognition at last for the 11 players who made up the squad of 1966 but were denied a role in the final. They were: Peter Bonetti, Ron Springett, Jimmy Armfield, Gerry Byrne, Ron Flowers, Norman Hunter, Terry Paine, Ian Callaghan, John Connelly, George Eastham and Jimmy Greaves.
David Cocker accepted a medal on behalf of his father, the team physio, Les Cocker, and Margaret Shepherdson received a medal on behalf of her husband, the trainer, Harold Shepherdson.
Where are the medals now?
Nobby Stiles His medal, along with shirts from his playing days, will be auctioned next month.
Roger Hunt Still owns his medal. Worked at a haulage firm after his playing career ended.
Gordon Banks Sold his medal at auction to an anonymous telephone bidder for £124,750 in 2001.
Jack Charlton Still owns his medal and has said he would never consider selling it.
George Cohen Sold his medal to Fulham Football club for a reported £80,000 in 1998.
Ray Wilson The left back sold his medal for £80,000 in 2002.
Alf Ramsey The England manager was post-humously awarded a medal in 2009.
Martin Peters Sold his medal to West Ham United. It is on display in the club museum.
Geoff Hurst Sold his medal, along with other memorabilia, to West Ham United for £150,000.
Bobby Moore The England captain also sold his medal to West Ham United for £150,000.
Alan Ball Sold his medal for £164,800 in 2005 – the most a 1966 medal has gone for.
Bobby Charlton Still owns his medal. It is on display at Manchester United's Old Trafford stadium.
Join our commenting forum
Join thought-provoking conversations, follow other Independent readers and see their replies