Anfield's 50 years of never walking alone
Gerry and the Pacemakers' version hit No 1 in October 1963, it was picked up by the Kop and the game's greatest anthem was born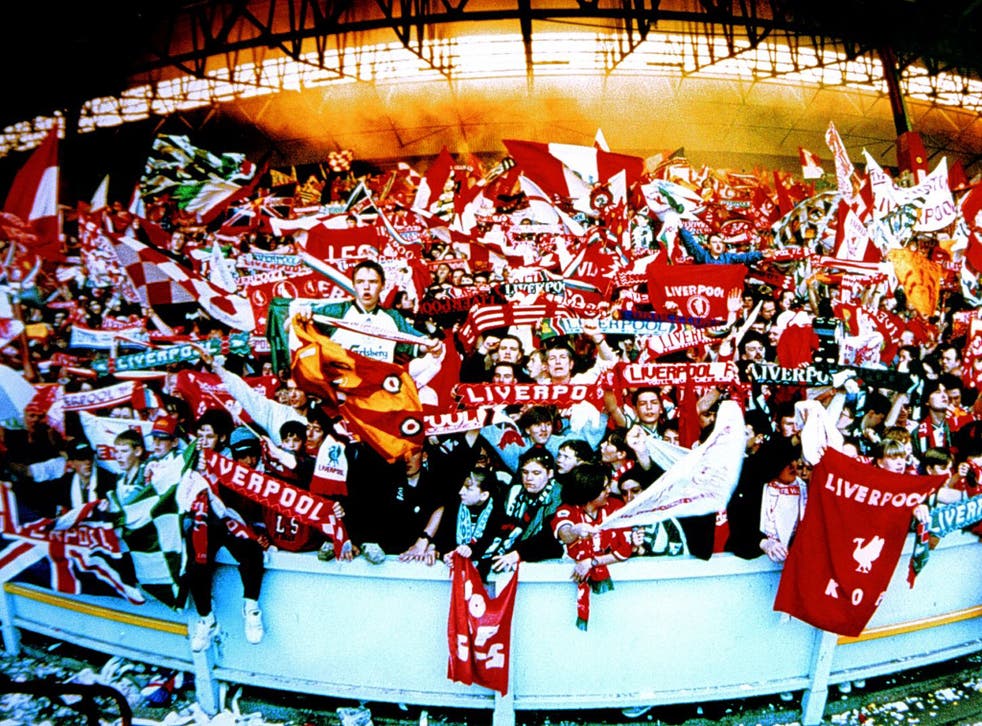 "I was at the match and I heard them all singing it and thought, 'Bloody hell, they're singing my song – fantastic.'" Gerry Marsden is remembering the day, somewhere in the fog of distant memories, when he first heard "You'll Never Walk Alone" echo around Anfield.
It was 50 years ago, the era of Merseybeat, and the song – from Rodgers and Hammerstein's much-loved 1945 musical Carousel – had just given Marsden's band, Gerry and the Pacemakers, their third No 1 hit.
Marsden had won an argument with his manager Brian Epstein and producer George Martin that they should release as a single a song already covered by Frank Sinatra; he suspected it would be a hit, but never could he have dreamt that he was giving the world's greatest game arguably its greatest anthem, a song to be sung in both triumph and tragedy.
Five decades on, the pre-match, scarfs-raised, sing-it-loud ritual is as much a part of Liverpool's fabric as their red shirts, its words written in wrought iron on the gates of their stadium. It was even chorused on the other side of the world by a crowd of 95,000 when Brendan Rodgers' team played at the Melbourne Cricket Ground in July.
It was on 29 October 1963 that "You'll Never Walk Alone" went to No 1, though the song was already in the top 10 when West Bromwich Albion – visitors to Anfield today – played there on 19 October. It was almost certainly sung that day given this was a time when the top 10 would be played over the public address system, with the Kop crowd singing and swaying along. A tradition was being born.
"They played the top 10, going from 10 to one," Marsden explains. "So when 'Walk Alone' was No1 it was played just before the kick-off. When it went out of the top 10, the Kop were singing, 'Where's our song? Where's our song?'."
Neighbours Everton had recently adopted the Z Cars theme from the eponymous Liverpool-based TV series, and now Bill Shankly's team had their own anthem as the modern Liverpool began taking shape. The 1963-64 season ended with them crowned champions for the first time since 1947. They would enter the European Cup for the first time the following autumn and switch to an all-red strip.
Marsden remembers the words of Shankly when the Liverpool squad coincided with the Pacemakers in New York that summer. "We were doing The Ed Sullivan Show, so I said to Ed, 'The Liverpool team are here in New York, get them into the show'. He got the full team and Shankly on stage for 'Walk Alone' and when we finished it, Bill came up to me. He said, 'Gerry my son, I have given you a football team and you have given us a song'." Shankly would choose it as his eighth and final song on Desert Island Discs in 1965.
Ian Callaghan, a Liverpool player from 1960–78, recalls the excitement of that period. "[Liverpool] were a Second Division club going nowhere, this great man arrives, and then everything changes and then the music as well. To be part of that as a local lad especially was just magic."
The magic soon rubbed off on Celtic, the other British club closely identified with "You'll Never Walk Alone". It fills Celtic Park on European nights, a likely legacy of the Scottish side's meeting with Liverpool in the 1966 Cup Winners' Cup semi-finals. "That particular game the atmosphere was just electric, it really was, so maybe it got to them and they adopted the song," recalls Callaghan. Ironically Liverpool's opponents in the final were Borussia Dortmund, whose fans now sing "You'll Never Walk Alone" religiously 10 minutes before kick-off at each home fixture. However, Uli Hesse, author of Tor!, an English-language history of German football, explains: "The vast majority of normal German fans have no idea that the song is very closely linked to Liverpool and Celtic. They think it's widely sung at football games."
To music writer Paul du Noyer, "You'll Never Walk Alone" makes sense as a football song. "The greatest quality of the song, I think, is the message of stoicism," he says. "It is a song of perseverance and endurance." Perfect for the long-serving football supporter, and perfect for a place like Liverpool. Du Noyer – author of an excellent musical history of his home city, Liverpool: Wondrous Place – explains: "There is a great solidarity in Liverpool and that is a virtue to which that song appeals, it is a collective kind of anthem. People in Liverpool do feel they are stuck on the edge of the land and when they gather in large numbers, whether it is Anfield or Goodison, they do feel a sense of kinship that kicks in and the song is very effective at speaking to that feeling."
Its words never change and it gets sung, win or lose. Jamie Carragher cites in his autobiography the mournful rendition he heard when leaving the Liverpool dressing room after half-time at the 2005 Champions League final in Istanbul, with the team 3-0 down to Milan. "There was a slow, sad sound to it, almost as if it was being sung as a hymn," he writes. Shankly would have identified with that. In retirement, as his granddaughter Karen Gill recollects, he would pull out his "big gramophone" and "put the record on and play it, so we would hear it in the house."
"You'll Never Walk Alone" has gained extra resonance in the wake of the Hillsborough disaster in 1989. Walk On, a documentary made by Liverpool film-makers Tabacula which will be broadcast next year, opens with the recording of the choral arrangement used at a special service at Liverpool's Anglican Cathedral a fortnight after the tragedy. "We've always sung it but it is more meaningful now," says Margaret Aspinall, chair of the Hillsborough Family Support Group. "We've never walked alone, we have had support from everywhere." Neil McHale, a friend of James, the son she lost at Hillsborough, sings "You'll Never Walk Alone" to close the memorial service on 15 April each year.
In Marsden's case, he re-recorded the song in 1985 as part of a fund-raising effort for the Bradford fire victims. Four years later he sang it at Wembley before the post-Hillsborough FA Cup final between Everton and Liverpool. "When you walk through a storm hold your head up high and don't be afraid of the dark – it is one of those great lyrics," he reflects. And today, despite the passing of 50 years, its power to move is undistillled. "Every time I go to the match I hear it and I still get goose pimples and the hair on the back of my neck stands up."
Gerry and the Pacemakers are currently touring with the 60s Gold Tour 2013
Register for free to continue reading
Registration is a free and easy way to support our truly independent journalism
By registering, you will also enjoy limited access to Premium articles, exclusive newsletters, commenting, and virtual events with our leading journalists
Already have an account? sign in
Register for free to continue reading
Registration is a free and easy way to support our truly independent journalism
By registering, you will also enjoy limited access to Premium articles, exclusive newsletters, commenting, and virtual events with our leading journalists
Already have an account? sign in
Join our new commenting forum
Join thought-provoking conversations, follow other Independent readers and see their replies