Are Barcelona simply the greatest team of all time?
From the magnificence of Messi to the genius of Guardiola, Barça left the world spellbound on Tuesday. John Carlin, who watches every week, explains how this side rose to such dizzying heights
Thursday 08 April 2010 00:00 BST
Comments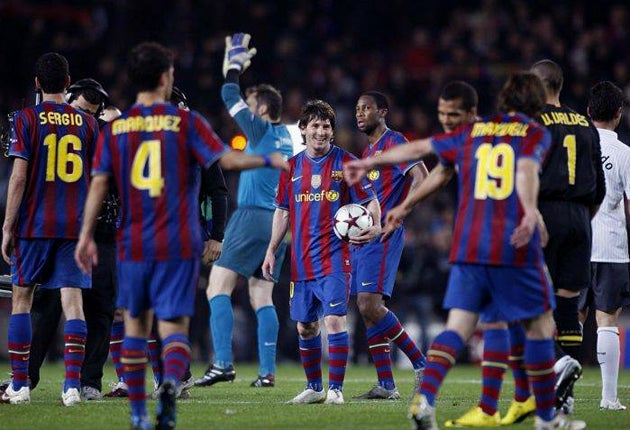 One thing that is a little perplexing about this Twitter-YouTube-Facebook-Satellite TV-World Wide Web age in which we live is how ignorant people remain of what goes on beyond their shores in the single most globalised phenomenon on planet earth, the game of football.
It took Leo Messi's four goals against Arsenal on Tuesday night for the otherwise phenomenally well-informed, promiscuously opinionated British footballing public to figure out what every last man, woman and child here in Spain has known for at least two years, namely that the 22-year-old Argentine is the best player in the world by – in the humble words of Arsène Wenger – some considerable margin.
So let's try and get ahead of this time lag problem now and bring people up to speed on just how good Barcelona FC as a whole are. First of all, is there anybody out there who disagrees with the Spanish consensus that they are the best team in the world? That they play the game in manner more pleasing to the eye, more effectively than any other?
The fact that they won every single competition they went in for last season, collecting not a mere treble but a sextet of trophies, ought to seal the argument for all but the most jingoistic of fans. The debate simply does not merit attention. That is why the question being asked by every serious commentator in Spain now is more along them lines of the one everybody is now asking of Messi: is this Barça the best team ever?
There, at least, we have a conversation. And the honest answer has to be similar to the one we must give regarding the comparative genius of the little Argentine: it is a little too early to tell. Though I can attest that the single most impressive football journalist in Spain, Santiago Segurola (previously of El Pais, now of Marca, and a man old enough to have seen Brazil at their best and fanatical enough to be able to list the entire Leeds United team that won the FA Cup in 1972), believes the world has never seen a better football team.
I also saw that Brazil 1970 World Cup-winning team and I have to say that nothing quite lingers in the mind's eye as memorably as the brilliance exhibited by Pele, Gerson, Tostao, Jairzinho and company during that magical month in Mexico. But consistently, over the whole course of a season, I have never seen anything better than Barcelona, the 2008-09 vintage. The current lot, largely unchanged, are pretty good too (Messi is better, more complete than he was a year ago), but football's far too fickle for anyone to be able confidently to predict that they will end up with yet another a bag of trophies this time around. They could end up with nothing.
As of now, though, there is no team in sight that plays association football the way this lot do. Messi may not be entirely of this earth, but the deeper reason they are so good is that they have raised the concept of the team game to a new level. That Maradona's Argentina have reduced the concept to a new low is a large reason why Messi is not as effective in his national blue and white shirt as he is in Barça's claret and blue. No one retains ownership of the ball over 90 minutes longer than Barcelona (they are miles ahead of the rest of this season's Champions League teams in percentage terms). Arsenal are the possession kings of England but the only time they got a look in over the two Champions League quarter-finals was when the Catalans felt they could risk taking their feet off the gas. Manchester United who, in the conventional thinking, are a more robust, less effete team than Wenger's were just as straw-clutchingly inept against Barcelona in the Champions League final last May.
What's the secret? Two basic footballing ideas, so hard to sustain game after game, that their coach, Pep Guardiola, drums into them with the repetitive doggedness of a grizzled brainwasher. One is that at least one player must always, always make himself available to receive a pass in space; two, that the instant the ball is lost (to say that Barça are weak in defence is just so much tosh), players must hunt in hungry packs to get it back. The underlying philosophy that has defined Barcelona since the time that Johan Cruyff, Guardiola's mentor, was in charge is that the ball is an object of desire, that it must be pursued and preserved with the ardour of a jealous lover. Hoofing the ball up field, indulging in speculative wastefulness of any kind, is, in Guardiola's book, the ultimate sin. And, indeed, the ultimate sin within the Barcelona youth system in which he himself, as a player, was raised, and Messi, Xavi, Andres Iniesta and Cesc Fabregas (for that matter) were too.
The same ethic conspicuously fails to apply in Italian football, neither is it particularly prominently positioned in the mind of Jose Mourinho, the coach of Internazionale, who Barcelona now meet in the Champions League semi-finals. The general view in England is that Messi and co will have their work cut out there; that a team that made short shrift of Chelsea in the last 16 stage of the competition will pose a far mightier test than callow Arsenal did. Perhaps. But that is assuming that Inter are now a significantly better team than they were in the autumn when Barcelona beat them, in the Champions League group stages, with commanding ease. They drew 0-0 at San Siro, with Barcelona making by far the most chances; and then Barcelona won 2-0 at home in what turned out to be an unmenacing stroll in the park. The measure of Mourinho's challenge later this month is that, for the second game, Messi stayed on the bench.
Which shows just how strong the rest of the team is, how wrong-headed it is to brand Barça a one-man band. They are ball players to a man. The first touch, all round, is exquisite; they exert total control that fraction of a second faster than ordinary footballers. That is why they always seem to have more time than other teams, providing another reason why they are so hard to dispossess.
Gerard Pique, the big centre-half whom Sir Alex Ferguson let go for a song in the summer of 2008, has the toughness of a John Terry but an aplomb on the ball that is not a million miles away from Franz Beckenbauer or – perhaps a more just comparison – a Bobby Moore. Danny Alves is a Brazilian left-back who is even better at defending than he is at attacking, which is saying a fair deal of quite possibly the fittest player in the game. Xavi, who plays for Spain and was voted player of the competition in the last European championships, is a midfield organiser around whom coaching textbooks will be written; Andres Iniesta, who has an unmatched delicacy on the ball, would be regarded as one of the game's great dribblers, were he not obliged to withstand comparison with Messi, the greatest of them all. Pedro, a diminutive winger from the Canary Islands, has dancing feet too and Zlatan Ibrahimovic might just be the daintiest 6ft 4in forward the game has seen. As for Thierry Henry, who is long past his best and often looked during last season's triumphs as if he was just there to make up the numbers, he has never been accused of lacking artistry on the ball.
But there is balance in the team too. There are workhorses there, like the captain, Carles Puyol, a Catalan "Psycho", a more refined, ball-friendly version of Stuart Pearce, with just as much killer grit; there is Abidal, a fast and intelligent right-back; there are the midfield mechanics, like Yaya Touré, whose lumbering bulk belies a sweet ease on the ball; or Sergio Busquets, another product of the Barça youth academy, who has guile as well as strength; and Seydou Keita, from Mali, your proverbial consummate pro, who covers the whole pitch and scores goals too, with head and boot.
What binds them all – from Messi, through Xavi and Puyol to the quietly solid goalkeeper, Victor Valdes – is their lust to win, their hatred of defeat, their conviction that they are the best and their admiration for their coach, Guardiola, who at 39 combines the romance of Wenger and the tactical astuteness of Mourinho with the fanatical desire of Ferguson. Real Madrid, who meet Barcelona at home this Saturday in what may well be the Spanish championship decider, know this, as they know that Messi is the man they must somehow stop if they are somehow to win. But above and beyond that, being close and sullen observers of the phenomenon that is Barcelona Football Club, they know something that the freshly converted, Messi-mesmerised connoisseurs of the English game might not yet have quite figured out, that behind every great player, there is a great team.
All hail the messiah: The world's press pays tribute to Messi
Spain
With one eye on this weekend's El Classico, the Madrid-based Marca asked: "How do we stop this guy? First Pele, then Maradona – now welcome the new king. The world kneels at the feet of Messi." Fellow Madrid title AS was equally fearful: "Messi is scary, not of this world." Barcelona paper El Mundo Deportivo beamed "Messi was brilliant and decisive, explosive and lethal; the No 1. It's not that Barça depend on Messi; it's that Messi is football. Mythical, universal, the Lord's anointed one – there is only one god: Messi"
Argentina
Rosarionet, from Messi's hometown, equally eulogised over the forward: "The worldwide media surrender to the magic of the Argentine striker."
Italy
Gazzetta dello Sport labelled Messi as 'stratospheric'. "Messi confirms his phenomenon once more."
France
L'Equipe felt it 'would be insulting' to attribute the Barcelona victory to 'Messi outclassing Arsenal alone', but that, with 'four blows of the Gun he will go down in history."
Have your say: Better than Brazil in 1970?
Are Barcelona on their way to becoming the best side of all time? Pep Guardiola's team faces stiff competition for that accolade:
Brazil 1970 Still the purists' favourite, the team of Pele, Gerson, Tostao, Jairzinho and Rivelino brushed aside Italy 4-1 in the final to win the World Cup in Mexico.
Real Madrid 1955-60 Won the European Cup in the first five years of its existence, inspired by the genius of Alfredo di Stefano and Ferenc Puskas.
Ajax 1970-73 The Johan Cruyff side that pioneered "Total Football" and won the European Cup three times.
Milan 1988-92 The last side to retain the European Cup – before Barça?
What do you think? Post your comments below.
Join our commenting forum
Join thought-provoking conversations, follow other Independent readers and see their replies