Arsene Wenger 1,000 matches: Take our quiz on the Arsenal manager
Your specialist subject: Arsène Wenger's reign as manager of Arsenal, which reaches 1,000 games in visit to Chelsea. Phil shaw sets the questions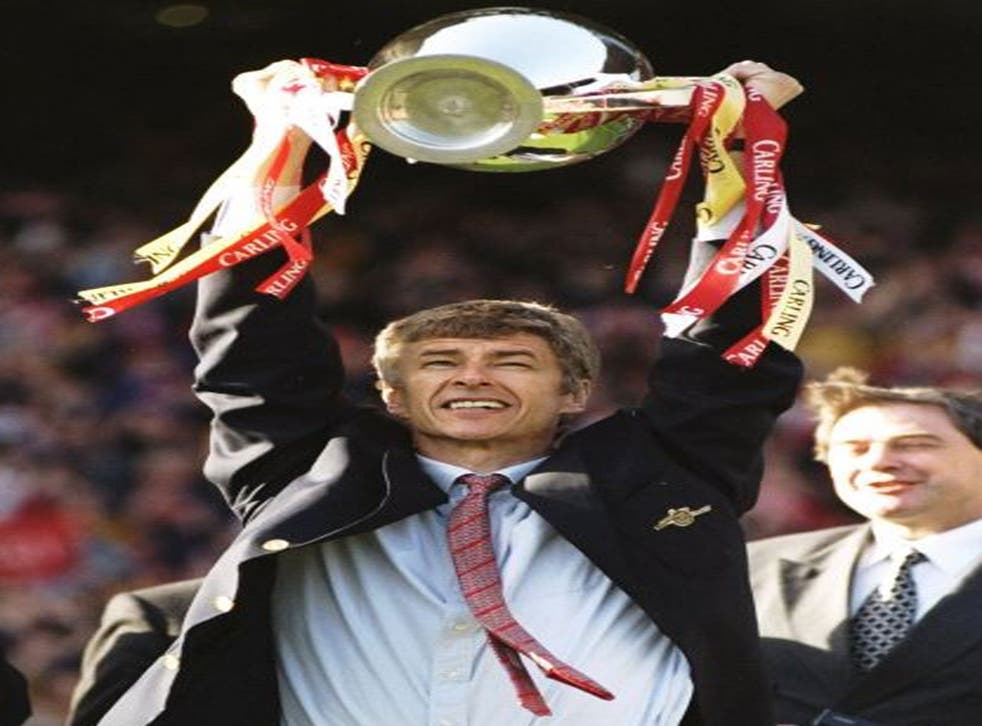 First 100 games
1. What was the two-word headline on a London Evening Standard bill-poster confirming Wenger's appointment by Arsenal?
2. Who was the Arsenal caretaker manager whom Wenger appointed his No 2 on taking over?
3. Which player admitted his first thought on hearing of Wenger's arrival was: "I've got to play for a Frenchman? You must be joking"?
4. Arsenal signed two French players on Wenger's advice while he waited to take over. One was Patrick Vieira – who was the other?
5. Which club did Arsenal visit in Wenger's first official game in charge of the team in October 1996?
6. Which player received the first red card of Wenger's reign, at Liverpool in November that year?
7. In 1997-98, which brought Wenger's first League and FA Cup Double, which second-tier team led Arsenal in a penalty shoot-out in a Cup replay before losing?
8. Which Wenger signing scored the only goal in the FA Cup semi-final victory over Wolves en route to the Double?
9. Which player, inherited by Wenger from his predecessor Bruce Rioch, did he hail as "the catalyst" in their Double success?
10. In the second half of 1997-98, what was the highest number of consecutive Premiership wins Wenger's team put together as they overhauled Manchester United's lead?
Games 101-200
11. Who was the Argentinian defender signed from Swiss football brought into the side by Wenger during the 1998-99 season?
12. When Arsenal first won a match in European competition under Wenger in 1998-99, at the fourth attempt, who were their opponents?
13. Which of Wenger's players was also sent off in the match in which Sheffield Wednesday's Paolo Di Canio was dismissed for pushing over referee Paul Alcock?
14. Which striker, whom Leicester City were unwilling to sell, did Wenger reveal he had considered as a successor to Ian Wright after he scored against Arsenal in September 1998?
15. When Wenger pitted himself against George Graham as Tottenham manager for the first time, at Highbury in October '98, what was the result?
16. Whose late winning goal for Leeds produced a first loss in 20 games for Wenger's men and effectively ended Arsenal's bid to retain the title in 1998-99?
17. Who was the opposing manager when Arsenal beat Sheffield United in the FA Cup, only for Wenger to offer to replay the tie because of a row over the winning goal?
18. How many appearances did Wenger's club record signing from Juventus, Thierry Henry, make for Arsenal before scoring his first goal?
19. Which striker did Wenger sell to Real Madrid in 1999 for £21.8m more than he had paid for him?
20. Which manager said of Wenger's complaints on fixture pile-up: 'People who complain should clear off to where they play fewer games'?
Games 201-300
21. Which former Tottenham player scored Galatasaray's winner in the penalty shoot-out after a goalless Uefa Cup final to deny Wenger and Arsenal a trophy in the 1999-2000 season?
22. Which of Wenger's players was red-carded twice in three days, against Sunderland and Liverpool, at the start of the 2000-01 campaign?
23. Which midfielder did Wenger have to wait six months to field in his team because the player had a fake Portuguese passport?
24. Which 39-year-old Arsenal goalkeeper did Wenger applaud from the pitch after his performance in a 1-1 draw at Lazio in October 2000?
25. Which Latvia international was Wenger forced to defend after Arsenal's 6-1 defeat at Manchester United in February 2001?
26. When Liverpool beat Arsenal in the FA Cup final, of which opposing player did Wenger remark: "It's the first time I've seen anyone handle on the line and it wasn't deliberate"?
27. Which Arsenal player, having been given a debut by Wenger in the last game of the previous season, won his first England cap in 2000-01?
28. When Wenger bought Francis Jeffers from Everton in the summer of 2001, which four-word phrase did he use to sum up the new striker's prowess?
29. To which 20-year-old goalkeeper did Wenger hand a Premiership debut against Manchester United in November 2001?
30. In what proved to be Wenger's second Double-winning season, 2001-02, which was the only London club to beat Arsenal at Highbury?
Games 301-400
31. Which midfielder, a Wenger signing from Swedish football, scored in five consecutive matches during the run-in to the Premiership title in 2002?
32. Which of Wenger's compatriots scored the goal at Manchester United that clinched the 2001-02 championship?
33. Whom did Arsenal beat 4-3 in the last Premiership game of 2001-02 to set a league record of 13 successive wins?
34. Which long-serving midfielder scored the opening goal in the 2002 FA Cup final?
35. Another of Wenger's fellow Frenchmen was voted Footballer of the Year in 2002 – who was he?
36. In 2001-02, Wenger's team were the first to remain unbeaten away from home in a top-flight season since which club in 1888-89?
37. Which Wenger signing, who had already become Arsenal's youngest-ever player in cup football, made his Premiership debut in August 2002?
38. When Wenger's side suffered their first league defeat in 31 games, in the autumn of 2002, which Everton substitute scored the last-minute winner?
39. Which non-league club did Arsenal encounter in the FA Cup as Wenger steered them to a second consecutive final?
40. Which defender was given his only Premiership appearance by Wenger in the 6-1 win over Southampton that began Arsenal's 49-match unbeaten run?
Games 401-500
41. When Arsenal beat Leeds in the FA Cup in January 2004 it produced a third consecutive win for Wenger's men at Elland Road by what scoreline?
42. Of which teenager did Wenger say "he's a bit characteristic of Bergkamp" after he scored his first goal?
43. Which striker, a Wenger recruit from Spanish football, scored an own goal on his first full appearance for Arsenal?
44. At which London club did Arsenal secure their third Premiership title under Wenger in April 2004?
45. When Arsenal came from 3-1 down to beat Middlesbrough 5-3 early in 2004-05, which manager's record did Wenger equal by presiding over an unbeaten 42-game run?
46 | Who became Arsenal's youngest-ever League scorer as Wenger's side beat Blackburn to set a record of 43 undefeated games?
47. When Arsenal's unbeaten sequence ended at Manchester United, who was the referee of whom Wenger said: "He decided the game, like we know he can do at Old Trafford"?
48. Which Ghanaian player, recruited by Wenger from Ajax's youth set-up, scored his only two goals for Arsenal in the Carling Cup?
49. When Arsenal beat Manchester United 5-4 on penalties in the 2005 FA Cup final which produced Wenger's last trophy, who was the only player not to score in the shoot-out?
50. Which former Arsenal goalkeeper played for Everton when Wenger's side beat them 7-0 in the final home fixture of 2004-05?
Games 501-600
51. After Wenger sold Vieira to Juventus, which player did he appoint as club captain?
52. Who was Wenger's opposing manager when Wigan beat Arsenal in the Carling Cup semi-finals in January 2006?
53. What two-word nickname, incorporating the name of an ex-Arsenal striker he supposedly resembled, was given to Emmanuel Adebayor when Wenger signed him?
54. Other than David Beckham, which English player was in Real Madrid's starting XI when Wenger's side won at the Bernabeu in the Champions League?
55. When Arsenal drew 0-0 at Villarreal to reach the Champions League final, it meant Wenger's defence set a competition record of how many successive clean sheets?
56. In the final defeat by Barcelona, which Arsenal player's red card left Wenger's team to play for 72 minutes with 10 men?
57. Which Arsenal player became the first Estonian to receive a Champions League medal despite Wenger not having played him in a single game that season?
58. Whose late equaliser against Aston Villa spared Wenger from defeat in Arsenal's first match at the new Emirates Stadium in August 2006?
59. Which player, loaned by Wenger from Real Madrid, scored four goals and missed a penalty in a 6-3 Carling Cup win at Liverpool in January 2007?
60. Which player, who was Wenger's captain on the day, was sent off in the 2007 Carling Cup final defeat by Chelsea?
Games 601-700
61. Which player finished as Arsenal's top scorer in the first Emirates season despite being unavailable to Wenger from the end of January?
62. Who scored Arsenal's 1,000th Premier League goal as Wenger's side won at Reading in November 2007?
63. Who was the first Tottenham manager to record a victory over Wenger since 1999 when Spurs beat Arsenal in the 2008 Carling Cup semi-finals?
64. Which Birmingham defender did Wenger say "should never play football again" – a comment he retracted – after his challenge shattered Eduardo's leg?
65. Which Italian club's 2-0 loss to Wenger's side in the 2007-08 Champions League was their first-ever home defeat by English opposition?
66. Who was Wenger's managerial adversary when Arsenal beat Twente Enschede at the start of their 2008-09 Champions League campaign?
67. Which France international, signed by Wenger in summer 2008, scored the winner against West Bromwich on his Premiership debut?
68. In August 2008, who became the first Manchester United player to join Arsenal since Brian Kidd in 1974?
69. Which player did Wenger substitute in a Carling Cup tie against Wigan, joking that he took him off because "it was past his bedtime"?
70. Which player did Wenger strip of the captaincy in November 2008, replacing him with Cesc Fabregas?
Games 701-800
71. When Arsenal drew 4-4 at Liverpool in 2008-09, which player scored all their goals, trebling his total since Wenger signed him?
72. Which club ended Wenger's hopes of reaching a second Champions League final by beating them in the semi-finals in 2008-09?
73. When Arsenal lost at Manchester United in August 2009, what did Wenger kick, prompting referee Mike Dean to send him to the stand?
74. When Arsenal marked the start of Wenger's 14th year by beating Blackburn 6-2, who was the only Englishman among the six scorers?
75. Which 35-year-old did Arsenal re-sign in January 2010?
76. Also that month, to which rival Premier League club did Wenger loan Jack Wilshere?
77. To whom was Wenger referring when he told reporters to "spare me the articles saying how nice he is" after he broke Aaron Ramsey's leg?
78. Which defender scored on his debut but was also the only one of Wenger's players to be sent off in 2009-10?
79. Which manager said he was "driving a Skoda compared with Wenger's Mercedes" after his team lost 6-0?
80. Which Seville player did Wenger buy in August 2010?
Games 801-900
81. Which player headed the winning goal when Spurs gained their only league victory at Arsenal during Wenger's reign in November 2010?
82. Which Arsenal player's red card did Wenger admit he "couldn't argue with" in a 4-4 draw at Newcastle?
83. Which club knocked Wenger's team out of the Champions League in 2010-11, for the second season in a row?
84. Which full-back, sent off after 33 seconds when Wenger gave him his debut in 1997, helped Leyton Orient take Arsenal to an FA Cup replay?
85. Whose goal brought Birmingham City victory in the 2011 Carling Cup final at the expense of Wenger's team?
86. Which Japanese player did Wenger blood for the Carling Cup tie against Shrewsbury in 2011-12?
87. When Wenger's team suffered an 8-2 defeat at Manchester United in August 2011, it was the club's heaviest defeat since which year?
88. Which 20-year-old midfielder did Wenger give his Premier League debut in the rout at Old Trafford?
89. Thierry Henry scored his first Premier League goal in six years in a 7-1 win over Blackburn after Wenger had loaned him from which club?
90. Whose goal gave Arsenal victory at West Bromwich on the final day of 2011-12 and ensured Wenger's team finished above Tottenham?
Games 901-1000
91. In 2012, what was the final score in the League Cup tie at Reading in which Arsenal trailed 4-0 after 37 minutes?
92. Whose penalty – which would have given Arsenal a 4-3 win – was saved by Mark Schwarzer in November 2012?
93. Whose half-time offer to swap shirts with Manchester United's Robin van Persie was criticised as "not the right thing to do at all" by Wenger?
94. When Arsenal again beat Reading, 5-2 in the Premier League, which player signed by Wenger for a club-record £16.5m scored a hat-trick?
95. The football of which country did Sir Alex Ferguson suggest in his autobiography Wenger "overestimated"?
96. Which team won at Arsenal on the opening day of 2013-14, prompting an apology to supporters from Wenger?
97. Which free-transfer signing reappeared in the Arsenal side against Spurs early in 2013-14 after a five-year absence?
98. Who became the 100th Arsenal player to be sent off in the Wenger era?
99. Which long-serving squad member scored the goal that gave Arsenal their first win at Tottenham since 2007?
100. Which Premier League manager called Wenger a "specialist in failure"?
Join our new commenting forum
Join thought-provoking conversations, follow other Independent readers and see their replies