Barcelona's Lionel Messi becomes most decorated player in history after winning unprecedented fourth straight Ballon d'Or
Messi has overtaken a host of legendary figures in football after being awarded fourth world player of the year accolade
Tuesday 08 January 2013 00:59 Comments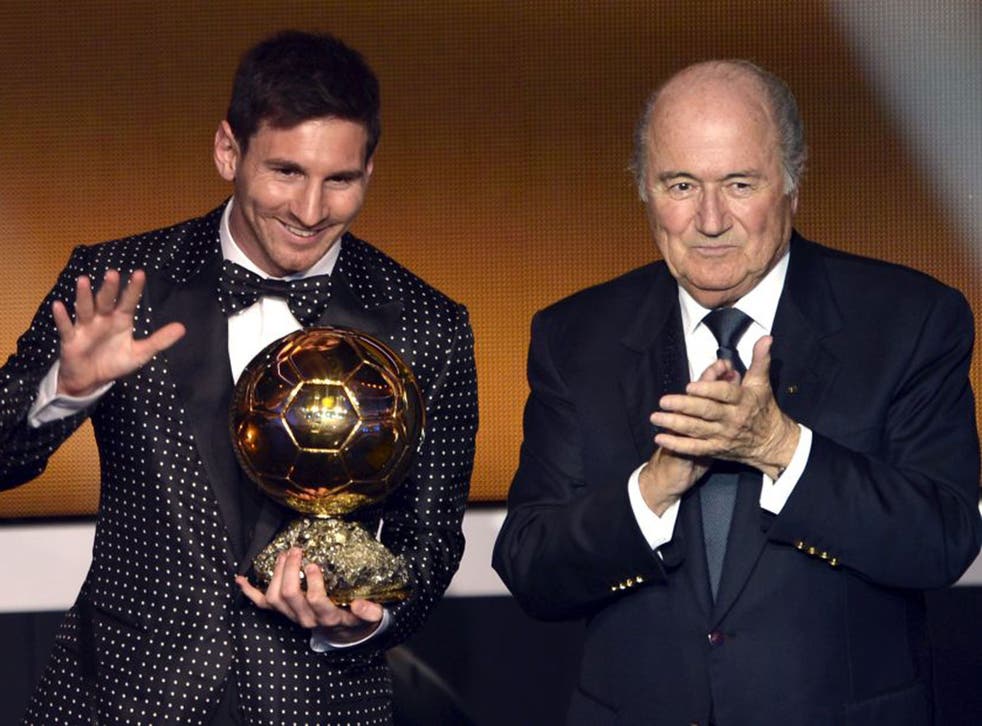 Lionel Messi has become the most decorated player in history after winning the Fifa Ballon d'Or for a fourth successive year.
The Argentine won the award with 41.6% of the votes despite competition from Real Madrid's Cristiano Ronaldo (23.7%), who came second, and his Barcelona team-mate Andres Iniesta (10.9%) , who was placed third, to be named world player of the year.
Messi, who won only a Spanish Cup trophy in 2012, had a spectacular year in terms of individual achievements. He broke a 40-year-old record for the most goals in a calendar year - held by Bayern Munich and Germany goal machine Gerd Muller - finishing with an astonishing 91.
Messi was also won the Fifa Ballon d'Or award in 2011 and 2010 and the Fifa World Player of the Year award in 2009 (which was merged with the Ballon d'Or the following year).
Messi has overtaken a host of legendary figures in football including Johan Cruyff, Marco Van Basten and the Uefa president Michel Platini, who each won the original Ballon d'Or three times. He has also surpassed Zinedine Zidane and former Brazil striker Ronaldo, who each claimed the World Player of the Year award on three occasions.
The Argentine scored 79 times for his club in 2012 surpassing his total of 55 in 2011. In March he became the only player to score five goals in a single Champions League match as the Spanish giants thrashed Bayer Leverkusen 7-1.
Messi also became the youngest player ever to pass the 50-goal mark in the Champions League (at 24-years-old) as well becoming the record scorer in the elite competition's knockout stage with 26 goals.
He also dispelled the myth he does not produce for Argentina by scoring 12 goals in 2012 for his national team which included a brilliant hat-trick against Brazil in a 4-3 win.
Ronaldo will be disappointed to have not been awarded the Ballon d'Or after an outstanding 2012 for Real Madrid and Portugal. He scored 46 goals for Real Madrid in La Liga (60 in all competitions in 55 games) as Jose Mourinho's side won their first league title since 2008. Ronaldo became the only player in La Liga history to score 40 goals or more in a season twice.
Ronaldo also achieved the unprecedented feat of scoring against every team in a single season in La Liga. In terms of scoring in key games he delivered like never before for the Spanish giants. Ronaldo became the first player to score in six consecutive El Clasicos, finally overcoming criticism that he did not produce against Barcelona.
Ronaldo ended the season with a league title and as well as a Super Cup triumph over Barcelona. He also inspired Portugal to the semi-finals at the European Championships in the summer.
Iniesta was sublime form as helped Spain win Euro 2012. He was crowned player of the tournament by Uefa (a feat he also achieved at the World Cup in 2010 and Euro 2008) after three man-of-the-match performances helped his nation to retain their title after also winning Euro 2008. Iniesta was also named best the best player of the 2011-12 Champions League season despite Barcelona being knocked-out at the semi-final stage by Chelsea.
Messi in numbers ...
91 Barcelona player scored 91 times for Barcelona and Argentina in 2012.
79 He scored 79 goals for his club in 2012.
73 Messi scored 73 goals for Barcelona in 2011-2012 season.
29 As well as his goalscoring exploits, Messi produced 29 assists in 2012.
59 Messi scored 59 times in La Liga
12 He managed 12 goals for Argentina in 2012 in just nine games.
9 Messi scored nine hat-tricks last calendar year, seven for Barcelona and two for Argentina.
50 In May 2012 Messi achieved the unprecedented feat of scoring 50 goals in a league season.
14 Messi scored 14 goals in 2011-2012 Uefa Champions League season.
2 Messi is the only player to score two hat-tricks in a Uefa Champions League season (2011-12).
5 Messi is the only player to have scored 5 goals in a single match in the Champions League era.
Register for free to continue reading
Registration is a free and easy way to support our truly independent journalism
By registering, you will also enjoy limited access to Premium articles, exclusive newsletters, commenting, and virtual events with our leading journalists
Already have an account? sign in
Join our new commenting forum
Join thought-provoking conversations, follow other Independent readers and see their replies