Bin Hammam handed lifetime ban from football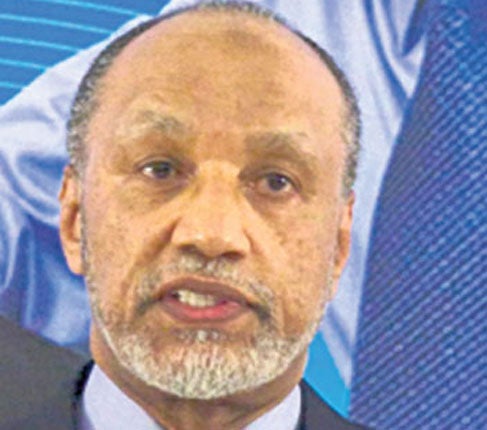 Mohamed Bin Hammam was today banned for life from all football-related activity after being found guilty of bribery by Fifa's ethics committee.
The Asian Football Confederation president and Fifa executive committee member was found guilty of charges that he attempted to bribe members of the Caribbean Football Union at a meeting on the Fifa presidential campaign trail in Trinidad in May.
After a two-day hearing which Bin Hammam did not attend, ethics committee deputy chairman Petrus Damaseb today confirmed the 62-year-old had been found guilty on all charges and given a lifetime ban from the sport.
In a statement to the press, the Namibian official said: "Bin Hammam is hereby banned from taking part in any kind of football-related activity at national and international level for life.
"I want to stress the decision taken is punishment which is in keeping with the declared policy of the executive committee to show zero tolerance towards unethical behaviour."
Bin Hammam's legal team tonight released a statement on the Qatari's behalf which read: "Mr Bin Hammam rejects the findings of the Fifa ethics committee hearing and maintains his innocence.
"He will continue to fight his case through the legal routes that are open to him.
"He has gone on record, and maintains, that the Fifa ethics committee was going to find against him whatever the validity of the case presented to them.
"The Fifa ethics committee has apparently based its decision upon so called 'circumstantial' evidence which our case has clearly demonstrated was bogus and founded on lies told by a senior FIFA official.
"We have strictly observed the legal rules regarding the confidentiality of these proceedings and not shared our evidence, which is compelling, with the media.
"Fifa, either directly or through third parties, appears to have done the opposite with selective and continual leaking of documentation that has been part of these proceedings to the media in order to influence public opinion and create bias.
"We are confident of the strength of our case and invite Fifa to make available now to the media a full transcript of these proceedings."
The ban stems from allegations made after a meeting for associations of the CFU organised by Bin Hammam and former CONCACAF president Jack Warner in Trinidad during the Qatari's campaign to oust Sepp Blatter as Fifa president.
Several members of the CFU claim they were offered thousands of dollars in cash for "development projects" at the meeting, with CFU officials Debbie Minguell and Jason Sylvester alleged to have handed over the money.
Minguell and Sylvester were also both found guilty of wrongdoing at the hearing in Zurich today and received one-year bans from all football activity, backdated to May 29 this year when their provisional suspensions began.
Former Fifa vice-president Warner, who was charged along with Bin Hammam, did not face the ethics committee after Fifa dropped the investigation into him following his resignation from all football activities on June 20.
Damaseb said Warner's resignation took him out of Fifa's jurisdiction and therefore he was presumed innocent.
Bin Hammam has been suspended from all football activity since May 29 after the allegations arose just a few days before the presidential election.
The investigation was widened to include Blatter after Bin Hammam claimed he knew about the alleged payments, but the president was cleared of any wrongdoing at the same hearing that saw Bin Hammam suspended.
Three days later, Blatter was re-elected unopposed as president after a campaign led by the Football Association to have the vote delayed proved unsuccessful.
Earlier this week Bin Hammam posted a blog on his official website under the title 'justice will prevail', where he labelled Fifa's evidence as "flimsy", "weak" and "unsubstantiated".
The post also expressed his belief that Fifa have already decided to find him guilty of wrongdoing and included a promise to fight such a verdict by an means necessary.
This evening, Bin Hammam used his website to reproduce a letter he received from Blatter in June 2008 thanking him for his efforts in the Swiss' first successful election campaign in 1998. In the reproduction, the words 'Without you, dear Mohamed, none of this would ever have been possible' were highlighted.
Beneath the letter, Bin Hammam had added: "This is only the battle, not the war."
The ethics committee also issued a formal warning to the United States' Fifa member Chuck Blazer, the man who first blew the whistle on the bribery scandal, for some comments he had made.
Blazer had warned CONCACAF members at a meeting on May 30 that they could be "under investigation" when this was not true, said Fifa in a statement.
He was, however, cleared of a complaint by a number of Caribbean associations that his comment had been racially motivated.
Blazer tonight acknowledged he had spoken out of turn - even though a number of Caribbean associations were later questioned by investigators.
He told Press Association Sport: "I recognise that at the moment in time, and knowing they were going to be called as witnesses, I mis-spoke and regret having done so. I am however very pleased the judge dismissed the complaint that it was racially motivated - anyone who knows me would realise that was totally ludicrous."
PA
Join our commenting forum
Join thought-provoking conversations, follow other Independent readers and see their replies