Blatter: we need goal line officials at World Cup
President urges change as Fifa considers Ireland's appeal to be '33rd nation' at finals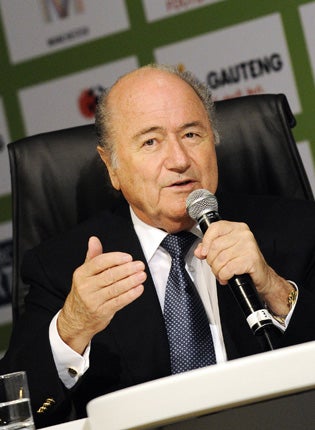 A request by the Republic of Ireland to play as the 33rd team at next summer's World Cup finals as recompense for being cheated out of qualification by Thierry Henry's handball in their play-off with France will be considered by Fifa's executive committee (ExCo) at an EGM tomorrow.
The appeal from the Football Association of Ireland is highly unlikely to be granted, something that even FAI officials acknowledge in private, but the case could lead to the introduction of extra match officials at the World Cup, and a rethink on the qualification process for major tournaments.
Sepp Blatter, Fifa's president, revealed yesterday that he received an FAI delegation at Fifa's headquarters in Zurich on Friday. "They were naturally absolutely unhappy at what has happened," Blatter explained in a keynote address at the Soccerex conference in South Africa. Henry's handball, which led to William Gallas's extra-time equaliser, completed France's 2-1 aggregate win.
"They know the match cannot be replayed and the decision of the referee is final. Naturally they have not asked for any sanctions to be given to any player or the referee. But they have asked, very humbly, 'Can't we be team No33 at the World Cup?'
"They have asked for that, really. I will bring it to the attention of the executive committee. I cannot confirm what will happen, but I will report it to the executive committee."
The FAI confirmed in a statement: "A lot was discussed at [Friday's] meeting and at one stage the FAI asked if Ireland could be accommodated into the World Cup 2010.
"Other suggestions were also made to mitigate against further occurrences of such incidents, including the use of additional goal-line assistant referees for Fifa international matches, further use of video technology for matches at the highest level, stronger provisions to discourage players from engaging in such blatant breaches of the laws of the game, and provisions to strengthen referee selection for such important matches."
Blatter, who is in South Africa ahead of Friday's World Cup draw in Cape Town, said that Henry's handball showed the referees need more help on the pitch. "There is a lack of discipline and respect in the game by the players because they are cheating," he said.
"This is human beings trying to get an advantage and this is not good and we have to fight against that. We have only one man on the field of play who shall intervene in this matter. He has two assistants for the time being, perhaps more in the future. He has to make an immediate decision. He has only two eyes. So match control is now is on the agenda. How shall we avoid such situations as we have seen in this very specific match?"
Blatter has long been an opponent of using video technology, arguing that replaying incidents would break up play. He is more open-minded about goal-mouth technology that would instantly tell a referee whether a ball has crossed the line.
The FAI confirmed it requested that Fifa use extra match officials and goal-line TV technology for international matches. Uefa is experimenting with two extra officials to monitor penalty-area incidents this season in the Europa League, with them standing at each end of the field.
"With technology, you have to stop a match, you have a look at cameras," Blatter said. "Now I think there should be some additional assistants . . . We have to maintain the human face of football and not go into technology. Perhaps if there had been somebody behind the goal he could have seen the [handball] situation in the case of France-Ireland."
The ExCo will discuss the way forward tomorrow, and it is possible that extra match officials will be put on the agenda for March's meeting of Fifa's law-making International Board (IFAB). If a decision to use extra officials is made by the IFAB, it would likely be introduced in competitions at most levels, not just at the World Cup.
Blatter said the play-offs for the 2010 World Cup have led to several disputes that will be discussed at the ExCo meeting. Costa Rica complained that their play-off with Uruguay was unfair when the latter had an offside goal allowed. Blatter suggested that if Ireland are allowed to be the 33rd team next summer, Costa Rica should be the 34th. Nobody is expecting that to happen; logistically it would be too difficult now to re-structure the tournament, while allowing teams in because of grievances about the officials would open a can of worms.
Fifa will, however, reconsider the nature of the play-off, which as currently constituted hands an advantage to the team playing at home in the second leg if extra time is played.
It has been mooted that play-offs could become one-game affairs on neutral territory, although that will only be one option considered.
"There are different formats in different continents, but if it comes down to one final play-off match to decide if you are in or out, this should not be the spirit behind the World Cup," Blatter added.
Join our commenting forum
Join thought-provoking conversations, follow other Independent readers and see their replies