Boxing Day Dossier: Meet the wise men bearing gifts of football and knowledge for the nation's youngsters
Some will always deride the national game as over-paid prima donnas kicking a ball, but the sport is embedded in lives and has real power to influence behaviour
Glenn Moore
Football Editor
Friday 25 December 2015 22:35 Comments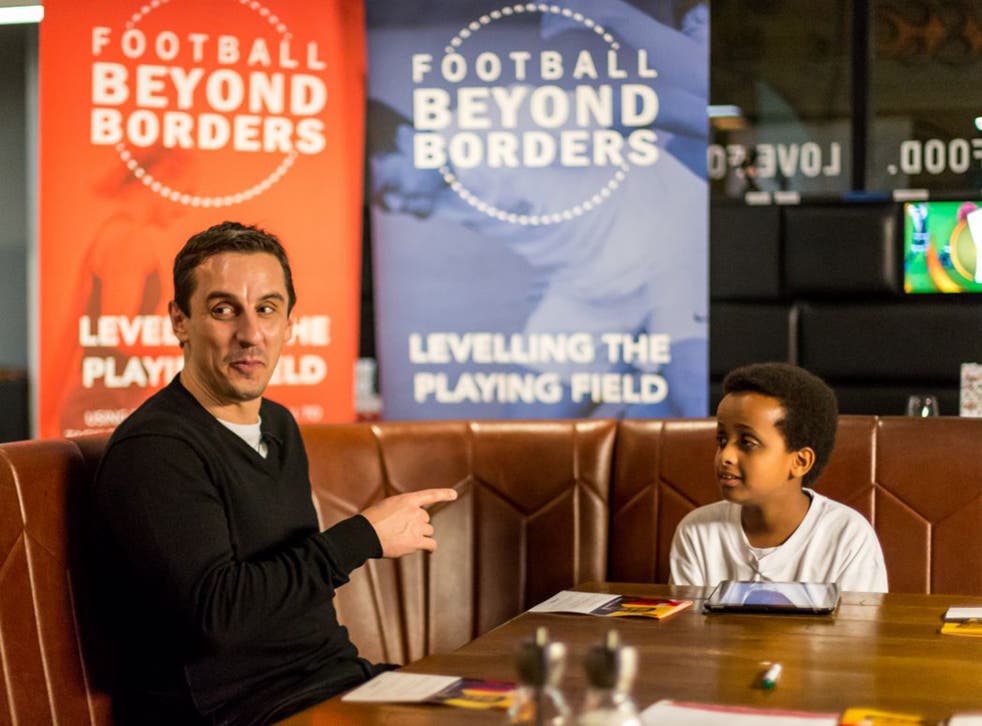 'Tis the season of goodwill and football has been doing its bit with clubs merrily tweeting photographs of the traditional hospital visits. Some will dismiss these as token gestures, and maybe they once were, but clubs of all sizes now make a committed contribution to their communities, and not just at Christmas.
Besides, families do not care whether their child's hero is there as a PR gimmick or not. It brightens their day at a difficult time of year for those with ill health.
That is the national game's appeal. Some will always deride football as over-paid prima donnas kicking a ball, but the sport is embedded in lives and has real power to influence behaviour.
As a parent, I have long thought education should harness the game's power. Now some charities and schools are, though tellingly the initiatives tend to come from grassroots, rather than government.
Kinetic Foundation

Show all 6
Two schemes in the capital are Kinetic Foundation and Football Beyond Borders (FBB). Both were conceived by friends just out of university with their focus sharpened by the London riots four years ago.
Kinetic was launched by Adam Knight, Harry Hudson and James Fotheringham. They had acquired Football Association coaching qualifications, then worked at professional academies and private soccer schools. They found the latter frustrating, says Knight, the head coach, because a lot of the most talented players could not afford to attend, and were pondering how to reach them when the riots occurred.
Croydon was one of the troubled areas and, says Knight, they realised "there was not much for young people to do in the area at the time". They had worked in Kickz, the excellent scheme engaging disadvantaged young people run by the Metropolitan Police, the Football Foundation and the Premier League. Inspired by that, they began free community football sessions, also held in the evenings to keep potential delinquents busy. More innovatively they launched two academy schemes, also free to join.
A part-time one caters for youths aged 14-16 and involves an hour of educational support, followed by an hour of football. "We use football as a hook to engage young people, to improve them as a footballer and a person," says Knight. "The first hour might be schoolwork revision, or CV writing, tips on employability."
There are also educational day-trips, help with gaining coaching qualifications, and half-term courses. An academy team undertakes a foreign tour – "a big deal for some of these kids, many have never been overseas before," adds Knight – and plays against youth teams of professional clubs.
Some students will be among the 16 boys who join Kinetics' two-year full-time course, which includes studying for a BTEC in Sport at an associated school, and football training.
This is now in its third year and already a dozen players have been signed by professional clubs including Myles Kenlock, who made his Ipswich debut this season. Just as pleasing are those who move on to higher education, with students at universities including Durham and Bath, and others on US college scholarships. It is quite an achievement given many of the boys Kinetic reaches, says Knight, "come from one-parent families with low incomes and difficult circumstances, many are looking after younger siblings, or have older ones involved in crime".
Hudson is now combining his role with being head of football at Royal Russell School, which has taken around a dozen Kinetic boys on scholarships. "One lad was having problems at home with his mum's new partner and was thrown out of the family home," says Knight. "He would be on the streets now. Instead he's boarding at a top school."
FBB also works with schools. "We used to go overseas, then after the riots we thought 'we're needed here, in London'," says Tom Rodriguez Perez. Annual outreach work in places such as Palestine, Ghana and Bosnia was replaced by regular programmes in Camberwell and Croydon.
They run coaching sessions, including some female-only ones, field a male team with a balanced mix of mentors and younger players from disadvantaged backgrounds, and seek to develop youth leaders from players attending community football sessions. The main thrust, however, is in schools.
Perez, and co-founders Jasper Kain and Jack Reynolds, realised the part of their work overseas which had had most impact combined football and education. They devised a curriculum to take into schools. Children regarded by their school at most risk of exclusion attend a weekly two-hour session, half in the classroom, half on the football pitch.
The classroom work uses football to engage the students. Literacy skills are developed by such methods as writing player profiles. Students are then encouraged to find their inner Martin Tyler or Gary Lineker. "We then take a clip of action, like a goal, and work on developing skills like commentating and presenting," said Perez. That leads into FBB TV, a YouTube channel featuring interviews with football luminaries such as Gary Neville, Santi Cazorla and Yaya Touré, all conducted by the students.
"We seek to develop confidence, teamwork, focus and resilience, all of which are relevant both in the classroom and playing in a match," says Perez. "It's only two hours a week, you would not think it would have that much effect but it does. The stats show behaviour in class improves."
FBB operates a reward-centred policy with foreign tours and trips to places including Wembley Stadium and the Sky Sports studios. They believe their approach could be rolled out nationwide.
Some schools are already using football on their own initiative. Noel Bradbury was selected for the same Salford boys team as Ryan Giggs before a broken kneecap ended his fledgling career. He is now an assistant headteacher at St Gregory's in Tunbridge Wells, but retains his Salford accent and love of football.
When the school, which is now rated outstanding by Ofsted, had a drop in admissions three years ago, Bradbury suggested incorporating a football academy. One class in the subsequent year seven intake was selected on footballing merit with their Mondays dedicated to a mix of training on the pitch and classroom lessons taught through a footballing prism.
"We use football as a vehicle for learning," says Bradbury. In history, for example, students work in groups to research presentations on footballers who had fought in the First World War. The scheme, now in its second year and open to girls as well as boys, has been wildly successful with the school now so oversubscribed it has expanded by a class.
Kinetic Foundation and FBB are also growing, but being charities their income streams are more precarious. Kinetic students are heavily involved in their own fundraising, both directly and helping stage events while FBB have sourced various grants and sponsors. Neither, though, are in it for the money.
"This isn't something you go into if you are materially motivated," says Knight. "We've spent a lot of time working for free because we're mates and this has been our social life," says Perez. The rewards are there though, in their charges' progress. "You realise they see you as a father figure," adds Perez. "You become their confidant, their mentor," says Knight. Merry Christmas, and a happy 2016 to all involved.
To donate, go to kinetic-foundation.org.uk/donate or footballbeyondborders.org/donate
Register for free to continue reading
Registration is a free and easy way to support our truly independent journalism
By registering, you will also enjoy limited access to Premium articles, exclusive newsletters, commenting, and virtual events with our leading journalists
Already have an account? sign in
Join our new commenting forum
Join thought-provoking conversations, follow other Independent readers and see their replies