Broken dreams: United and Villa in a game of two eras
Aston Villa's tie with Manchester United on Saturday sparks memories of a controversial final some 50 years ago. Glenn Moore looks back to a lost world of fixed formations, robust tackling and working-class values
Wednesday 02 January 2008 01:00
comments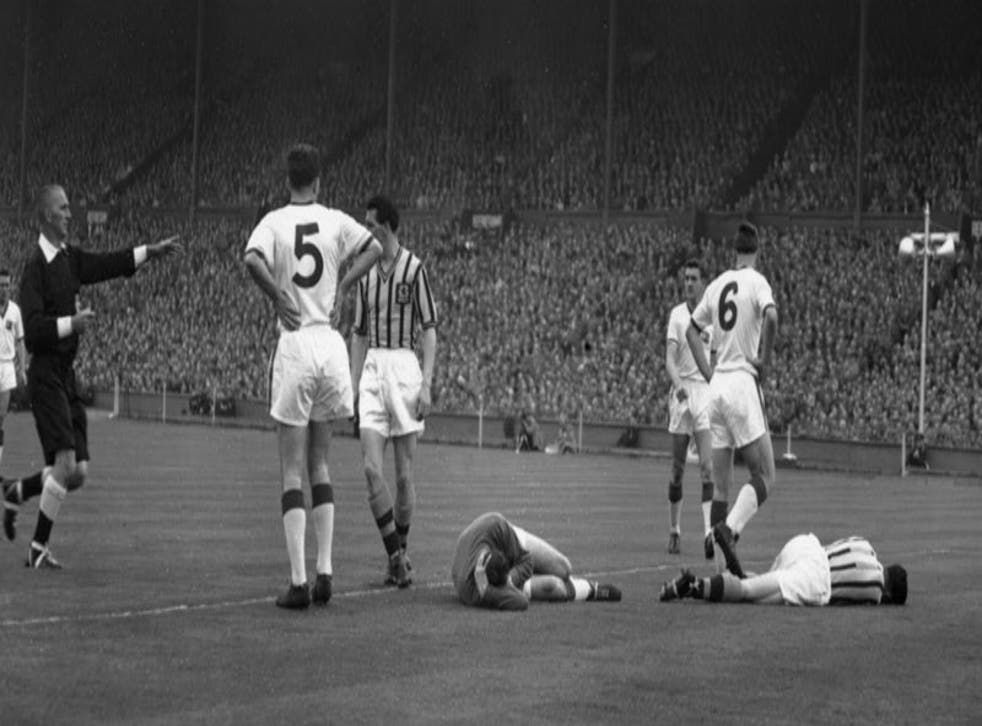 Imagine the consequences if, six minutes into Saturday's FA Cup third-round tie between Aston Villa and Manchester United, John Carew were to shoulder-charge Edwin van der Sar, long after the goalkeeper had gathered the ball, and broke his cheekbone. Red card for Carew, Villa down to 10 men, the media and United supporters outraged.
One or two older supporters might, however, then cast their minds back to another FA Cup tie between the teams, 51 years ago. Six minutes into the 1957 final Peter McParland, Villa's centre-forward, charged the United keeper Ray Wood, knocking him unconscious and shattering his cheekbone. The consequences? United down to 10 men, McParland scores twice as Villa win, some United supporters outraged, but not the media.
That much has changed since 1957 is obvious from a cursory look through the history books. In that year President Eisenhower sent the National Guard into Arkansas to escort black students to school, the Russians sent a dog into space admitting only years later that it died within hours and a BBC Panorama April Fool convinced viewers that spaghetti grew on trees in Switzerland.
From a distance a football match looked much the same as today. Teams were 11-a-side, the rules were similar, most of the same clubs were to the fore. However, the familiar facade masked a very different reality.
McParland's challenge on Wood, which would be shocking today but was unremarkable then, is just the most obvious manifestation of this. The equipment, the tactics, the surfaces and the stadiums were different. So were players' diets, training, fitness, earnings, status and behaviour. Media coverage was barely recognisable from today, medical back-up even less so. Were a Premier League footballer to be transported back in time, like John Simm's detective in the BBC series Life on Mars, he would be even more bewildered than some of those early foreign imports were after being plunged into the boozy, kick-and-chase world of 1980s English football.
There is this romantic idea that, back in the black-and-white age, before the coaches took over, football was much more attractive. Clips from the 1953 FA Cup final, better known as "the Matthews final", show the eponymous Sir Stanley dribbling down the wing, taking on the full-back, whipping over a cross. The clips are not indicative of the era, nor do they carry a footnote pointing out that Matthews' opposing full-back, Ralph Banks, was crippled by cramp and the left-half who could have protected him, Eric Bell, had been swapped to the wing after pulling a muscle early on.
Wood's injury similarly tilted the balance of the 1957 final. Manchester United a well organised passing team, had to adapt to playing with 10 men, some of them key players out of position. That was a problem because almost everyone played the WM formation first developed by Arsenal in the mid-1920s. The points of the "W" were left-wing, centre-forward and right-wing with inside-left and inside-right the base. The points of the "M" were left-half and right-half with the base being left-back, centre-half, right-back. Positions were rigidly kept; the full-back did not overlap, for instance. A 1950 book, Constructive Football, co-authored by the Arsenal manager Tom Whittaker, advised: "Dribbling by a full-back is seldom wise." Gaël Clichy clearly receives different instructions.
This tinkering with 2-3-5 was virtually the only tactical development in the English game since the start of the Football League in 1888 and even that had been a response to a change in the offside law. In 1953, however, Hungary had shown there were alternatives when they won 6-3 at Wembley, England's first home defeat by a Continental team.
The Hungarians did not follow the established rules. The No 5 (the centre-half) played at left-back (No 3's position), the centre-forward, Nandor Hidegkuti, dropped deep to receive the ball instead of standing shoulder-to-shoulder with England's centre-half all match. In modern parlance he played "in the hole"'.
The effect was to leave England's team bewildered. The centre-half, Harry Johnston, complained he had "no one to mark", while Hidegkuti ran the game. The following year England lost 7-1 in Budapest. A few Englishmen noticed Don Revie played a similar role to Hidegkuti as Manchester City reached successive FA Cup finals but even a manager with the foresight of Manchester United's Sir Matt Busby continued to field conventional formations.
The deployment of players is only one aspect of tactics; the other is how they play. The Hungarians had a short-passing game. McParland, speaking on the recent BBC 4 programme, A Game of Two Eras, said of the UK game: "We walloped it forward as quick as possible." Many teams did at the time, notably Stan Cullis's successful Wolves side. United were more of a passing side but even so, according to research for A Game of Two Eras, the pass completion rate in the 1957 final was 66 per cent, while in last year's final between Chelsea and Manchester United it was 82 per cent. Such a ratio is not untypical of Premier League matches.
The basic premise in 1957 was to get it forward, get it wide, and score from crosses, as did McParland in both cases. The idea of moving the ball around just to keep possession was anathema. Other factors mitigated against skilful play of the like regularly demonstrated by Cristiano Ronaldo. Boots and balls were made of tough leather which became sodden when wet. The ground was often frozen or muddy Wembley usually being an exception and tackling was "robust".
"It was a physical game, not a running game," Sir Bobby Charlton once said. Wingers were encouraged to dribble, but they had to be very quick and very brave.
The laissez-faire approach to tackling was even more dangerous for goalkeepers who were, said Charlton, "fair game". In that early incident McParland, about 10 yards out, heads towards goal. Wood gathers it and advances a couple of paces, looking to clear. McParland keeps running, eventually clattering into the now stationary goalkeeper. "I put in a shoulder charge and he pulled out at the last minute," said McParland on the programme.
The commentator, Kenneth Wolstenholme, he of "they think it's all over" fame, announced, "That was a fair charge but unfortunately their heads collided and both McParland and Wood are out." He later added there was "rather silly booing from some of the Manchester spectators every time McParland gets the ball".
Wood, though unconscious, has his jersey pulled off him on the pitch. Bert Trautmann had suffered a broken neck in the previous year's final but no one appeared to realise how dangerous this could have been with Wood's injury still undiagnosed. With no substitutes allowed [they arrived in 1965], Blanchflower goes in goal and United reshuffle their players. After 33 minutes Wood, looking groggy, reappears and goes on the wing. He is holding, announces Wolstenholme, "one of those pads footballers carry when they have been knocked out soaked with ammonia or something."
United hold Villa to the interval. Then, explained Villa's Jimmy Dugdale, a scene familiar to Sunday morning footballers would take place. "Half-time meant everybody dashed into the toilet to have a smoke." Now no one is allowed to smoke at Wembley.
That quick fag in 1957 is hardly surprising. Few people then knew smoking was a killer. There had been some dietary improvements, though. One contemporary source cites pre-match meals of boiled fish or chicken, rather than steak, although carbo-loading through pasta was obviously some years away.
Wood, who is later revealed to have fractured his cheekbone, does not start the second half but when United go two down he reappears, in goal, for the last 15 minutes. In the modern era a player who has been rendered unconscious cannot play again until he has been passed fit by doctors.
As Wood's experiences underlined, medical treatment was primitive in 1957, injuries thus extracting a heavy toll. That season Charlton's path to the United team was cruelly eased by a cartilage injury to John Doherty. Now this is treated with keyhole surgery and players are back in weeks; then it was 50-50 if you played again. Doherty did not. At least he avoided the fate which befell those who were pumped with cortisone to keep them playing, often at a terrible cost to their mobility in later life.
The contact injuries usually came in matches, for in training the ball was often absent. Whittaker's book states that professionals do a lot of running in spikes as "ball-practice every day ... would be inclined to make them stale and weary at the sight of a football".
In the circumstances it is a testament to the natural ability and years honing their skills in street football of players like Charlton, Blanchflower, Duncan Edwards and Roger Byrne that the teams of the era played as well as they did. United's 2007 finalists would beat the 1957 version, who were also league champions, if they were plucked from their time, but given modern equipment, training and tackling it would be close.
The players of 1957 would, though, be appalled at the dissent practised today, and staggered by the wealth of modern footballers. The maximum wage was still in force in 1957 with players receiving 15 a week (equivalent to 250 now) in season, 13 in the summer. They were still relatively well paid compared to most spectators, but usually travelled to matches on the same public transport as the fans and lived in the same areas. When their playing days were over they would have to find another trade unless, like the plumber, and Footballer of the Year Tom Finney, they already had one. They were largely working-class and would remain so whatever their footballing success. Two years later the sight of two England internationals sitting in first-class so outraged an FA councillor that he made a complaint.
The hierarchical nature of society then is illustrated by kick-off being held back until there was a signal from the royal box. Now games start on the nod of the TV producer.
The FA Cup final was the only live televised football in 1957 a situation which was largely unchanged, apart from occasional internationals, until the 1980s. This gave the final far greater stature. So did the absence of a Champions League. European football was in its infancy; that season United had defied the Football League to take part in the nascent European Cup, reaching the semi-finals before being knocked out by the holders, Real Madrid.
As champions United returned to Europe the following season, which is where the story shifts to tragedy. Of the XI who played at Wembley, six Byrne, Eddie Colman, Edwards, Liam Whelan, the goalscorer Tommy Taylor, and David Pegg would perish in the Munich air disaster of February 1958. Wood, like Charlton and Bill Foulkes, survived the crash but, having already lost his place to Harry Gregg, he played only one more match for United before moving on. Johnny Berry and Blanchflower were so severely injured they never played again.
The teams
4 May 1957
Aston Villa (2-3-5) Sims; Lynn, Aldis; Crowther, Dugdale, Saward; Smith, Sewell, Myerscough, Dixon, McParland.
Manager E Houghton.
Manchester United (2-3-5) Wood; Foulkes, Byrne; Colman, Blanchflower, Edwards; Berry, Whelan, Taylor, Charlton, Pegg.
Manager M Busby.
Goals McParland (68) 1-0; McParland (73) 2-0; Taylor (83) 2-1.
Referee F Coultas.
Attendance 100,000.
1957: What else was happening?
* FOOTBALL
Champions: Manchester United
Relegated: Cardiff and Charlton
Second Division champions: Leicester City (Nottingham Forest also promoted)
Third Division champions: Derby County (North), Ipswich Town (South)
Scottish First Division: Rangers
Scottish Cup final: Falkirk 2-1 Kilmarnock (replay)
European Cup: Real Madrid 2-0 Fiorentina
Highest gate: Manchester United (45,481)
Leading scorer: John Charles (Leeds) 38 goals
Footballer of the Year: Tom Finney (Preston)
Transfer record: John Charles (Leeds-Juventus) 70,000
Born: Bryan Robson, Gordon Strachan
* SPORT
Cricket: Against England at Cape Town, Russell Endean (South Africa) is the first batsman to be dismissed for handling the ball in a Test
Tennis: Althea Gibson (US) becomes the first black winner of Wimbledon. Australian Lew Hoad retained the men's title
Baseball: The Brooklyn Dodgers move to Los Angeles
Motor racing: Juan Manuel Fangio wins a record fifth world drivers' championship
Horse racing: Lester Piggott, on Crepello, wins the Derby
Born: Steve Davis (snooker), Seve Ballesteros (golf)
* BRITAIN
Harold Macmillan replaces Anthony Eden as Prime Minister
The "Toddlers Truce", which prohibited television from 6-7pm is abolished
The Wolfenden Report, recommending the decriminalisation of homosexuality, is published
First Premium bond winners are chosen
Born: Dawn French, Stephen Fry
* WORLD
After concern about his gyrations on previous shows Elvis Presley is shown from the waist up on the Ed Sullivan Show
The United States suffers its first military casualty in Vietnam
UK colony Gold Coast becomes the independent republic of Ghana
The Treaty of Rome establishes the European Economic Community, now the EU
Born: Osama Bin Laden, Spike Lee
Join our new commenting forum
Join thought-provoking conversations, follow other Independent readers and see their replies