Bury FC: A reminder of when simple football was able to shout louder than the money men
Bury FC's struggle to keep above the waterline in a territory dominated by bigger, richer clubs has rarely receded in the 15 years or so I've written for this newspaper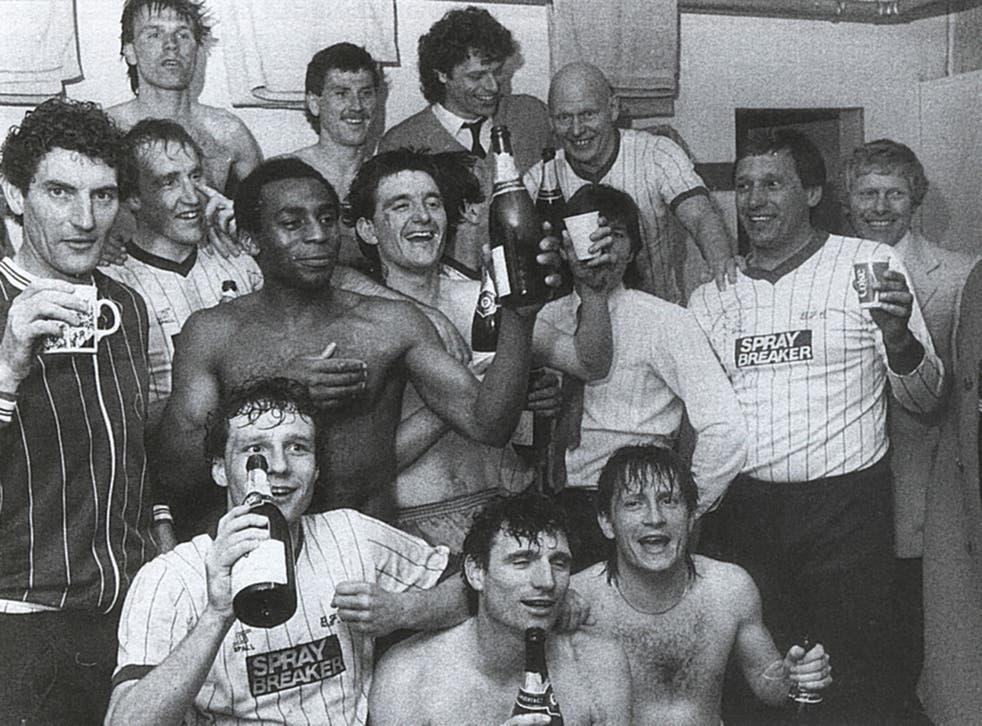 They have neither been bankrolled by the Class of '92 nor graced with the kind of third-round opposition that captures the romance of the FA Cup. A home tie with Bradford is in firm Saturday 3pm territory. But in the week when we take a rare excursion from the £5.1bn division to cherish the sheer, beautiful diversity of our football, look out for one of the game's great survivors because they are the essence of the game.
Bury FC's struggle to keep above the waterline in a territory dominated by bigger, richer clubs has rarely receded in the 15 years or so I've written for this newspaper. The story of Hugh Eaves, stockbroker and fan, was the first one I was asked to examine by my editors. Eaves had just confessed to having raided his former partners at the time: money for a spending spree which included Bury. He'd lent the club £750,000 and guaranteed a larger loan from Lloyds TSB, mortgaged on the Gigg Lane ground, which, not unexpectedly, the bank became rather keen to see repaid. The club were desperate, borrowed £1m, also mortgaged on the ground, at 15 per cent from an investment scheme run by a Sheffield solicitor who was later struck off. The state of penury hasn't eased since they emerged from administration. Companies House documents showed last year that the current owner's firm had borrowed £1m, secured on Gigg Lane, at a cumulative annual rate of 138 per cent.
Such is the backdrop to a book of unmitigated joy for those who seek evidence that spirit, intelligence and, quite simply, football can sometimes shout loudest and longest, in spite of the money men. The Forgotten Fifteen, by writer and Bury supporter James Bentley, is the story of how the one-time England international Martin Dobson won promotion from the Fourth Division for Bury in 1984-85 using just 15 players all season.
What began as a piece of clever thinking by the club's chief executive, Terry Robinson – who perhaps divined Dobson was deeply unhappy working with John Bond, one tier up at Burnley – developed into an act of genius, as Dobson managed to persuade two of those he had graced football fields with at the highest level, Leighton James and Trevor Ross, to join him on what would become an incredible journey.
It began in the kind of low farce with which those who have followed any club around the lower reaches will be familiar. Bury could have been promoted the previous year, under Jim Iley, had a win for them over Wimbledon been accompanied by a defeat for Scunthorpe by Chester. Iley was somehow convinced that Chester had scored, engaged in an eccentric touchline dance of delight, and, by the time it was discovered that the Chester goal was a figment of his imagination, his own side had lost.
The story of what Dobson achieved the following season becomes a social history in Bentley's hands: the tale of how James and Ross were offered complimentary motors by the Bolton Car Centre, and Craig Madden – another vital component of that team – a Lada Riva 1300. Registration plate: A436 GEM, for "a gem of a player" as the Bury Times, whose wonderful, sometimes breathless, occasionally corny headlines are a colourful part of this journey, put it. The paper likens the ball to "a hot, over-buttered potato" in its report of a difficult draw with Scunthorpe in March 1985.
There's the baffling shirt sponsorship deal which results in "a new name in road safety" – Spray Breaker – being plastered across the players' midriffs on Spall Sports' finest polyester. The photographic plates alone are classics of their time. The no-frills programme ad for the music shop in Bury, "Vibes records and tapes – suppliers of all records played at Gigg Lane" is a masterful piece of understatement, with its clipart speakers.
The club's achievement is all the greater for the troubles which were all around. Brutal hooliganism, arguably at its worst in 1985, led to Gigg Lane being torn to pieces by visitors for the Blackpool game, in what was little less than a riot, that March. But the story is enriched and made human by Bentley's quest to locate each of the 15 players – who are captured for posterity in what, for Bury fans, is the iconic image of them celebrating promotion: Dobson, stage left, is the only one looking into the camera. Winston White, who had borne the brunt of the racists before finding higher ground in Bury, centre stage. It is the story what fate had in store for these men in the days before football meant financial security for life.
For some, extraordinary encounters would follow in careers beyond the game. Kevin Young is still a prison officer at high security HMP Frankland, where such individuals as Harold Shipman, the mass murderer who took his life there, have been held. White is tracked down to the Caribbean, David Brown to Verucchio, Italy. Joe Jakub played in the same AZ Alkmaar side as Louis van Gaal. Andy Hill, on Manchester United's books before blissful Bury days, was hard to locate. His severe congenital spinal stenosis has brought harder struggles, more than most of us are asked to bear.
What unites them, one and all, is football in the way it once was. Bury thought they could buy their way to further success when Dobson was gone. His successor Sam Ellis spent more than £400,000 on Colin Greenall, Roger Stanislaus, Ronnie Mauge and £175,000 record signing John McGinlay. But nothing could replicate what Dobson and James – "Dobbo" and "Taffy"– had brought.
Alastair Campbell, the former Labour Party communications director, reflects in a foreword to Bentley's book on how his own club Burnley – where Dobson also flourished and who fatefully slipped into the Fourth Division as Bury left it that season – are equally aware that such a modest promotion means the world. "Stories like ours, and Bury's from 1985, are why people love football," Campbell writes. "It's also why football plays such an important role in the community in small but proud towns."
Did you know Bury have won the FA Cup twice? The first occasion was the inaugural final of the 20th century and the second, three years later, a record 6-0 win over Derby County, the likes of which we will probably never see again. You won't find them on your TV set next weekend and their goals footage will almost certainly be tucked into the back-end of the highlights but keep an eye and ear out for Bury – football's Everymen.
The Forgotten Fifteen: How Bury triumphed in British football's worst year by James Bentley, SilverWood Press £14.99
Join our new commenting forum
Join thought-provoking conversations, follow other Independent readers and see their replies