Callum McManaman interview: 'I liked Rooney but then he left, didn't he?' says Evertonian now playing for West Brom
Do footballers stop being fans once they are paid to play? Not in the case of West Bromwich's Callum McManaman – who tomorrow faces the Everton team he still follows with a passion
Simon Hart
Sunday 27 September 2015 00:26 Comments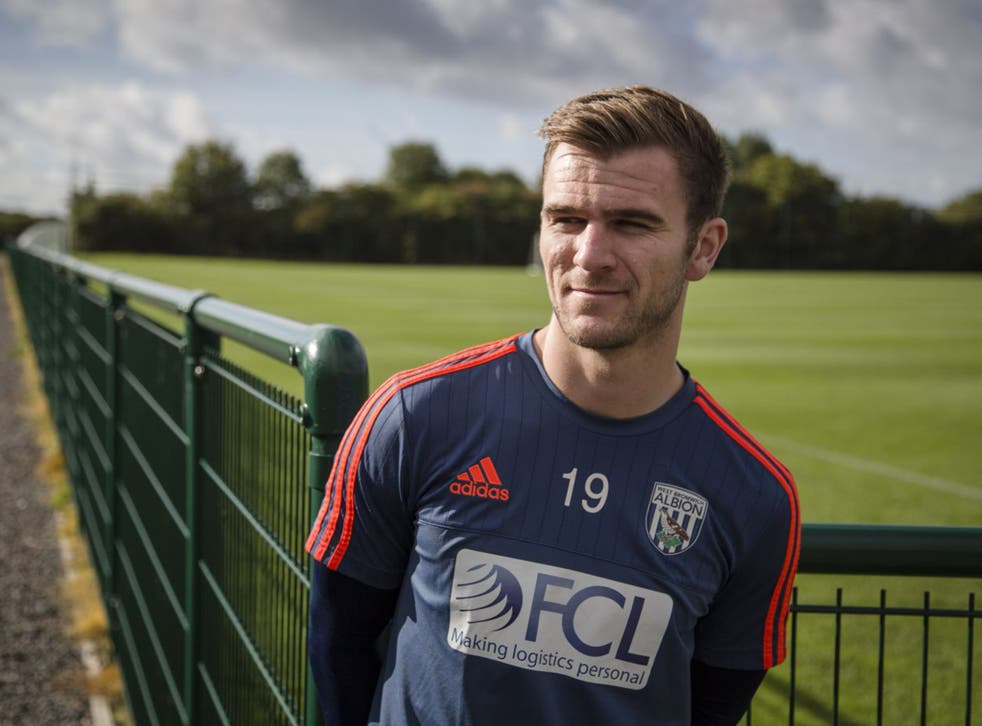 You never forget your first love. It is not a sentiment you expect to hear aired at a Premier League training ground but Callum McManaman's reflections on how it felt to suffer teenage rejection by Everton, his boyhood club, come pretty close. "I hated them at first," he says. "I was dead bitter about it. But you get past it. I was only young. Once I started playing again for Wigan and had a club, I was back to normal again."
It is a refreshing admission from McManaman, who has not only forgiven Everton for releasing him as a skinny 15-year-old but remains an unabashed fan of the club he could be lining up against tomorrow when the Merseysiders visit West Bromwich Albion. Indeed, McManaman, speaking in a dressing room at Albion's training ground on Thursday, delivers a one-man antidote to the suspicion that the modern footballer is wholly disconnected from the common fan as he looks forward to the game.
Because there is no doubt that McManaman is still a fan. The 24-year-old winger was back at Goodison in August for the testimonial of his all-time favourite Duncan Ferguson – "I liked [Wayne] Rooney but then he left, didn't he?" he says, every syllable spoken as a passionate Evertonian. He hopes to be there again next week for the Merseyside derby. "The derby's on Sunday so I might go to that. I still go to the games when I get a chance like. I will be in the Gwladys Street."
And does it really feel the same now he is actually paid to kick a football?
"In a derby, yeah – I hate them," he says of the other lot across the Park, sounding, with his strong Liverpool accent, exactly like the season-ticket holder he once was. "When the derby comes it is different. It all comes back as if you're a fan again, it is weird. I was watching one of the lads the other day, Gards [team-mate Craig Gardner]. He is a mad Birmingham fan and when it was Birmingham-Villa, he was well up for it."
McManaman's memories of Merseyside derbies go back many years. "I was ballboy at the Gwladys Street and [Thomas] Gravesen came over to me and I ended up on Soccer AM because I was giving it loads, giving him the ball and that. I've got a picture at my mum's. I was about 13. It was the derby when Lee Carsley scored and I was the behind the goal."
That season as a ballboy was the closest he got to his field of dreams during his years in the club's youth system. He started aged "six or seven" and "was there all the way up till I was 15. By then it was four or five times a week and a game Saturday. Jack Rodwell was in my year. I played mainly up front or on the wing."
Then came the news that Everton would not be keeping him on. "I was devastated at the time," he remembers. "I took it bad. I stopped playing for a few months. They said I was too small. I don't think they thought I was ready for Under-18s football but I was only 15 so I wasn't going to be. The likes of Rooney and Rodwell were ready to play Under-18s because they were more developed."
Yet looking back, he considers it "the best thing" that could have happened. "I was in my comfort zone basically and then I went to Wigan and had to fight for it."
When he finally had the chance to grace Goodison as a professional, he grabbed it with both hands, scoring Wigan's second goal in a 3-0 FA Cup quarter-final win in 2013. It was a moment he sums up in pure Scouse: "It was boss. It was a dream come true." Even his Evertonian friends – the ones he used to play football with on Sandhurst Field behind his mum's house in Rainhill – shared the feeling. "All the lads went and even the Blues were all jumping up in the Wigan end. They were buzzing because they knew how much it meant to me after getting released by Everton."
McManaman still lives in Liverpool, in a flat with his best friend at the Albert Dock, and has "all the same mates", yet that FA Cup run made his name. His wiry frame and tricky game offered echoes of another McManaman – Steve, the distant relative he has never met – as he struck again in the semi-final against Millwall before his man-of-the-match turn in the final against Manchester City. "It was mad, like. I feel like it happened oh so quick and then two days later we were getting relegated so you couldn't enjoy it."
As he looks back now he remains grateful for the enormous influence of his old Wigan manager, Roberto Martinez, who is now in charge of Everton. Martinez gave him the licence to attack that day at Wembley. "That was one of the games where he said 'just stay up'. That's how I ended up doing so well because every time I got [the ball] I was fresh to just get at them."
Not surprisingly, McManaman defended his old manager last season when his pals were questioning the Spaniard's credentials as Everton went through a prolonged bad patch. "I was saying 'Stick with him', yeah. I knew he'd turn it around and it looks like he has at the moment. He is just cool. He has got a bit of class about him."
The methods of Tony Pulis, his manager at Albion, are rather different. "It is definitely a lot more demanding defensively but we get a lot more clean sheets. He drills it into us every day."
And while he is still waiting for a run of starting appearances, he can already feel the benefits of his first Pulis pre-season which began with 5am runs in the Austrian Alps. "Hell" is how it felt at the time. "The first three days were the hardest. Everyone was being sick on the side, it was just horrible."
Albion, he adds, are also feeling the benefits of the "winning mentality" brought by Manchester United old boys Darren Fletcher, who arrived alongside him in January, and Jonny Evans.
As for Saido Berahino, scorer of the only goal at Villa last weekend, McManaman says of the young forward's reintegration after his aborted move to Tottenham: "He was getting loads of stick at first but it has just died off because everyone just knows what he is like."
McManaman knows something about negative headlines himself. He earned criticism from Pulis on Match of the Day for an apparent dive over Matt Targett during the home draw with Southampton. "The gaffer killed me, didn't he?" he said with a smile. "I said 'thanks gaffer'. I saw him the next day and he was laughing about it. I still think it was a penalty. He didn't touch me but he has not won the ball, has he? If I'd taken the knock I could have got injured."
His own tackling has put him in the spotlight in the past, notably a high challenge on Newcastle United's Massadio Haidara in 2013. "Everyone says I can't tackle and I don't need to tackle, so yeah, I've not done that since I've been here. If you look at Rooney and [Steven] Gerrard in their early days they were maybe diving in too much, two-footed, and getting red cards. As they got older they stopped, so hopefully I am learning." He looks up with a grin. "You need one Scouser in every team, don't you?"
Register for free to continue reading
Registration is a free and easy way to support our truly independent journalism
By registering, you will also enjoy limited access to Premium articles, exclusive newsletters, commenting, and virtual events with our leading journalists
Already have an account? sign in
Join our new commenting forum
Join thought-provoking conversations, follow other Independent readers and see their replies