Carlo Ancelotti: Former Chelsea and Real Madrid manager reveals secret to his success
EXCLUSIVE: In an exclusive interview with The Independent's new chief football correspondent MARK OGDEN, three-time European Cup winner Carlo Ancelotti, explains how he stays sane in the management maelstrom, how he's kept players from Kaka to Zidane happy and his joy at sealing La Decima for Real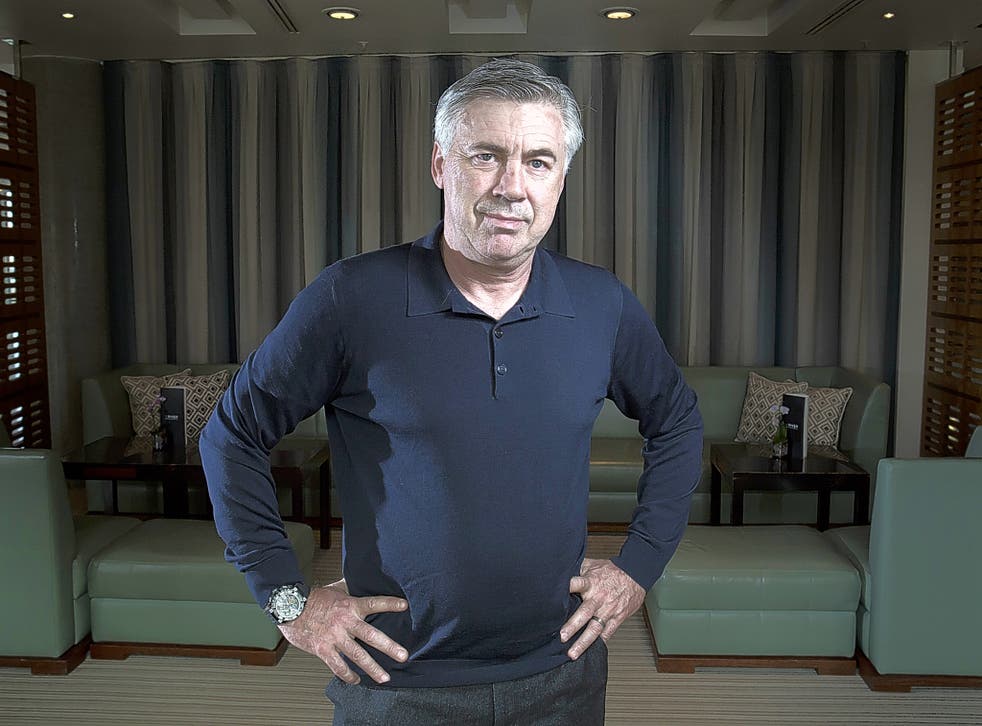 Carlo Ancelotti knows all about the tightrope-walking that comes with managing in the Champions League.
May 24, 2014, and the Italian is faced with either securing himself iconic status as the man who delivers
La Decima for Real Madrid. Or he is sacked.
"Experience tells you that, having not won the previous year, they would sack me if I didn't win," Ancelotti recalls when we chat over coffee in The River Bar in Manchester's Lowry Hotel. "I knew when I signed for Real Madrid that there was this possibility."
There is no middle ground at the elite level of football management and nothing focuses the minds quite like success or failure in the Champions League, as Jose Mourinho, Louis van Gaal and Arsène Wenger are discovering this week. In 2014, Ancelotti played roulette and won, with Real defeating Atletico Madrid in Lisbon to lift their 10th European Cup, the Italian's third as manager – the other two came with Milan – thus putting him joint top of that honours list with Bob Paisley.
Last season it turned sour: a semi-final defeat against Juventus ensured there was no way back at the Bernabeu. Those fine lines again.
However, despite it all: the madness, the uncertainty and the fierce pursuit of glory, Ancelotti admits he misses every bit of it. "I love my job," he says. "I don't find it stressful and I only took a rest because I didn't find another club after Real. It was not something that I needed because of stress, because that is not a problem for me. I don't have pressure. I like my job and I know how it is. I have experience.
"I started this job in 1995 and I felt the same pressure in my first day, with my first team, Reggiana, in the Second Division, as I feel now. Nothing has changed, but what changes are the number of games, especially for top teams. For this reason the work has pressure. But only this."
Since leaving Real last summer, Ancelotti has become a stalking horse for those managers whose club chairmen and owners are less inclined to shrug off the pressure of failing to deliver success. The Italian is in no rush to answer mid-season calls, however; the 56-year-old is enjoying the opportunity to relax and watch on from the sidelines of the managerial maelstrom.
Carlo Ancelotti factfile

Show all 4
He has spent time outside the football bubble with his Canadian wife, Mariann, in Vancouver, also visiting family in Italy, but the desire to return to management is clear. And with a proven record of delivering not only success, but a contented dressing room and positivity to his clubs, Ancelotti is likely to be courted by owners with a determination to put their expensive train sets back on track.
"The owner or president is the person who controls the club," Ancelotti says. "The coach's job is to keep him happy. But the key to success, as a manager, is your relationship with the players. Important clubs and important players succeed when the environment is correct. The players must enjoy their work and feel free to express their talents.
"This is my approach. I have worked with some of the most important players, like Ronaldo, Ibrahimovic, Kaka, Zidane, but the best are easy to work with because they are so professional. Their winning mentality, professionalism, helps the manager. Of course, sometimes I become angry, but usually my relationship with the players is calm.
"I like to speak with them and have a good relationship with them, but it doesn't mean I don't have to be strong in some aspects of my job. But this is my style and I feel good about it.
"Still, I may be the coach, but others have great experience and knowledge, so it is important to use all of those people to get the right answer and to solve any problems. It is a collective approach. You should work with the staff already at a club, help to develop them and also help the club develop its structure. I have always done this."
Where Ancelotti goes next will depend on the outcome of this season's managerial comings and goings. The Premier League appeals greatly, with the former Chelsea manager speaking highly of Manchester United's history and the "economic power" of Manchester City, although Pep Guardiola's uncertain future at Bayern Munich has made Ancelotti a potential target in Bavaria.
But with United and Arsenal both teetering on the brink of Champions League elimination this week, Ancelotti admits an admiration for the willingness of both clubs to focus on the future as much as the present.
"Maybe clubs like Arsenal, or Manchester United have different ideas and are not just focused on the result," Ancelotti says. "They are focused on other things, such as their project. Other teams such as Real Madrid want to be at the top all the time. PSG, when I moved there, wanted to grow. All clubs have their own projects and philosophies.
"When Wenger decides to finish at Arsenal, I don't think we will ever see a manager stay at the club for so long again. He and [Sir Alex] Ferguson are different, and to find managers like that – legends – is impossible. But I hope for our job as managers, you can still find clubs whose focus is not always only on the result.
"I think that Manchester United are focused on different things, Arsenal the same. Arsenal did not win [trophies] for many years, but they grew. They built a new stadium and Wenger did a fantastic job during that time in this sense. It is not all about the results, there are other things, and this is the right way.
"It will be very difficult for Arsenal if they go out of the Champions League, but maybe if this happens, they will have more possibilities to win the Premier League this season. I think United and Arsenal could still go into the last 16, though. It is all about one game now."
Whether any of the English clubs could compete beyond the group stage and challenge to win the Champions League this season, though, is another matter. "There are no surprises, no new teams," Ancelotti says. "I think maybe Barcelona, Bayern and Real Madrid, perhaps a surprise like PSG and Manchester City.
"City have had some big results this season and they have a fantastic squad. United have the economic aspect to compete again, of course, but City also. Perhaps United have an extra quality because of their history and tradition. City does not have that same history, but they have the power in the economic aspect.
"Maybe this year, Manchester City can be competitive right until the end in the Champions League."
A notable, and worrying, absence from top-level management in the Champions League is the lack of Englishmen involved in the competition. Gary Neville, by virtue of his surprise move to become Valencia manager, will be the first English coach since Harry Redknapp, with Tottenham Hotspur in 2010-11, to manage in the competition when he makes his managerial debut against Lyons on Wednesday night.
The dearth of top English coaches may be partly attributed to the success of the likes of Ancelotti, Wenger and Mourinho in the Premier League, but Ancelotti insists the talent is there. "It's a very interesting project for Gary Neville, but I respect his decision to take a big challenge in a new country," he says.
"He is learning from Roy Hodgson with England and will have learned so much from Sir Alex Ferguson at Manchester United, so it is good to see a young, English coach like Gary test himself like this. I wish him great success. But I am surprised by this [lack of English managers at the cutting edge of European football] and it is difficult to find an explanation.
"Italian managers grow in a really tough league, the tactics are very strong and I think the school of Italian coaches and managers is really good, but there are good managers in England.
"Maybe a new manager can grow and come into the picture, but it is difficult to explain the current situation. You have good managers, though. [Alan] Pardew is really good. He did very well at Newcastle and is doing a good job at Crystal Palace. I think at this moment, Pardew is one of the best managers in England. He is doing really well.
"If England wanted an English manager after Hodgson, then Pardew is really good and I think he is the best option to be manager of the national team. I think he is the best candidate."
The England job is one position that Ancelotti will not be pursuing, even if it becomes available next summer following Euro 2016.
With a CV with the names Juventus, Milan and Real Madrid on it, and a League and FA Cup Double with Chelsea to his name too, Ancelotti is all about the Champions League and becoming the first man to win four European Cups.
"I would like to win another Champions League, of course, but it is not something that I feel I must do as a big ambition, to be the best one," Ancelotti says. "Winning the Champions League is really exciting, though, and I have been lucky to win three and I can remember every single moment of these victories.
"La Decima was really special because, from the first day I arrived at Madrid, everyone was talking about it. It had been a long time –
12 years since the last European Cup – that the club had been fighting to win it and as soon as I arrived, it was the only thing that people would talk about.
"That made it clear it was so important and such a motivation for everybody – the players, the president, the club, the supporters. But for me, it was not a pressure, it was more like a really good motivation. That season, everything was perfect in the Champions League."
And this man knows more than most how to be perfect in the Champions League.
Register for free to continue reading
Registration is a free and easy way to support our truly independent journalism
By registering, you will also enjoy limited access to Premium articles, exclusive newsletters, commenting, and virtual events with our leading journalists
Already have an account? sign in
Register for free to continue reading
Registration is a free and easy way to support our truly independent journalism
By registering, you will also enjoy limited access to Premium articles, exclusive newsletters, commenting, and virtual events with our leading journalists
Already have an account? sign in
Join our new commenting forum
Join thought-provoking conversations, follow other Independent readers and see their replies