Ched Evans: Why the footballer's move to Oldham collapsed
League One club pull plug on deal to sign striker because of rapidly mounting financial pressure and ugly public opposition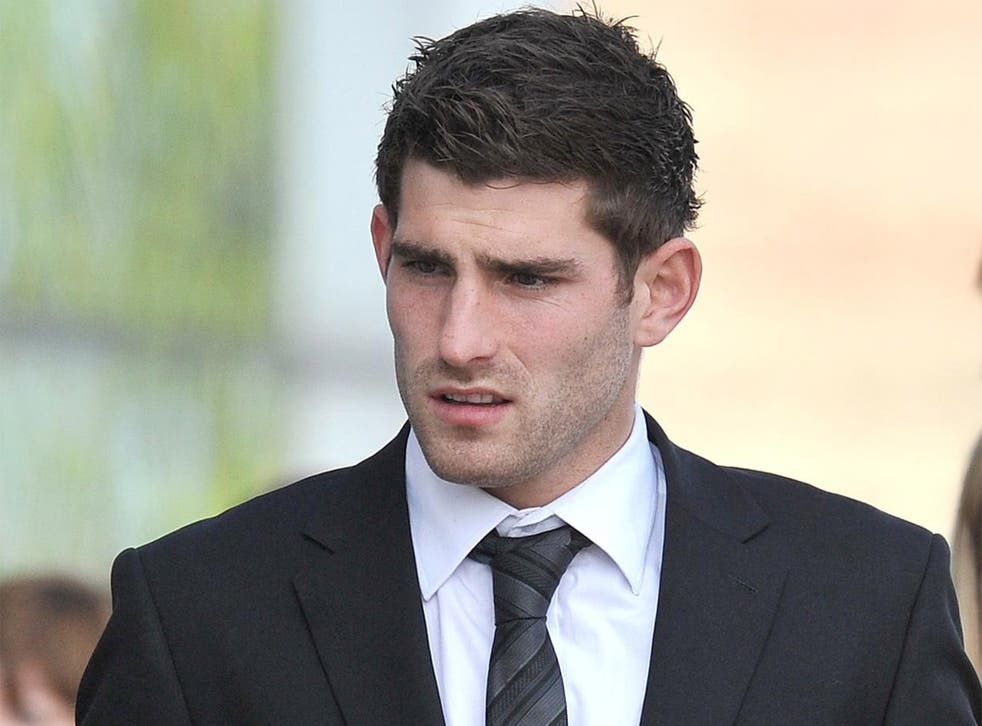 Ched Evans is resigned to the fact that he will have to clear his name before he gets an opportunity to return to football – after threats to the financing of Oldham Athletic's new stand and the chairman's mounting unease at becoming a source of mass vitriol contributed to the club aborting plans to sign the 26-year-old.
Evans is understood to believe that he will need the Criminal Case Review Commission to refer his trial to the Court of Appeal and have its three-judge panel overturn his conviction before he will get another opportunity to resume his career – a process which may not be completed until early next year.
The CCRC will not rule on the case before March, when it will either reject the application, refer the case to the Court of Appeal or say it needs more time to consider the matter. Few will have sympathy for the fact that Evans is understood to be devastated by today's developments – though he has not given up hope of playing again.
Oldham's decision to abandon signing the convicted rapist came amid mounting concern that the local council would withdraw financial support for the club's new £6m stand, though the escalating anger directed at the club was finding targets at every level. Chairman Simon Corney grew increasingly uneasy at finding himself, his family and business under mounting criticism and scrutiny in the past 48 hours – an alien experience, which he felt ill-equipped to deal with from his New York base. Karl Massey, the father of Evans' fiancée, faced threats to his own retail business, having helped to smooth the way into the club by offering up a contingency pot, in the event of sponsors pulling out. But the most disturbing attack was a threat to the safety of the named daughter of one of the club's board members. The BBC reported a threat of rape to that individual. Greater Manchester Police told The Independent that they had not received a complaint.

Corney's claim on Wednesday evening that the Evans deal was "80 per cent certain" masked mounting unease behind the scenes at Oldham, who were still dithering. They have lacked the professional expertise to cope with a major national controversy. The fact that all decisions had to go through Corney – who has been six hours behind the UK at his New York base all week – has been debilitating, according to one source close to negotiations.
Corney anticipated that the Professional Footballers' Association would take the lead and flak, by fronting a press conference to announce that Oldham were considering signing the player. The players' union did not feel it was its role to announce a club's acquisition plans and also suggested that a media event ahead of any purchase was unwise. The advice was that a pre-acquisition press conference, which Oldham thought would help them gauge public opinion, would only create the conditions for the febrile atmosphere which has taken hold this week.
Corney's "80 per cent done" announcement surprised the PFA, which understood there was a mutual agreement about no advance declarations. The union's awareness of Oldham's prevarications – initially expressing interest in November but issuing a press release rejecting a move, when the news leaked out – meant the PFA would only believe an Evans deal when it saw one. The first the PFA knew of Oldham's decision to pull out was when the club announced it this morning.
There is a deep conviction among many with a knowledge of events that Oldham only revived their interest because of a string of bad results. When they said Evans would not be joining the club, they had just won 3-0 at Rochdale and gone sixth in League One, with one defeat in 18, They returned to the idea after Lee Johnson's side fell to four consecutive defeats, managing only one goal and conceding 14.
Mathematically, the financial risks of sponsors pulling out was not so substantial. The loss of guttering firm Verlin Rainwater Solutions – a high-profile critic of the Evans move – would have had no financial impact. Oldham's run-down stadium had been in need of £10,000 of work to repair leaking gutters and Verlin undertook the job in return for having its name on one of the stands. Mecca Bingo and Nando's, which threatened to pull out, are thought to have contributed no more than £2,000 maximum, with Nando's providing half-time prizes.
Offices supplies firm Zen Office, another which said it would withdraw, provides more than £10,000 a year. The chief executive of £1m principal sponsor Sports Direct, Mike Ashley, had privately indicated his support for Corney, even though he was unable to guarantee it if backing Oldham began to have a detrimental effect on his own business's share price. Massey's contingency fund would have covered this.
Oldham's withdrawal led the PFA to publish a statement it had prepared with Evans some time ago, in which he apologised for the first time to his victim. The Evans camp had not wanted it issued for fear of prejudicing the CCRC case, at which lawyers will be asked – among many other issues – to examine whether the footballer was cautioned before discussing the case with police. The PFA felt that the characterisation of Evans as indifferent to the consequences of his actions was false and needed to be countered.
The aborted deal will be a relief to the club's 30-strong workforce, a senior member of which described the "exhaustion" of the 24/7 media focus.
Public figures speak out against Ched Evans' Sheffield return

Show all 5
Taylor compares Evans' plight with Hillsborough
Gordon Taylor, the professional Footballers' Association chief executive, has compared Ched Evans' attempt to clear his name to the battle for justice that followed the Hillsborough disaster in which 96 Liverpool supporters died.
Speaking on BBC Radio 5 Live, Taylor said: "He wouldn't be the first person or persons to have been found guilty and maintain their innocence and then be proved right.
"If we're talking about things in football, we know what was alleged to have happened at Hillsborough and it's now unravelling and we're finding it was very different to how it was portrayed at the time, indeed by the police at the time."
A decades-long legal battle by families of the Hillsborough victims, following the tragedy at the 1989 FA Cup semi-final between Liverpool and Nottingham Forest, led to the quashing of earlier inquest verdicts. A jury is hearing new inquests in Warrington before coroner Lord Justice Goldring.
Taylor also said there are no other clubs, to his knowledge, interested in signing former Wales international Evans.
He added: "It's not looking good for him at the moment."
Ched Evans timeline: From arrest, to conviction, to release, to rejection
30 May 2011 Ched Evans is arrested on suspicion of sexual assault at a Premier Inn near Rhyl, north Wales. He was charged with rape two months later, along with former team-mate Clayton McDonald.
20 April 2012 Evans is jailed for five years for rape as McDonald is acquitted of the same charge. Evans maintains his innocence but is released by Sheffield United at end of season. Loses subsequent appeal.
18 April 2014 A 165,000-signature petition urges the Blades not to re-sign the striker on his release.
17 October Evans is released from prison after serving half his sentence. The 25-year-old states he will fight to clear his name and wants to return to professional football.
11 November Sheffield United confirm Evans will train with them. TV presenter Charlie Webster stands down as a patron.
12 November Sheffield MP Paul Blomfield urges United to change their decision as the Deputy Prime Minister, Nick Clegg, also a Sheffield MP, says the club must "think long and hard" before letting Evans play again.
13 November Olympic champion and Blades fan Jessica Ennis-Hill asks for her name to be removed from a Bramall Lane stand should Evans be offered a contract. She is then sent rape-threat tweets.
20 November United retract their offer for Evans to train with the club.
1 December Oldham deny offering Evans the chance to train with them following reports linking him to the League One club.
20 December Hartlepool United manager Ronnie Moore announces he would like to sign Evans. Two days later the League Two club release a statement saying they will not be signing the player.
3 January 2015 After he was denied the chance to return with Maltese side Hibernians, it is revealed Evans has been in fresh talks with Oldham. A number of sponsors threaten to cut ties with the club.
7 January Oldham owner Simon Corney says there is an "80 per cent" chance Evans will join. Labour sports spokesman Clive Efford urges the FA to block the deal.
8 January Oldham pull out of the signing.
Register for free to continue reading
Registration is a free and easy way to support our truly independent journalism
By registering, you will also enjoy limited access to Premium articles, exclusive newsletters, commenting, and virtual events with our leading journalists
Already have an account? sign in
Register for free to continue reading
Registration is a free and easy way to support our truly independent journalism
By registering, you will also enjoy limited access to Premium articles, exclusive newsletters, commenting, and virtual events with our leading journalists
Already have an account? sign in
Join our new commenting forum
Join thought-provoking conversations, follow other Independent readers and see their replies