Ched Evans comment: Too much money, too much time...
After turning professional with City, Ched Evans swapped the daily structure of his scholarship for empty hours, a huge salary and a life of excess common to young players. But that's no excuse for the events that unfolded and his failure to apologise to his victim, writes Ian Herbert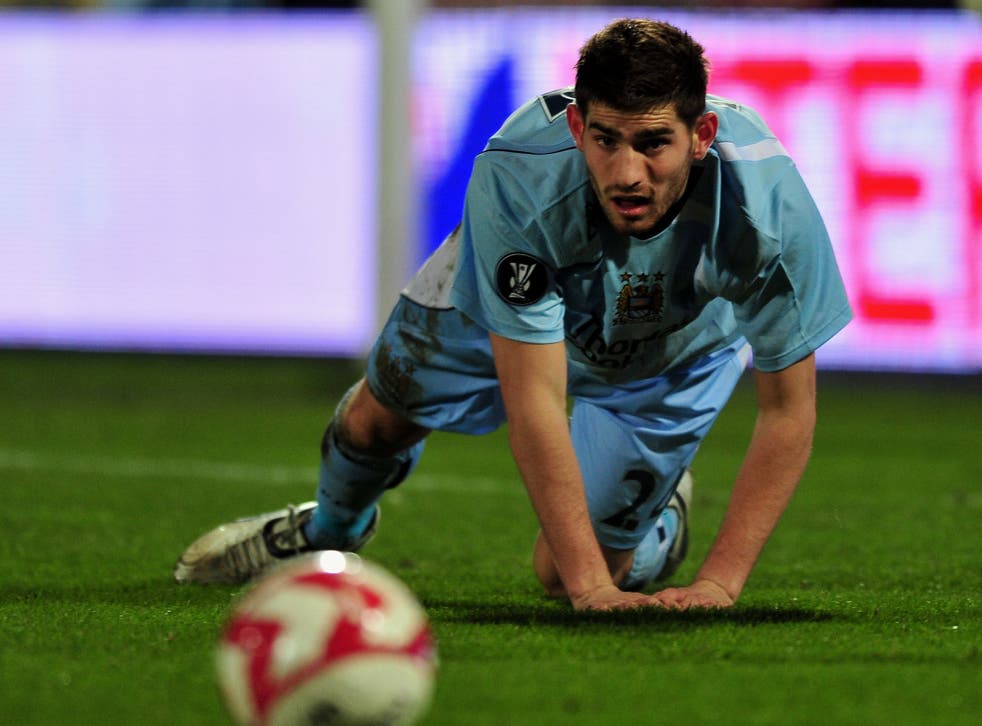 It has become patently clear in the course of a two-week journey into the world of Ched Evans that his departure from a north Wales backwater to a career in professional football was a recipe for disaster.
His low attention threshold always appears to have been a source of problems – causing exclusions from school, say some who have known him – and though the family household where he was installed by Manchester City was a strong pastoral environment, life became a picture of chaos when the school-room structure of his trainee scholarship ended and large sections of the day became empty.
That does not make the rape crime he was convicted of in 2012 inevitable, of course. But the story of his freewheeling late teenage years reveals the sense of entitlement and disregard for the rules which take root when a young man of limited intellectual faculty finds himself with plentiful time and money on his hands. Evans was in all three of those categories.
No one foresaw the events which would conclude with a five-year prison sentence for rape and his subsequent determination to sully the name of his victim. When Evans arrived from north Wales and settled into the well-appointed Manchester home of the Barnes family – who were well established "house parents" for City trainees and young professionals – he was a popular member of the household. Popular enough to be invited back when the end of his successful loan spell at Norwich City – where he scored 10 goals in 20 starts – restored him to the Etihad club.
He took up a room in the house which had previously been occupied by one of Roberto Mancini's sons and when Greg Barnes converted a garage at the bottom of the garden, Evans and his team-mate and friend Clayton McDonald – his co-accused in the rape case who was acquitted – asked if they could move into it. The extra space allowed the Barnes family to look after as many as five City players at the time, with those in need of more parental care located in the main house. It was a highly successful arrangement. The City players accommodated there will talk of what a positive environment it was.
Evans had played the final minute of the Old Trafford derby of May 2009 – arriving in Robinho's place with City resigned to their 2-0 defeat – on the day Evans apparently decided it would be a good joke to shoot at the Barnes' son.
According to the Barnes family the two footballers were playing with an air pistol one of them had bought and Evans decided to take aim at the teenager, who was 80 metres away at the top of the garden. The bullet, allegedly fired as a joke, lodged in the boy's groin, in a position where the proximity of arteries persuaded doctors to leave it. The thick sweatpants the teenager wore may have prevented more serious damage and it was several days before he told his parents.
It was another measure of the warmth the family felt for Evans that they initially did not report the incident. "Ched was just a bit daft," says Greg Barnes. "But there was no malice."
Barnes' son also counted other young City players as his friends and there would be awkwardness if they made something of it.
It was during the ensuing pursuit of a criminal injury case that the relationship with Evans soured.
The family say they went away for a few days soon after the air pistol incident and returned to find Evans had spun the tyres of his Audi Quattro 88 in their gravel drive. It was then that Greg Barnes informed the police of the shooting. The case was settled, with the Professional Footballers' Association's lawyers Brabners involved. "We had not expected to need to use lawyers," said Barnes. "We were led to believe there would be some kind of cash settlement for medical treatment. We felt it became adversarial."
Evans was quickly moved on by City and the different personalities of McDonald and Evans revealed themselves, the family say. "Clayton was the one who came and apologised," says Greg Barnes. Evans' departure to Sheffield United in July 2009 denied him the Premier League lifestyle he would have aspired to, though he was still commanding £20,000 a week at the age of 23, and driving a Land Rover with personalised number plates.
He continued to live the Manchester footballer's lifestyle, too. His girlfriend's father's jewellery chain, Prestons, includes the store which is located in a striking art deco building in Wilmslow, in the heart of the south Manchester footballer belt. The Bolton store welcomed the Olympic cyclist Jason Kenny to receive a watch and be pictured in a publicity shot. The Wilmslow store called on Evans and his girlfriend, Natasha Massey, to have promotional images taken, which included one with Evans settled into a rare Ferrari.
It was the backing of an assertive, go-getting businessman like Karl Massey, his girlfriend's father, that has seen Evans challenge his sentence in a way which would otherwise be hard to believe likely. The Masseys have been instrumental in setting up the website which proclaims their daughter's boyfriend's innocence and denigrates his victim – prompting Sunday's plea from the young woman's father to "stop destroying her".
The Masseys also called upon Don Hale, the freelance investigative journalist who has been instrumental in helping to secure the acquittal of Stephen Downing and Barry George who were both wrongly convicted of murder.
Hale's work, for which he wanted no payment, alerted him to what he perceived as weaknesses in the North Wales Police case against Evans. These related to relevant CCTV evidence which Hale believes was not examined and Evans allegedly being cautioned after he had provided initial evidence. But Hale, like so many others who have borne witness to the case, is deeply uncomfortable about the ceaseless verbal attacks on Evans' victim. "I do see flaws in the case but I don't agree with the messages that are coming out," he says. "Trying to attack the victim in a case like this is dreadful."
Hale found himself under attack for agreeing to be involved in the case – and insists it is the journalist's obligation to investigate, however toxic the case. Then he subsequently found himself under attack from the Ched Evans website last weekend over his interview article with the player, which ran in the Sunday Mirror. The Massey family have acceded to Hale's demand that they take their criticism down from the site. They have also turned to Russ Whitfield, a former Sussex detective, to build the appeal.
Amid all the rows and recriminations, denigration and denials, there remains no prospect of Evans or those advising him having a good enough grasp of reality to apologise to a young woman for a life destroyed.
What happened in the past does not make these events inevitable, Greg Barnes reflects. But these events can be the consequences when bored young men believe they can act with impunity and behave as they want.
Register for free to continue reading
Registration is a free and easy way to support our truly independent journalism
By registering, you will also enjoy limited access to Premium articles, exclusive newsletters, commenting, and virtual events with our leading journalists
Already have an account? sign in