Chelsea stand by Clattenburg claims as FA starts investigation
Premier League leaders insist complaint about referee is serious and not retaliation for Terry race row case
Sam Wallace
Tuesday 30 October 2012 08:00 Comments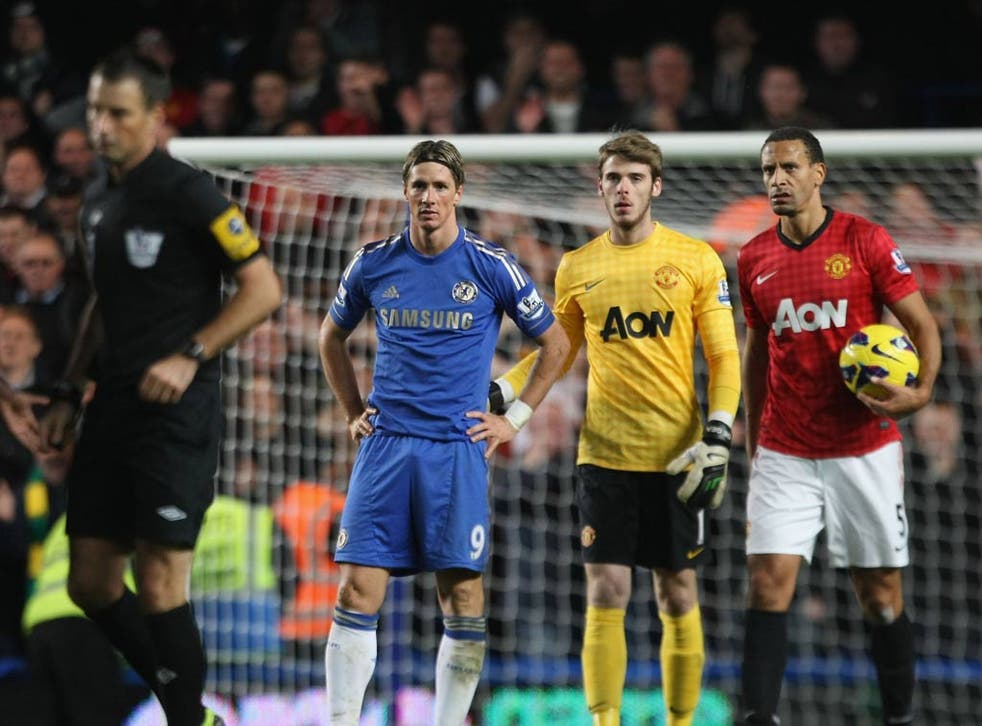 Chelsea made it clear to the Football Association today they believed they had no option but to file a complaint about the referee Mark Clattenburg and that they did so fully cognisant of the serious nature of the racial element to their case.
The decision to report Clattenburg for two incidents of "inappropriate language" - one of which was made to John Obi Mikel - was taken at the highest executive level by the club, with the knowledge of chairman, Bruce Buck, and chief executive, Ron Gourlay, in the aftermath of Sunday's defeat to Manchester United.
In private, the club are aware that their complaint has been dismissed in some quarters as retaliation for the FA charges laid against John Terry earlier this year but they are adamant that their case is justified. The club took statements from the players involved, including Mikel and Juan Mata, the two to whom Clattenburg is alleged to have made the remarks.
Overseeing the process for the club is David Barnard, the club secretary, who was heavily criticised by the independent commission which considered Terry's FA charges, for his part in the adaptation of Ashley Cole's witness statement. Chelsea have defended Barnard and regard him as the obvious candidate to supervise the process.
Clattenburg himself could be refereeing fixtures within the next 11 days, even though the referees' organisation - the Professional Game Match Officials (PGMO) - announced that he had been taken off the list for this weekend's fixtures. One source said that Clattenburg "was not in the right frame of mind" to go straight back into refereeing.
The FA announced that there would be an investigation into the issue, although - as with a player - that does not prevent Clattenburg from taking charge of games in the meantime. He was at St George's Park yesterday for a meeting of the select group of referees, all of whom have been told by the PGMO general manager, Mike Riley, that they are not to discuss the case.
It is understood that Clattenburg, who is a Fifa list referee, was not scheduled to take charge of a Champions League or Europa League match next week. PGMO will consider his suitability or otherwise to referee on a week-by-week basis. The remaining three from Sunday's officials' team at Stamford Bridge - assistants Mike McDonough and Simon Long, and fourth official Mike Jones - have been allocated games this weekend.
Clattenburg has been in contact with his union, Prospect, which represents all match officials, to take stock of his legal position. Prospect issued a statement today in support of its member, who has told colleagues that he has been subject to unprecedented media scrutiny over the last 48 hours, including being followed on the motorway, having been collected from his home in Newcastle today by fellow referee Michael Oliver.
The FA has received an "extraordinary report" from Clattenburg, which is standard, given that he was confronted with the allegations by Chelsea staff, believed to have included the manager, Roberto Di Matteo, after the game. The FA will also receive Clattenburg's match report and, on this occasion, the governing body will have been contacted by match delegate Nick Cusack. The FA also spoke to Chelsea today.
The club are sensitive to allegations that they have concocted the charges. In relation to a Tottenham v Chelsea fixture in 2006, the former referee Graham Poll alleged in his newspaper column this month that "[John] Terry, Ashley Cole and other Chelsea players set about trying to tarnish my reputation by inventing stories about what I was supposed to have said to them on the field that day."
Poll claimed those allegations were later dropped. Chelsea have no intention of dropping their current complaint. Ultimately, it will be the FA's governance department which decides whether to press charges. The incidents took place on the pitch when Clattenburg's conversations would have been audible to his assistants.
PGMO described Clattenburg as one of the "elite referees in world football" but said his presence at games this weekend would generate an "intense level of scrutiny [that] would detract from the match and be unfair to the clubs and supporters of both sides".
The Metropolitan Police were last night considering a complaint received from lawyer Peter Herbert regarding the alleged incident. They have not yet opened an investigation.
Gerrard adds to officials' woe
The Liverpool captain Steven Gerrard has criticised one of the officials who took charge of the derby draw against Everton on Sunday, claiming assistant referee Simon Bennett admitted he was not completely certain about the offside call that annulled Luis Suarez's last-gasp winner in added time.
Gerrard said: "I asked him after the match if it was offside and he said, 'I think so.' That's not good enough. If every decision in this league is based on 'we think so' then we're in trouble."
Register for free to continue reading
Registration is a free and easy way to support our truly independent journalism
By registering, you will also enjoy limited access to Premium articles, exclusive newsletters, commenting, and virtual events with our leading journalists
Already have an account? sign in
Join our new commenting forum
Join thought-provoking conversations, follow other Independent readers and see their replies