Chelsea: Antonio Conte could bring all the bad bits of Jose Mourinho and few of the good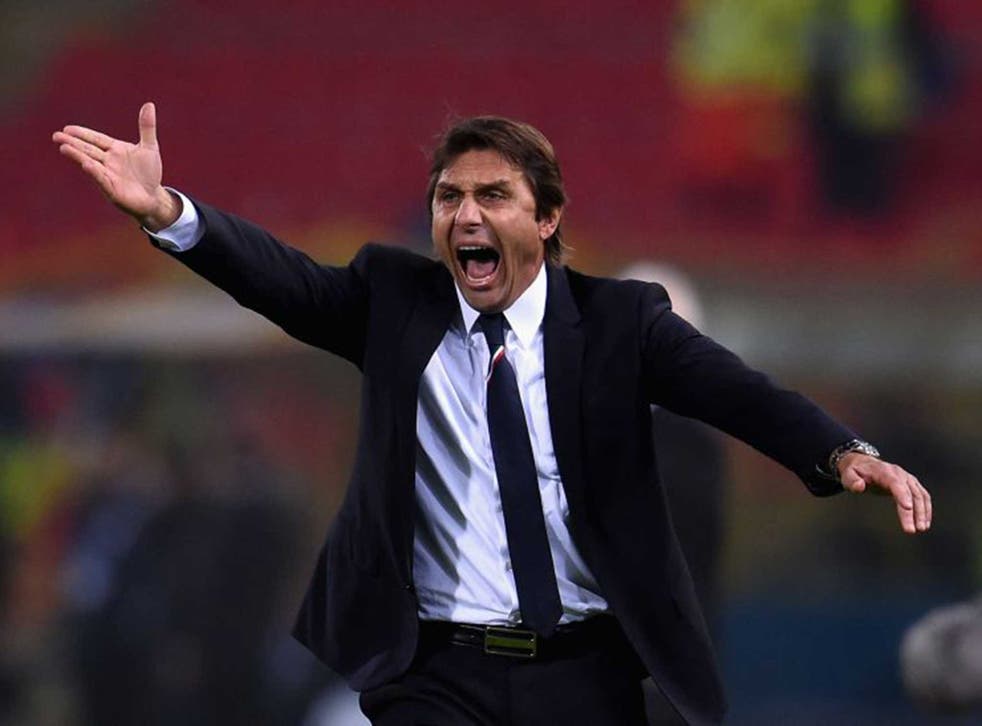 Somewhere in his attic there's a picture of Antonio Conte with a few wisps of hair clinging grimly to a coiffure otherwise sooner associated, in Italian football, with Pierluigi Collina. Except it might even be in your attic, if you happen to have kept a sticker album from the later stages of Conte's playing career. But the Italy manager is perhaps about to find out that youth is prolonged not so much by the luxuriant locks he acquired in a hair transplant as by repetition of past errors. Such, at any rate, is the maxim proposed in The Picture of Dorian Gray. "Nowadays most people die of a sort of creeping common sense," Oscar Wilde explains. "And discover when it is too late that the only things one never regrets are one's mistakes."
On that basis, the man rumoured to be hiring Conte next has perhaps discovered the secret of eternal youth. Even Roman Abramovich can hardly summon Jose Mourinho for a third time, but he could be settling for the next best thing in Conte. Melodramatic, abrasive temperament? Check. Volatile, preening ego? Check. Passionate expectations of teamwork and industry, often nourished by a sense of grievance against outside forces? Check. Everything built, in the first instance, on a rock-solid defence? Check. Above all, of course: serial winner? Check. And, finally, superbly nuanced tactical instinct and an unanswerable record of European success? Che… Hmm. Oh dear. Hang on a minute.
Now while the trophy cabinet attests that hiring Mourinho a second time can hardly be described as a "mistake", many of us who follow Italian football are quietly wondering whether Abramovich is heading towards a solution that will restore many of the burdens that twice unravelled The Special One's rule – and by no means all its benefits.
On the face of it, true, Chelsea's current predicament evokes the underachievement of Juventus in the two seasons preceding Conte's arrival in 2011. Consecutive seventh-place finishes suggested the Old Lady to be aged by scandal and demotion. Conte renewed her pride and spirit overnight, to the extent that Juventus lost only the Coppa Italia final all season. And there is no doubting that a team that buys into his ways, much as is the case with Mourinho, can collectively borrow many positives from his arrogance and aggression.
But Mourinho is one of the game's ultimate cosmopolitans, his sophistication and dexterity equally apparent on and off the pitch. Conte, in contrast, has only just started learning English – and nor, in truth, is there the slightest evidence that he has mastered the footballing basics of the cross-cultural challenge he is apparently about to embrace.
In fairness, the parallels in his arrival at Juventus extend to an ability to concentrate on domestic renaissance, without the strain of European football. But while that may limit the reach even of the Abramovich rouble, this summer, no club in the European elite has recruited better than Juventus over the past five years. And while Conte might claim a share of credit, for the original overhaul of the squad, the business done since his departure would tend to corroborate the theory that most of it goes to the director general, Giuseppe Marotta, and his right-hand man, Fabio Paratici.
Once making it into Europe, Juventus under Conte struggled to maintain their tempo through the season. Domestically, it sufficed that he had much the strongest squad in Italy as both the Milan powerhouses were plunging into disarray. In his final Champions League campaign, however, Juventus mustered six points from six games in the group stage and dropped into the Europa League. At least consolation beckoned there, with the final to be staged at their own stadium, but they failed to score the single goal required in the home semi-final against Benfica.
When he left – very gracelessly, by the way, and with spiteful timing – Conte disparaged the club's competence to challenge in Europe. Many fans were aghast when Massimo Allegri was installed in his place. Besides a domestic Double, Allegri promptly took Juventus all the way to the Champions League final, where they pushed Barcelona hard despite losing Giorgio Chiellini, cornerstone of their defence, just before the game. In conspicuous contrast to his peevish and chippy predecessor, Allegri artfully adapts tactics to circumstance and his substitutions invariably make a difference. And he does not conflate the history and dignity of the club with his own personality.
Under Conte, meanwhile, the Azzurri have qualified for the European Championship with their usual efficiency without remotely suggesting significant progress since their World Cup debacle. Wildly incoherent selections have produced consistently anaemic play. There is already talk of approaching Claudio Ranieri as his replacement. Yes, that Ranieri – the one who got Chelsea to the last four of the Champions League in the only season the club's new owner afforded him. Sounds like the Azzurri are ready for a change of style. But Abramovich is so addicted to exoticism that not even Carlo Ancelotti will do, never mind Allegri. And Chelsea will duly remain for ever young, for ever defiant against the kind of "creeping common sense" that is slowly killing Leicester City.
Join our new commenting forum
Join thought-provoking conversations, follow other Independent readers and see their replies