Comment: It was not just Paolo Di Canio – the whole Sunderland shake-up looks risky
Appointing a manager who had to deny he was a fascist was remarkable
Sam Wallace
Monday 23 September 2013 12:31 Comments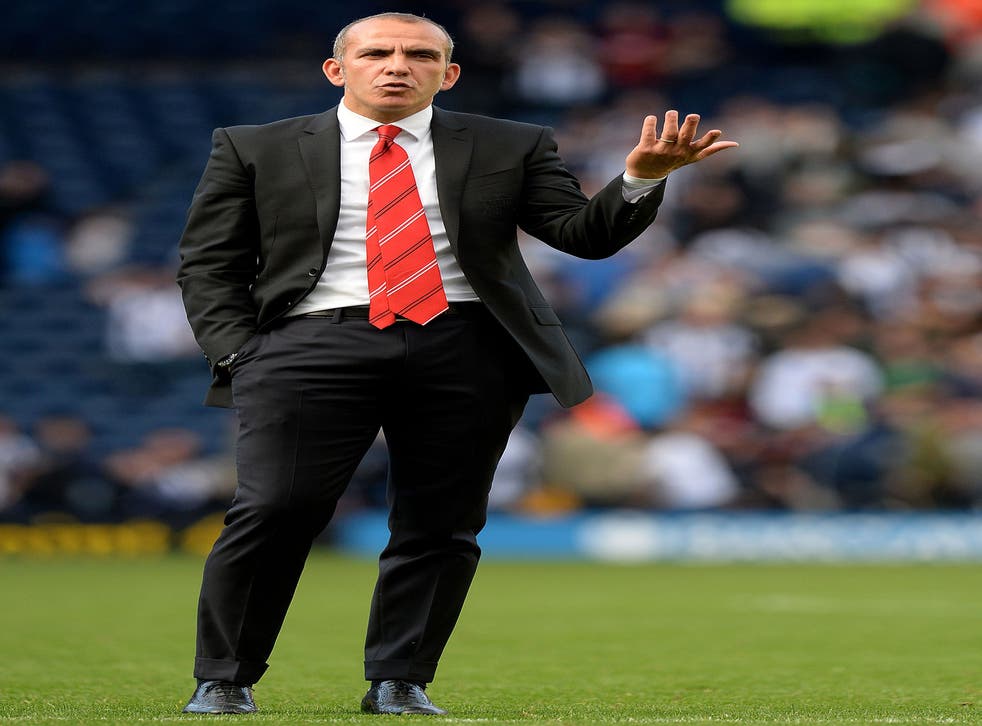 So farewell, then, Paolo Di Canio, who leaves us with one final memory from six often preposterous months at Sunderland. That even with his club bottom of the league on Saturday with one point from five games and his dismissal imminent, he still saw fit to stare down his own travelling support and talk about himself in the third person.
"Even on this day, Di Canio wants to see the faces of the fans," said Di Canio after Saturday's defeat to West Bromwich Albion, his last in charge. "They are very angry and if I was in their position I would be furious."
One of the most wrong-headed appointments in Premier League history was drawn to merciful close last night with Di Canio's sacking. The best thing you can say about Sunderland's results this season is that they have at least drawn attention away from Di Canio's dubious political allegiances. By Saturday night, about as many people in English football believed he was the right man for the club as agreed with his views on Mussolini.
Those aspects of his personality that were formerly considered the hallmark of a "character": the emotional reaction to his players, the furious monologues directed at his own staff on the bench behind him. They all got very tiresome very quickly. Sunderland, it is understood, had their doubts about Di Canio in the summer, fatally persisted and now find themselves prime candidates for relegation. The question is: what now? Relegation would ask all kinds of questions about the club's future. Their wage bill of £64m, pre-summer transfer window, was regarded then as the eighth highest in the Premier League. Their debt is around £84m. Ellis Short, the club's owner, has loaned around £40m of his own money. He jettisoned Martin O'Neill at the end of March as part of a plan to survive. That gamble paid off in May – just – but not a lot else since.
Appointing a manager obliged to deny he was a fascist was pretty remarkable. But it obscured the haste with which Short and Sunderland have been prepared to change the structure of the club so radically. First, a maverick manager who should never have been more than a short-term fix. Then, an Italian director of football, Roberto de Fanti, himself a former agent, and an Italian chief scout, Valentino Angeloni.
The club were at pains to point out that neither of the two were Di Canio allies, which at least is borne out by their readiness to dismiss him. Neither is there any suggestion that being Italian makes them any less capable of doing a good job. Sunderland have hardly been cutting a swathe through English football in the last six years. But for a club that has never before had a non-British or Irish manager it was a significant culture shock. They have a lot to lose.
Everyone knows, thanks to the Greg Dyke speech, that Sunderland signed 14 players in the summer of which only one was English. They had previously signed 24 Englishmen in six years and, yes, many of them turned out to be mediocre. But this summer was an enormous shift in emphasis and it really has not worked.
De Fanti said that he signed Adilson Cabral, a free agent previously at Basel, "at 2am in a restaurant" to head off offers from rival clubs. Cabral has not played a minute in the league since the first game of the season against Fulham, and was not even on the bench on Saturday. It might be wiser if, in the future, the only thing De Fanti signs in restaurants at 2am is the bill.
The goalkeeper Vito Mannone was signed for £2m from Arsenal. He has not played other than in the Capital One Cup. Instead Kieren Westwood has been preferred. These are early days for the likes of Emanuele Giaccherini, the £8.6m signing from Juventus, who is evidently a talent, but already the rest of the field is slipping away from Sunderland.
There are different ways to cope in the Premier League for those clubs who are ambitious for more than just survival. One approach is the one honed by Swansea City and West Bromwich Albion which is to recruit imaginatively all over Europe, and in the latter's case especially, go for impact loan signings and free transfers.
Then there is the brave route that Aston Villa took last season of simply giving their academy kids a chance which combined, in the main, with the inspired signing of Christian Benteke, was enough to see them safe. Although even Villa seem to have pulled back from that in part this season, opting to bulk up their squad with foreign signings.
And then there is the worst option of the lot: relegation with a lot of signings who fail catastrophically, as exemplified by Queen's Park Rangers last season. That is the possibility that Sunderland are now contemplating and it is the most unedifying of all.
Many of the 14 players whom Sunderland signed were for the Under-21s development squad, which suggests further change at a club that has ever before tried to recruit foreign teenagers to an academy that, admittedly, has hardly been prolific in producing players.
No club should be afraid of change and no club should feel it has to settle for the kind of monochrome existence that has largely been the preserve of Sunderland in the Premier League era, promoted four times and relegated three with those two seventh-place finishes under Peter Reid in 2000 and 2001 the high-water mark.
But football clubs are delicate constructs. Shake them up the wrong way and it is remarkable how quickly you can fall in such a short space of time. If appointing Di Canio was a risk, then Sunderland hardly hedged their bets with De Fanti. The latter revealed in an interview with the club's website over the summer, that his new structure was so all-encompassing that he and Angeloni had already held their first "planning meeting" for the 2014-2015 season.
He did not specify for which division he was planning for.
Stonewall laces plan runs into a brick wall
The anti-homophobia campaign the Football Association tried to launch in 2010 could not persuade any high-profile players to speak on its behalf. Attempting something similar this year, they had the same problems, having to fall back on Brendon Batson and John Scales. Amal Fashanu's excellent documentary about her late uncle Justin contacted many top-flight clubs to talk to players about homophobia and only Joey Barton was prepared to speak. The Stonewall laces campaign was flawed. But you would be foolish to deny that English football has a problem with this.
Gordon Brown's late night deal for Raith
Among the many secrets of government that former Downing Street spin doctor Damian McBride has disclosed was the revelation that Gordon Brown had negotiated a deal to bring Marvin Andrews back to Raith Rovers in 2006 after midnight in a pub car park in Kirkcaldy. He was Chancellor of the Exchequer at the time. That is the strange thing about football. Even those who are accustomed to process and protocol start behaving like it's all one big episode of The Wire.
Register for free to continue reading
Registration is a free and easy way to support our truly independent journalism
By registering, you will also enjoy limited access to Premium articles, exclusive newsletters, commenting, and virtual events with our leading journalists
Already have an account? sign in
Join our new commenting forum
Join thought-provoking conversations, follow other Independent readers and see their replies