As the Crewe sexual abuse scandal continues, it is time for Dario Gradi to tell us what he knows
The club are finally being called to account, but we must now hear from Gradi, despite him reportedly being told to 'keep out of it'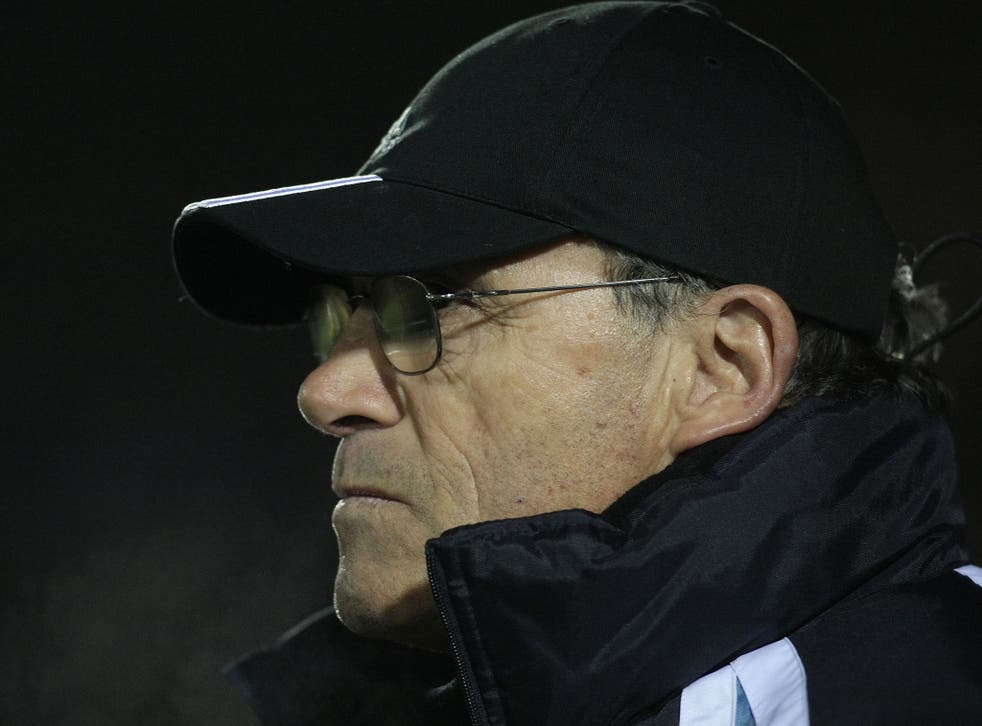 It was a measure of the complacency about child abuse in football that the jailing of Crewe Alexandra's paedophile coach Barry Bennell on June 1, 1998 attracted the most cursory newspaper attention: just six basic local reports in the Stoke, Birmingham and Crewe press, with The Independent's 270 words the only national coverage.
A further three days had passed before the Crewe manager Dario Gradi - in whose house one of Bennell's victims was assaulted - made his only published observation on the child abuser, which was extraordinary in its complacency and indifference. "Everyone at the club found it hard to believe he was guilty when he was first arrested," Gradi said, reflecting on Florida state police's apprehension of Bennell on suspicion of sexual battery and lewd and lascivious behaviour. "When we first found out what had happened we were very supportive. All this is now a long time ago and we were untouched by the court case this week. We are all just carrying on as normal."
And that is what Crewe did. There was not one published word of regret or apology for Bennell's conduct. Only now, 18 years on, are the club being called to account, prompted by the journalist Daniel Taylor's searing interview in The Guardian with Andy Woodward, one of Bennell's victims.
The club's chairman John Bowler, a former pharmaceutical industry marketer, has been the one feeling the heat this week. He cut an extremely nervous figure on Tuesday night, describing himself "infuriated" and "disappointed" over the crimes when submitted to some typically searching questions by the BBC's sports editor Dan Roan, outside the club's Gresty Road ground.
Of Gradi there has been no sign, though it is him we need to hear from. It was in Gradi's house that an assault took place though there is no suggestion that he knew of it. It was Gradi who stood for hours beside Bennell on football touchlines watching players and – judging by the testimony of ex-Crewe and Liverpool defender Rob Jones – who must have been impressed by his football judgement.
Though Gradi has taken much of the acclaim for discovering Jones, it was Bennell who saw the 16-year-old's talent, while the pair of them watched him play for Cheshire borough side Halton Boys against Crewe one day in 1987. "Dario is supposed to have said that there was nobody worth taking from the match, but Barry thought that perhaps one lad - me - could do a bit and they should give me a trial," Jones said. "Barry took me under his wing and taught me an awful lot ……When I signed for Crewe I was playing in midfield and he switched me to centre half. I didn't want to play there, but he said that I would make it as a right back eventually."
It was this judgment and skill that allowed Bennell to insinuate his way into the minds of boys and then abuse them. "I looked up to him," one of his victims said. "He could do tricks with the ball I had only seen on television and I thought he was God."
The criminal proclivities of Crewe's talent spotter were by no means a secret. One boy related details of an episode to his father who, joined by other parents, actually confronted Bennell at his home and told him they were going to involve the police. The paedophile promptly began to cry and held his head in his hands. What happened next was extraordinary. The parents were so concerned about damaging their sons' chances in football by involving police that they did not report them after all and convinced themselves they had nipped the problem in the bud.
They had not, of course. The chilling aspect of Taylor's Guardian interview with Woodward resides in the small details of how Bennell drew boys under his spell. Those basic court reports also reveal how Bennell showed boys films such as The Exorcist, frightening them into sharing the same bed as him. Frequently there would be two or three boys in the bed with him when the assaults took place. When one boy once protested, others told him to be quiet. When Bennell arrived in the United States to work with coaches Dan Rawlins and Marc Conway in 1989, he brought ideas which were instrumental in the development of future US national team player Jason Moore. The Americans loved him.
It was three years later, in 1992,that Crewe sacked him, for reasons which have never been made public and were not reported at the time. So what did the club know, if anything? What did Bennell discuss with Gradi in their time together? Gradi, now Crewe director of football, insisted at the weekend that his chairman had told him to "keep out of it" if approached by reporters now. "I don't understand any of it," he said. "It was a long time ago and for all intents and purposes it was dealt with at the time. I can't help you, I'm afraid." It was the same message from Crewe once again on Wednesday. Nothing to say. Though the scandal will not go away this time. The 1990s level of detail will not suffice.
Join our new commenting forum
Join thought-provoking conversations, follow other Independent readers and see their replies