Dalglish and Fergie: A rivalry of respect, fury and friendship
From Celtic's second string to the Anfield dugout, the Liverpool manager recalls his many dealings with his fellow Glaswegian, the latest chapter of which will unfold on Sunday.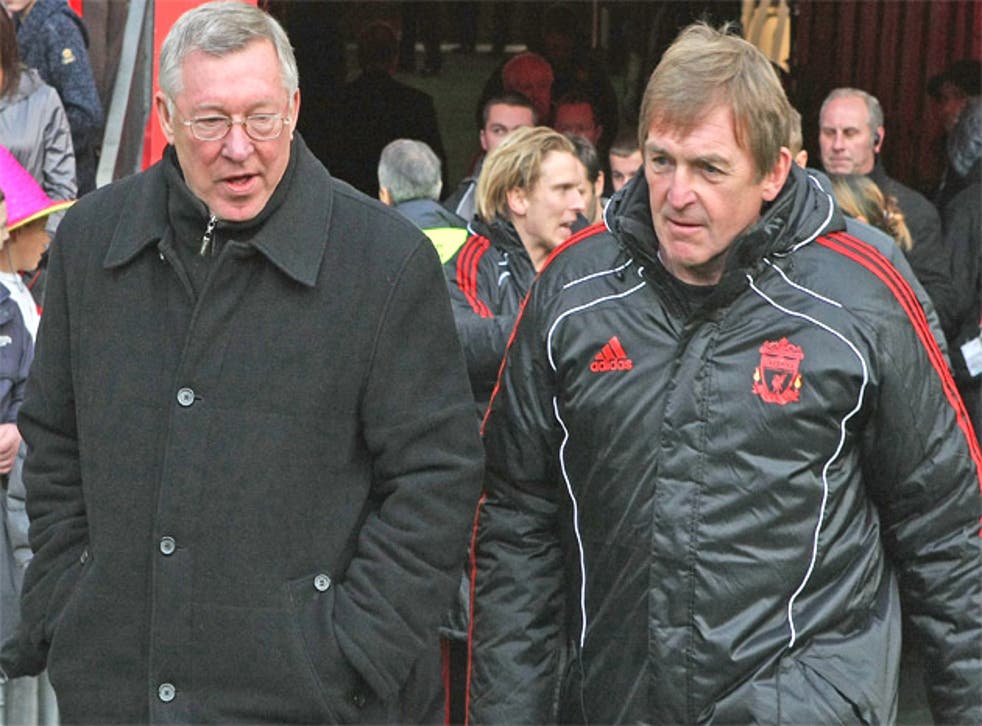 We have to imagine that the Glasgow winter was beginning to bite, late in 1969, when a Scottish Reserve Football League Old Firm fixture at Celtic Park pitched an 18-year-old Celtic forward being billed in the city's press as the next big thing against the Rangers striker, 10 years his senior, who had just been written off.
Kenny Dalglish and Sir Alex Ferguson, two men destined to remain locked in a near lifetime of intermittent rivalry, would probably never have looked each other in the eye on a field of play that day had not Ferguson's deteriorating relationship with his manager, Davie White, seen him dumped amid the also-rans and had not Dalglish's coaches decided to try him out at centre-back "for educational reasons," as Dalglish remembered it yesterday.
Dalglish's face creased into a wicked smile when, while describing how he'd marked Ferguson, he turned out his tracksuit pocket and said: "He'd better come out of here." Dalglish also observed that "someone" (Ferguson) had claimed that the future Manchester United manager scored that day. "I thought we won 2-0. I'm probably wrong about that one as well," he said. "We definitely beat them, though. I was a big bruising centre-back and he was up front. I have to say he never gave me a problem."
Ferguson remembers it all, too, and to judge by what we know of Dalglish's shyness at that time and Ferguson's high profile – he had broken the Scottish transfer record by £10,000 when hired for £65,000 plus the £4,500 signing-on fee he negotiated to move from Dunfermline in 1967 – Dalglish would not have been quite so cocksure when he faced him in the flesh. "He man-marked me," Ferguson recalled in the foreword he wrote to Dalglish's first autobiography in 1995. "I said to him: 'You'll need a doctor for this.' He just looked at me. He got stuck in but I scored." The provenance of Ferguson's reported assertion about Dalglish that "that wee fat boy won't make a player" is unclear, extraordinarily wide of the mark as that one has proved.
Sadly, we won't be getting Ferguson's own memories today. His growing sense of alienation from a press he believes beats him has led to the cancellation of his pre-match press conference – a real shame, since Ferguson is at his finest when engaged on old encounters. Yet that foreword, taken with letters he has written to Dalglish at every upturn in the Liverpool manager's career, stands as testament to the intriguing mix of respect, competitiveness and occasional fury which has characterised the relationship between these two Glaswegians across 42 years. It is one which will reach its latest chapter on Sunday when Dalglish, who turns 60 today, receives a United side intent on finally eclipsing Liverpool's record 18 league titles.
Dalglish, who would have seen Ferguson from the block of flats overlooking Rangers' training ground where he was brought up, skipped school to watch Rangers train and befriended some of the club's younger players. It is how he ended up getting lifts into Glasgow from Ferguson, in the luxury limo he had bought on the proceeds of wages that doubled to £80 a week during his Ibrox career.
"We stayed across the road from Ibrox and we were friendly with a lot of the young Rangers lads, one of whom was Alex Miller," Dalglish recalled. "I knew Fergie had cost a big fee, because he had such a big car. He used to give us a lift into town."
Dalglish rather enjoyed facing Ferguson after he'd moved on from Ibrox. They met four times during Ferguson's four-year Falkirk career and twice again during his brief swansong at Ayr United, Dalglish scoring four times in all. When Ferguson had switched to management and brought his Aberdeen team to Anfield in 1980 in the European Cup, Dalglish was integral to a 4-0 win for a Liverpool team all of Europe feared.
That is the memory of the Liverpool era Ferguson always returns to. At the time, Dalglish was moving towards what Ferguson has always considered to be his most lethal period as a player – his early thirties. It was during Ferguson's period assisting Jock Stein with the Scottish national side he took to the 1986 Mexico World Cup that the pair finally worked together. "There was one quality that struck me more forcefully than his technical excellence. It was his enthusiasm," Ferguson reflected of that period. "He just loved playing and in many ways was like a little boy with his toys when he was out there with the ball."
Dalglish's decision to undergo knee surgery rather than join the squad for Mexico was a bitter blow to Ferguson.
But it was after Dalglish took over as Liverpool manager in 1985 that their rivalry reached its full intensity. For a while, Howard Kendall's Everton were the preoccupation, not Ferguson's faltering United. But the battles with Ferguson were tasty when they finally came.
Perhaps the most remembered of all was during Liverpool's engagement with United at Anfield on the April afternoon in 1988 when, after the dramatic 3-3 draw which ended with United's Gordon Strachan cupping his ear and pretending to smoke a cigar in front of the Kop, Ferguson launched an extraordinary attack on the way he felt referees were intimidated at the stadium.
"A lot of managers leave Anfield choking on their own sick," was how he put it that day and Dalglish, walking by with his then six-week-old baby Lauren in his arms, remarked to the interviewer: "You might as well talk to my daughter. You'll get more sense." Dalglish was remembering that spring afternoon yesterday. "Is he still talking about my daughter? She will be there to haunt him on Sunday," he said.
Back then, Ferguson was the one complaining that it was one rule for the club at the top and one for the rest. Liverpool had everything he wanted. As he put it a couple of years ago: "The 1980s belonged to Liverpool, without question." But one of the Ferguson stories Dalglish told yesterday also illustrated that his old adversary's clashes with referees should not be taken outside of the moment. "I know [referee] Dermot Gallagher said that there was one time when Fergie had annihilated him after a game somewhere and they had a meeting in Leeds between managers and referees a couple of weeks later, to get a better relationship," Dalglish said. "Gallagher was sitting next to Fergie and thought 'oh no,' and Fergie asked him what the problem was. Dermot told him he'd annihilated him two weeks earlier. Fergie replied: 'Yes, but that's just the game.' Whatever he says, that's it. It's just a part of the game."
Of course, Dalglish's periods of pre-eminence in this particular personal battle have not just belonged to the distant days of Liverpool hegemony. His title with Blackburn, clinched in that nail-biting finish of 1995 with Rovers beginning the final Sunday two points ahead but with inferior goal difference, is still remembered by Dalglish for Ferguson's attempts to crank up what looked like signs of strain in the younger man, who had resigned in the middle of a season four years earlier when stress of a post-traumatic kind took its toll, two years on from Hillsborough. "Blackburn can only throw the league away now," Ferguson said at the time. "We must hope they do a Devon Loch." Dalglish could laugh that one off yesterday. "I wasn't a fisherman so I didn't know where that was," he said, his jokes continuing to punctuate the entire reprise of this extraordinary relationship. He also remembered "a PS at the end of his letter when we'd won [the title]." Yes – Ferguson's postscript to the note he wrote to the title-winning manager, Dalglish, on 22 May 1995 read: "Devon Loch is a horse! I'm sure your Dad must have backed it... mine did!"
Reading back a copy of that letter provides a reminder that the warfare really is a mere "part of the game", as Dalglish describes it. The two men may argue long and hard over battles won and lost – Ferguson was angered by Alan Shearer's decision to sign for Dalglish's Rovers and not United in 1992; Roy Keane backed out of a move to join Dalglish a year later and went to Old Trafford – but that certainly didn't diminish the conversation in Ferguson's office after Dalglish's first game back at the Liverpool helm – the 1-0 FA Cup third-round defeat in January.
Maybe there is something about Glasgow's ability to generate great Premier League managers. "It is a great city to leave," laughed Dalglish. "I don't know what it is. It's never done me any harm, growing up in Glasgow but I have lived down here longer [so] I really don't know what the secret is. You can blame the water if you want to. Irn-Bru maybe."
Whatever the liquid might be, Dalglish has still learnt enough from experience where this particular compatriot is concerned and knows Ferguson doesn't need a press conference to provide some needle. "He has used psychology before in the preamble to matches, but he will only get sparring practice if he tries to use it on us," the Liverpool manager concluded yesterday. "We've both been a long time out of short trousers. It will have to be a good one to catch us out."
The complete history of Dalglish's encounters with Ferguson
Alex Ferguson was briefly player/coach during his four years at Falkirk, at the same time a young Kenny Dalglish was impressing at Celtic (where he scored 41 goals in the 1972-73 season. Ferguson's meetings with Dalglish as a player:
1971 (Scottish League) Celtic 2-0 Falkirk (Dalglish scores once)
1972 (SL) Falkirk 0-1 Celtic
1972 (SL) Falkirk 2-3 Celtic (Dalglish scores twice)
1973 (SL) Celtic 4-0 Falkirk
1973 (SL) Ayr Utd 0-1 Celtic (Dalglish one)
1974 (SL) Celtic 4-0 Ayr Utd
Ferguson, now a manager, led Aberdeen into the European Cup as Liverpool dominated the early 80's, winning the 1981 European Cup, Dalglish playing a key role.
1980 (European Cup) Aberdeen 0-1 Liverpool
1980 (EC) Liverpool 4-0 Aberdeen (Dalglish one)
Ferguson took control of Manchester United in November 1986 but only faced Dalglish once while Kenny was a player/coach, Ferguson winning 1-0. The 1986/87 season was Dalglish's last playing regular football. He led Liverpool to second behind Everton.
1986 (First Div) Liverpool 0-1 Man Utd
1987 (FD) Man Utd 1-0 Liverpool
1987 (FD) Man Utd 1-1 Liverpool
1988 (FD) Liverpool 3-3 Man Utd (Dalglish was an unused substitute)
1988 (FD) Liverpool 1-0 Man Utd
1989 (FD) Man Utd 3-1 Liverpool.
Dalglish led Liverpool to an 18th title in 1989-90, while Ferguson won his first trophy with United, the FA Cup (right), beating a Crystal Palace side who had knocked out Liverpool in the semi-finals.
1989 (FD) Liverpool 0-0 Man Utd
1990 (FD) Man Utd 1-2 Liverpool
1991 (FD) Man Utd 1-1 Liverpool.
Dalglish left Liverpool in February 1991 on health grounds but returned to take the reigns at Blackburn. He helped them to promotion to the Premier League in 1992 before finishing fourth in his first season up, as United won the League.
1992 (Premier League) Blackburn 0-0 Man Utd
1993 (PL) Man Utd 3-1 Blackburn.
An Alan Shearer double secured Dalglish's only win over Ferguson while at Blackburn in 1994, but United won the double.
1993 (PL) Man Utd 1-1 Blackburn
1994 (PL) Blackburn 2-0 Man Utd.
The following season belonged to Dalglish, as he led Blackburn to the title ahead of Ferguson's United, despite losing at Liverpool on the final day.
1994 (Charity Shield) BR 0-2 Man Utd
1994 (PL) Blackburn 2-4 Man Utd
1995 (PL) Man Utd 1-0 Blackburn.
Dalglish left Rovers after the title win, taking over at Newcastle in January 1997. Poor form led to his dismissal two games into 1998/99, after finishing a disappointing 13th in 1997/98. Ferguson won the 1996 and 1997 titles, but lost out to Arsenal in 1998.
1997 (PL) Man Utd 0-0 Newcastle
1997 (PL) Newcastle 0-1 Man Utd
1998 (PL) Man Utd 1-1 Newcastle.
After a 13-year gap, Dalglish stepped off his Middle-East cruise straight into the FA Cup third round tie against United at Old Trafford. Steven Gerrard was dismissed after a Ryan Giggs penalty decided matters.
2011 (FA Cup) Man Utd 1-0 Liverpool
Register for free to continue reading
Registration is a free and easy way to support our truly independent journalism
By registering, you will also enjoy limited access to Premium articles, exclusive newsletters, commenting, and virtual events with our leading journalists
Already have an account? sign in
Register for free to continue reading
Registration is a free and easy way to support our truly independent journalism
By registering, you will also enjoy limited access to Premium articles, exclusive newsletters, commenting, and virtual events with our leading journalists
Already have an account? sign in
Join our new commenting forum
Join thought-provoking conversations, follow other Independent readers and see their replies