David James deletes Eniola Aluko tweets after being called an 'absolute chief' and a 'd*******' by Stormzy
The ex-England goalkeeper appeared to accuse Aluko of lying about her treatment at the hands of former coach Mark Sampson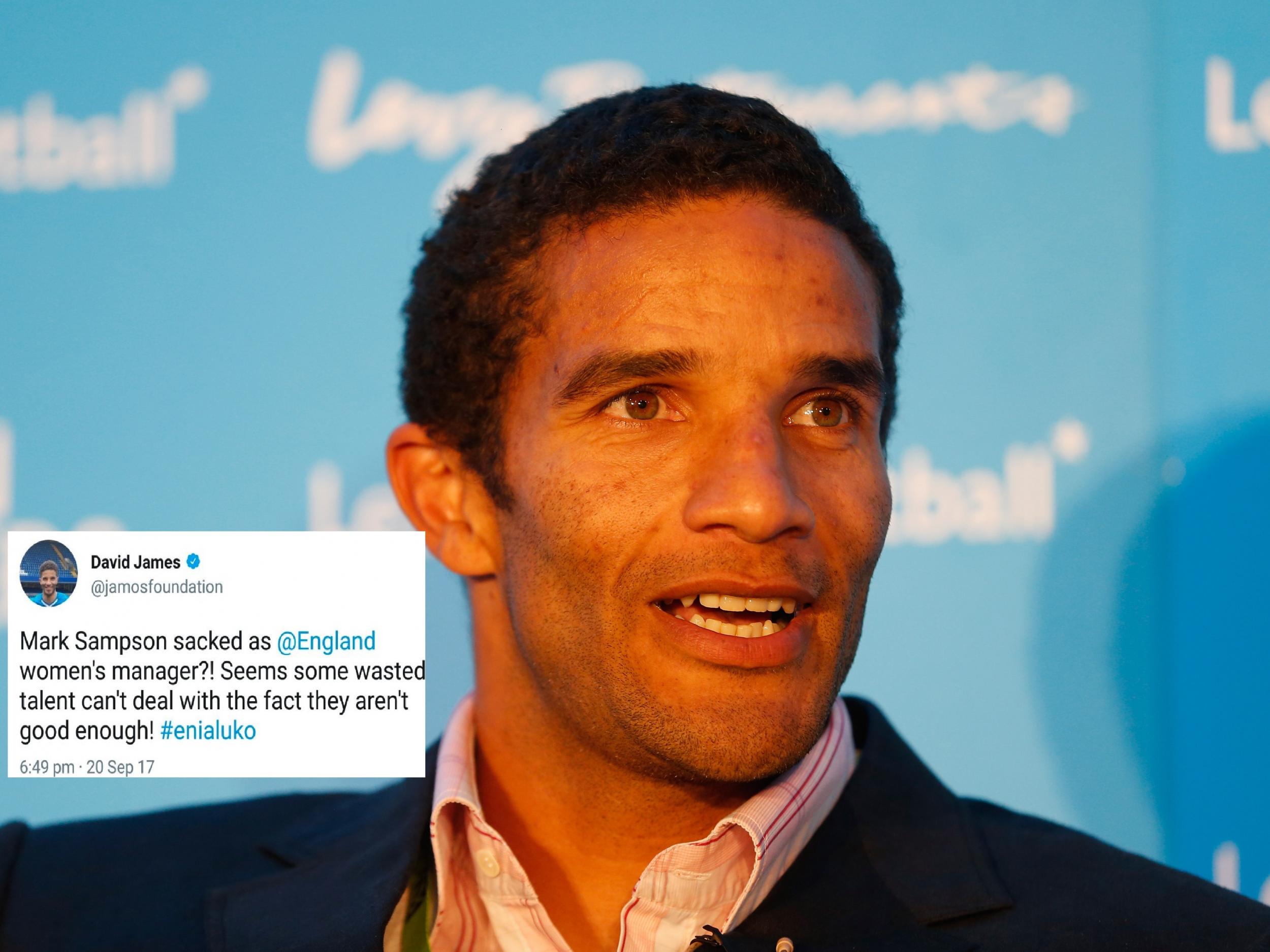 David James has deleted tweets about England striker Eniola Aluko after being called an "absolute chief" and a "dickhead" by musician Stormzy.
The former England goalkeeper had appeared to accuse Aluko of lying about her treatment under Mark Sampson shortly after the former England women's coach was sacked last month.
Sampson was dismissed by the FA after it found him to have had inappropriate relationships with his female players during a previous spell as manager of Bristol Academy.
At the time he was under severe scrutiny following accusations of racism and bullying by Aluko.
That all led to James to tweet: "Mark Sampson sacked as @England women's manager?! Seems some wasted talent can't deal with the fact they aren't good enough! #enialuko.
"Basically, Mark Sampson is being told, 'even though you may have changed, you are being F**KED because of your past'. #bollocks."
But an independent investigation has subsequently concluded that Sampson did indeed make racially discriminatory comments to Aluko and another England player, Drew Spence.
Barrister Katharine Newton concluded that Sampson was guilty of "ill-judged attempts at humour" in telling Aluko to make sure her family did not bring the Ebola virus to Wembley, and in enquiring whether Spence had been arrested before.
That revelation yesterday prompted Stormzy to lash out at those who were too quick to jump to conclusions.
"Absolute bunch of pricks. After all you put the girl through it turns out she was telling the truth. SHOCK," the 24-year-old grime MC wrote.
"And all you lil cowardly dickheads who opened your mouth to spew statements such as 'well there's no proof' where are you I got time today.
"Dragged her name through the mud and tarnished her and then anyone who came to her defence was demonised as well."
He then turned his attention to the former England goalkeeper, first enquiring "Where's David james the absolute chief?" and then quoting one of James's tweets with the words "YOU ABSOLUTE DICKHEAD".
James did not respond to The Independent's request for comment and has not explained why he deleted his tweets.
Join our commenting forum
Join thought-provoking conversations, follow other Independent readers and see their replies