David Beckham impact on MLS 'immeasurable'
Beckham to play final game for LA Galaxy this weekend
Mark Staniforth
Friday 30 November 2012 14:04 Comments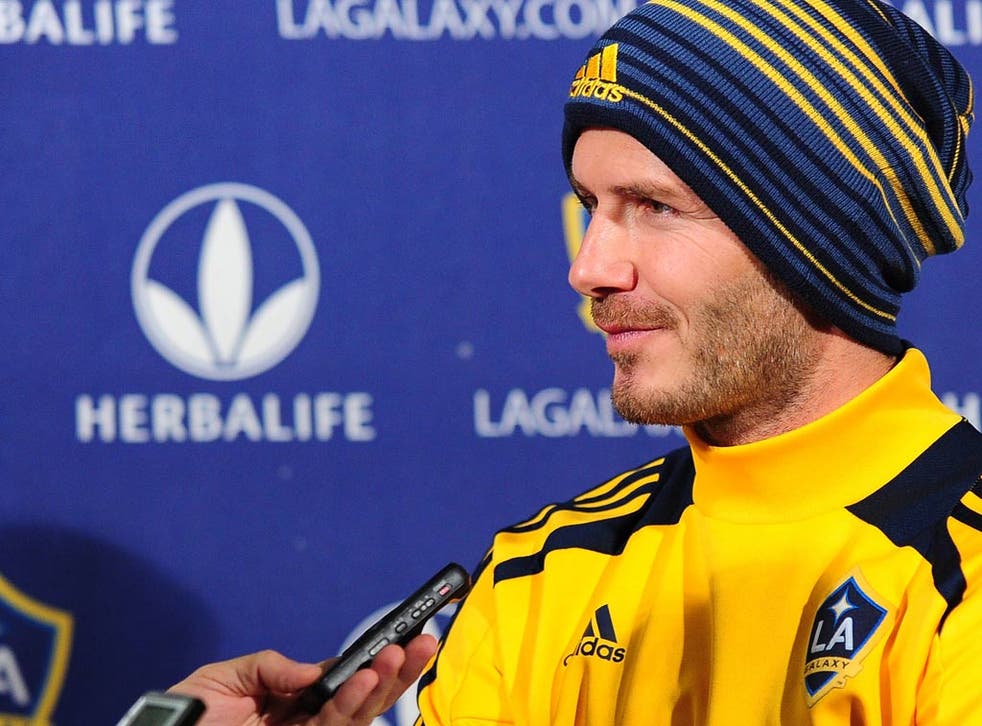 David Beckham will bid farewell to the Los Angeles Galaxy and Major League Soccer after this weekend's season-ending MLS Cup final, having "over-delivered by every measure" during his six-year spell.
That is the opinion of MLS executive vice-president of communications Dan Courtemanche, who believes Beckham's impact on the league's exponential growth over the last half-decade to be incalculable.
Since 2006, when Beckham joined Galaxy from Real Madrid, the MLS has increased from 12 to 19 teams and seen a 231% increase in merchandise sales.
Expansion fees have risen from USD10million to USD40million and this weekend's final between the Galaxy and Houston Dynamo will be televised in 157 different countries, a record in the competition's 17-year history.
Courtemanche told the Press Association: "David has over-delivered by every measure, specifically with the media coverage MLS has received; there is arguably not a football fan now who does not know the LA Galaxy.
"David broke through like no other athlete we have seen in north American soccer. With the global appeal he has he was able to put the spotlight on Galaxy and MLS in every continent on the planet.
"We have tried to measure the media coverage and put a dollar value on it, but that is just impossible due to the global appeal David has. His type of impact is invaluable and immeasurable."
Courtemanche rejects the notion that Beckham's impact could have been even greater if it had not been punctuated by a pair of widely unpopular loan spells at Milan.
When Beckham returned to the Galaxy for the first time, some supporters expressed their displeasure at his apparent lack of commitment to the club's cause, although his return did coincide with their rise to a period of unprecedented success.
Courtemanche said: "There were many sceptics in the global football community when David came to play for Galaxy. They questioned if he had come here to retire and settle down.
"The fact is, David went back twice to play on loan with one of the biggest clubs in the world and made an impact, clearly illustrating that he remained a world-class player and could contribute to any club on this planet.
"That proof directly boosted the credibility of the Galaxy and Major League Soccer. There are positives and negatives in every move, but overall the credibility of the MLS was enhanced by his loans."
Life after Beckham should hold no fears for the MLS according to Courtemanche, who added that the organisation may not have seen the last of the player, with talks over projected involvement in an expansion franchise ongoing.
"David was a factor in the success of the expansion clubs but we believe the Seattle Sounders will continue to average more than 43,000 fans next year, and the Portland Timbers will still sell out when David is gone," Courtemanche added.
"But we certainly believe the MLS can continue to have a relationship with David after his playing days are over. The [franchise] discussions are preliminary, but we'd like to have David Beckham as part of the MLS family for a long time to come."
PA
Register for free to continue reading
Registration is a free and easy way to support our truly independent journalism
By registering, you will also enjoy limited access to Premium articles, exclusive newsletters, commenting, and virtual events with our leading journalists
Already have an account? sign in
Join our new commenting forum
Join thought-provoking conversations, follow other Independent readers and see their replies