David Moyes sacked comment: What would 'King' Louis van Gaal reign at Old Trafford be like?
Experienced Dutchman if the current favourite for the vacant post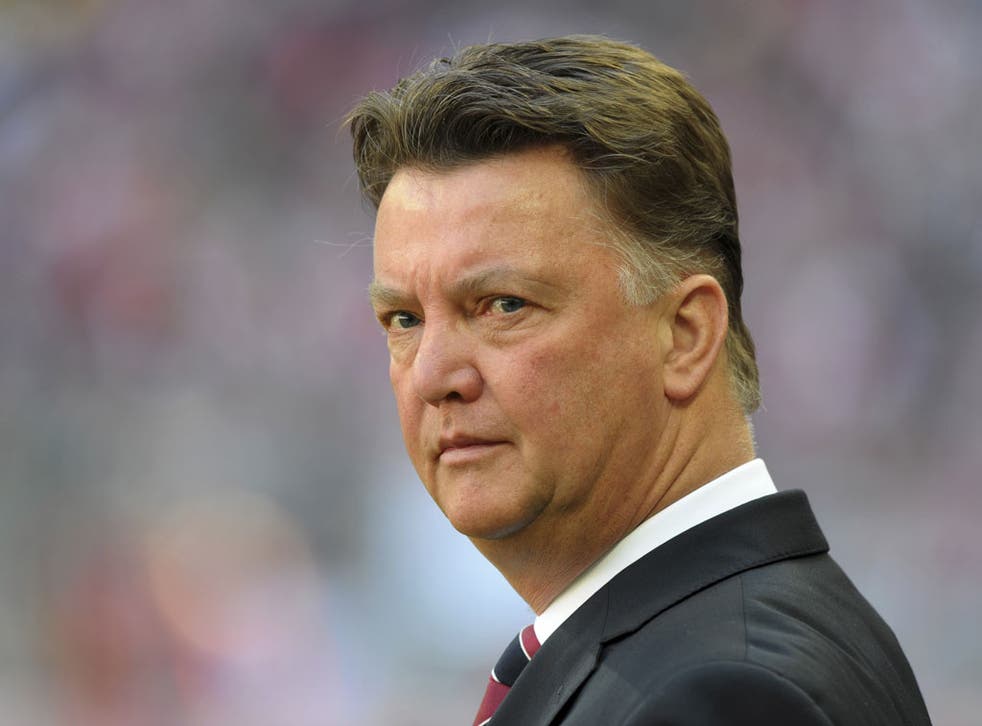 If managing Manchester United was too big a job for David Moyes the concern with Louis van Gaal is whether 'King Louis' is too big for Manchester United. Not only does Van Gaal have 'big club' experience in abundance he has an ego to match.
Currently coaching the Dutch national team for the second time Van Gaal has a CV few can boast having won the Champions League and Uefa Cup with Ajax, and domestic titles with them, Barcelona, Bayern Munich and AZ Alkmaar. He has coached nearly 800 matches with an impressive 61 per cent win ratio (better than Sir Alex Ferguson, but worse than Jose Mourinho).
Appointing the 62-year-old Dutchman is not, however, without risk, nor for the faint-hearted. Ed Woodward, United's chief executive, and his Glazer family overlords would find that Van Gaal likes things done his way, and is very prepared to argue about it. Ex-Bayern president Uli Hoeness, since jailed for tax evasion, once said "He is a super, super coach. His only problem is he thinks he is above God." The media, too, would find that while Van Gaal can be charming he can also deliver Ferguson-style broadsides.
It is the players, however, who would experience Van Gaal on a daily basis, and that can be an interesting experience. Bayern chairman Karl-Heinz Rummenigge said: "His management style reminds me of Felix Magath. It doesn't win you any friends."
The next Manchester United manager: Those linked with the Old Trafford hot seat

Show all 11
He is certainly no respecter of reputations. Luca Toni, then a World Cup-winning striker with Bayern, recalled: "Van Gaal wanted to make clear to us that he can drop any player from the team. It was all the same to him because, as he said, he had 'the balls'. He demonstrated this literally by dropping his pants. I have never experienced anything like it, it was totally crazy."
Having been top scorer the previous season Toni quit Bayern in the winter break because, he said; "Van Gaal simply didn't want to work with me, he treats players like interchangeable objects." Lucio, the Brazilian defender, also left Bayern stating: "Van Gaal hurt me more than anyone else in football," he said. However, as Rummenigge said, Van Gaal was "what Bayern needed" at the time and he delivered only being denied a Bundeliga-German Cup-Champions League treble by Mourinho's Internazionale.
There was an irony in that as the two are close friends, close enough for Van Gaal to fly to London in January for a Football Writers' Association dinner at the Savoy in honour of Mourinho.
In a witty, self-depreciating speech Van Gaal said of Mourinho, "I am always 'the arrogant Louis van Gaal', but now I am humble because now he is better than me". Previously, however, Van Gaal has pointed out, "we are different in many ways. Mourinho teaches his team to win at all costs, while my objective is to win with style and attacking play, which is not so easy."
United, with their tradition of attacking football, will like that. It was Van Gaal who signed Arjen Robben for Bayern and paired him with Franck Ribery.
Robin van Persie would also welcome Van Gaal. The two have become so close since Van Gaal made Van Persie captain of the Oranje he has spent his recuperation from injury accompanying Van Gaal on scouting trips.
That tale does, however, highlight one of the problems in appointing Van Gaal. In seven weeks a World Cup starts in which the Dutch have a demanding qualifying group (Spain, Chile and Australia) which will probably pitch them into a second round meeting with Brazil if they do not top it. One of the problems with Moyes was that he did not start at United until 1 July, United may have to wait until mid-July for Van Gaal. Although he and Woodward can discuss targets, and communications technology now extends to FaceTime and video-conferencing, the vital work of re-building United's squad would undoubtedly be hampered.
There are other caveats. Van Gaal came to fame nearly two decades ago with the brilliant young Champions League-winning Ajax team of Patrick Kluivert, Marc Overmars and Clarence Seedorf. Given the clubs he has subsequently managed it is surprising he has not won Europe's premier competition again. He did reach the final with Bayern – but the club fired him the following season with the team trailing in the Bundesliga.
Then there is the memory of his failure to qualify for the World Cup with the Dutch in 2002. The crucial game was in Dublin. With the Irish down to ten men Jason McAteer stole a goal with 23 minutes left. Van Gaal, the great tactician, took off wingers Bolo Zenden and Overmars, brought on Jimmy Floyd Hasselbaink and Pierre van Hooijdonk to join Ruud van Nistelrooy and Kluivert, and watched his team pump high balls from deep at four centre-forwards. Richard Dunne headed them all away.
No one is perfect, it was a long time ago and Van Gaal may guide the Dutch to triumph this summer. But it is a reminder for Manchester United that even appointing such an illustrious figure as Van Gaal would come without guarantees.
Register for free to continue reading
Registration is a free and easy way to support our truly independent journalism
By registering, you will also enjoy limited access to Premium articles, exclusive newsletters, commenting, and virtual events with our leading journalists
Already have an account? sign in
Register for free to continue reading
Registration is a free and easy way to support our truly independent journalism
By registering, you will also enjoy limited access to Premium articles, exclusive newsletters, commenting, and virtual events with our leading journalists
Already have an account? sign in
Join our new commenting forum
Join thought-provoking conversations, follow other Independent readers and see their replies